Ichiro plays role of Royal killer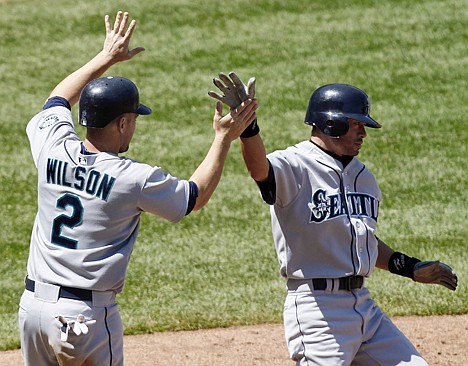 Ichiro plays role of Royal killer
KANSAS CITY, Mo. (AP) - Ichiro Suzuki continued to torment the Kansas City Royals.
Suzuki had three hits, Milton Bradley scored the tiebreaking run on Rob Johnson's sacrifice fly in the eighth inning and the Seattle Mariners beat the Royals 6-5 Wednesday.
Suzuki, who has a .377 batting average against the Royals, scored a run and drove in a run in his major league-leading 11th multihit game of the season. He has a 14-game hitting streak at Kauffman Stadium, including a record eight consecutive multihit games by an opponent.
Chone Figgins had seen Suzuki's act while he was the Los Angeles Angels, but witnesses it up close, batting behind him in the Mariners' lineup.
"It's amazing," Figgins said of Suzuki's 11 multihit games in the first 22 games. "To play against him so many years and to actually see him do it and I'm behind him, it's even better."
Three-hit games are nothing new for Ichiro, who has 2,060 hits since his debut in 2001.
"I've seen that before," Mariners manager Don Wakamatsu said. "He has so many weapons. The bunt last night and he gets an infield single today. There are a lot of things he can do. Obviously, the speed helps."
Bradley doubled to open the eighth against Brad Thompson (0-1) and moved to second on a groundout. After reliever Dusty Hughes walked Casey Kotchman, Johnson hit a fly ball to left.
Brandon League (3-1), the second of four Seattle pitchers, picked up the victory by retiring all four batters he faced. David Aardsma got the last three outs for his league-leading eighth save in nine chances.
The Royals' bullpen has a 3-7 record. Kansas City finished the homestand 2-4 with three of the losses charged to the bullpen.
"The bullpen has had a lot of bad luck," Thompson said. "It's going to turnaround soon. There are good arms out there."
On the flip side, the Mariners bullpen, which suffered three losses in a weekend series at Chicago before coming to Kansas City, threw eight scoreless innings in the three games against the Royals.
"The biggest thing has been the turnaround of the bullpen," Wakamatsu said. "It did a phenomenal job."
The Royals scored four runs after two out in the sixth to tie the score at 5-5. Jason Kendall, who entered the game in an 0-for-11 skid, had a two-run single to shallow right. Mitch Maier's triple to right scored Kendall and Alberto Callaspo, who had walked.
Maier's triple finished Mariners left-hander Ryan Rowland-Smith, who had limited the Royals to one run - David DeJesus' homer to leadoff the game - and three hits the first five innings.
"He had some great innings up to that point and then all of a sudden he hit the wall a little bit," Wakamatsu said. "I thought he got a little careless. Overall I thought he did a nice job. He was economical with his pitch count. He was in a position to go seven or eight and all of a sudden the wheels fell off. It might be a different situation if we catch that ball in right field."
Kendall's fly ball dropped between Chone Figgins and Suzuki.
"I was happy the way I threw the ball," Rowland-Smith said. "That bloop single, that's the kind of break I didn't get. I thought I threw the ball better than the result came out."
Royals starter Gil Meche, who is in the fourth season of a five-year, $55 million contract, gave up five runs on eight hits and three walks in six innings. Meche is winless in four starts with a 10.13 earned run average and opponents batting .338 against him.
"I've been through my ups and downs, but this is one of the toughest stretches coming out of the gate," Meche said. "I'm not getting to the point where I can throw my off-speed pitches for strikes."
Figgins had a two-run triple in the Mariners' three-run fifth. Suzuki's infield single scored Johnson with the other hit.
Mike Sweeney led off the second with a walk, advanced to third on Kotchman's single and scored when Johnson grounded into a double play.
NOTES: DeJesus' home run was the first leadoff homer by a Royals player since he did it against St. Louis on June 19, 2009. DeJesus has 11 career leadoff home runs. ... Royals LHP John Parrish has not pitched since Saturday because of a sore left shoulder. ... Mariners CF Franklin Gutierrez struck out four times. He went 5 for 23 with nine strikeouts on this six-game trip. ... Seattle starters have a 2.62 ERA in the past 14 games. ... The Royals have lost eight of 12 home games.
Recent Headlines
---