'I just want to volunteer'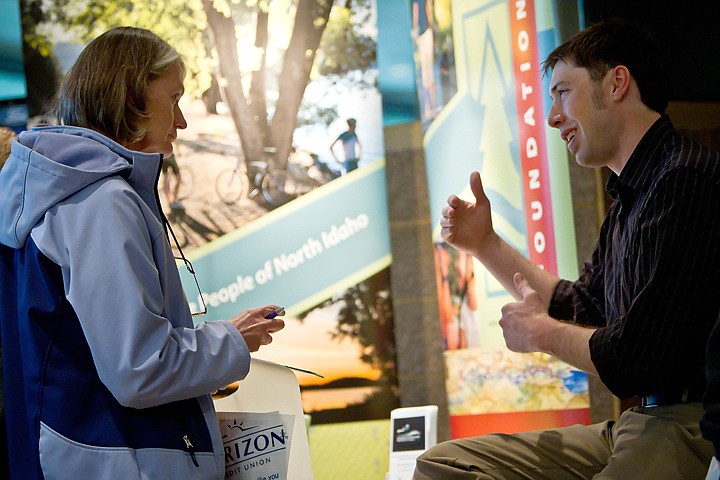 <p>Charlie Miller, right, the Centennial Trail Foundation manager, talks to Terri Petraske during the 3rd annual Volunteer Fair held Wednesday at the Coeur d'Alene Public Library.</p>
by
MAUREEN DOLAN
Staff Writer
|
April 29, 2010 9:00 PM
COEUR d'ALENE - Cassandra Hayenga, 15, browsed the tables Wednesday at the Kootenai County Young Professionals volunteer fair at the Coeur d'Alene Public Library.
"I came because I just want to volunteer," Hayenga said.
Unsure of how or where to lend a hand, the Coeur d'Alene High School student saw a poster about the volunteer fair at school and decided it was a good place for ideas.
Hayenga and the more than 115 people who dropped by the fair had a chance to consider options for altruism offered by 45 local nonprofits.
"Volunteers can be hard to find. I feel we are blessed to have this opportunity," said Kathy Hlebichuk, coordinator for the North Idaho Affiliate for the Pancreatic Cancer Action Network. "It's such a good thing to volunteer and give back. For us it's a way to be able to give hope."
Heather Keen, president of Kootenai County Young Professionals, said the volunteer fair fits into the group's commitment to attracting young professionals to the area and retaining them by offering opportunities for community service,
education, professional development and social networking.
"Through those connections, they grow roots, and it encourages them to stay here," Keen said.
In its third year, the fair is open to anyone in the community.
"We've seen all ages here," said Judy Morbeck, director of the local Court Appointed Special Advocates program. "There have been more young people."
It's an encouraging trend to witness, she said, although CASA volunteers must be 21. The nonprofit is always looking for more adult volunteers to represent children who are victims of child abuse, abandonment or neglect.
A group of ladies who volunteer at the Coeur d'Alene Visitors Center were looking for more people to sign up.
"We have a fun group, and we get to tell people where to go," said a smiling Diane Olson.
Warren Fisher, a tax-aide volunteer for AARP, said people usually want to know why anyone would want to do income taxes, their own or anyone else's, when they're not being paid for it and don't have to.
"When people come to us, they don't know what to expect, whether they're going to get a refund or have to pay. Within an hour they know," Fisher said. "It's that sense of accomplishment and knowing you helped someone."
Recent Headlines
---