Smitten for fashion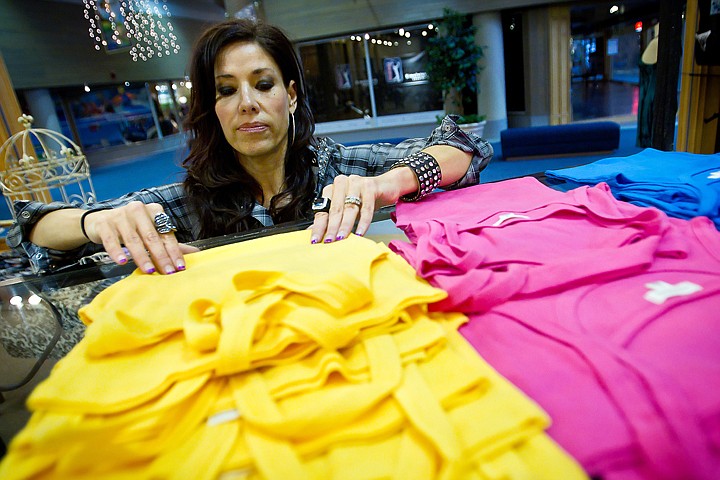 <p>Laura Heikkila, co-owner of Smitten Clothing Boutique, organizes a display Tuesday in a new storefront in The Resort Plaza Shops.</p>
by
Rick Thomas
|
April 28, 2010 9:00 PM
COEUR d'ALENE - Two women, five jobs. And two families.
"We are the best two multi-taskers you'll ever meet," said Melissa Valdovinos, as she and partner Laura Heikkila stocked shelves at their second retail store on Tuesday.
On Saturday, they will open Smitten Clothing Boutique in The Resort Plaza Shops. It will be their second shop, after starting the first Smitten in Post Falls in August.
"It has gone well," said Heikkila, who also owns an Allstate Insurance agency in Post Falls. Valdovinos also owns a coffee stand there, and the two regularly shopped together before opening the Post Falls clothing store on Spokane Street.
"We always come home with all these cute styles," Heikkila said. "We decided to bring our passion for fashion to Coeur d'Alene."
It was not something they set out to do, however. As with some other shops in the plaza owned by The Hagadone Corp., Jerry Jaeger, president and co-owner of Hagadone Hospitality, got wind of the women's eye for fashion and when a space opened up decided to see if they would be a good fit.
"My daughter-in-law mentioned she had been in the (Post Falls) store and they had good taste in clothing," he said. After taking a look for himself, "I told them they have the right kind of spunk to make it work in downtown Coeur d'Alene. It is a different product line than we have, and appeals to a different market."
The differences between downtown Post Falls and downtown Coeur d'Alene will be reflected in the product lines offered in the new store.
"We will carry different inventory in each store," Heikkila said. "This one will carry men's wear."
The lines of contemporary clothing, accessories and jewelry will include Affliction, Sinful, Big Star, Miss Me, Rock Revival, Roar and Billabong. Layermi, from local designer Stacy Shannon, will also be carried.
Jeans, T-shirts, board shorts and dress shirts will be among the men's apparel.
Since April, the women and their families have been busy getting the store stocked and ready for Saturday's opening.
"The family has been very supportive," Heikkila said. Her 7-year-old and Valdovinos' 15- and 16-year-olds all chipped in to help out. "They need to learn to work hard early."
Heikkila and Valdovinos will focus on overseeing the stores, while Heikkila will also be taking care of business at the insurance agency. Allie Harrison has been hired as manager of the Coeur d'Alene store, which will have three employees.
"I'm a mom, so I'm a multi-tasker," Harrison said.
"We are the best three multi-taskers," Valdovinos added. "You have to be an over-achiever to work for us."
Heikkila said they are excited about being downtown. Where the Post Falls store is a destination, the Coeur d'Alene store will cater to regulars and visitors to the Lake City.
"We want to be part of the action here," she said.
A tradition that started in Post Falls will continue at the Coeur d'Alene store. Smitten holds a Women Who Wine event on the first Friday of the month to bring women and their friends together to enjoy a glass of wine, appetizers and shopping specials.
With the addition of Smitten and Skin Deep, a cosmetics store scheduled to open by June in the center island of the Plaza, the shops are fully leased with a complementary collection of stores, Jaeger said.
"We have been on a two and a half to three year kick of getting a good mixture of shops," he said.
Smitten in Coeur d'Alene will be open 10 a.m. to 7 p.m. Monday through Thursday, 10 a.m. to "8-ish" on Friday and Saturday and 11 a.m. to 5 p.m. Sunday.
Information: 665-SHOP (7467)
The Resort Plaza Shops is on Sherman Avenue between Second and Third streets.
Recent Headlines
---