Fire safety on tour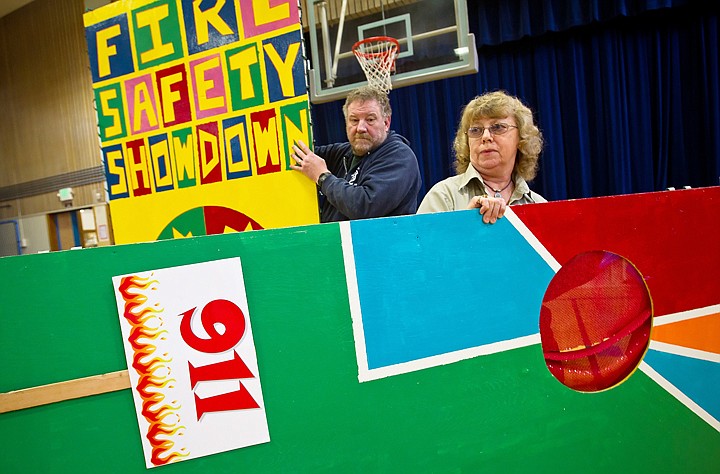 <p>Terrann Tester, retired fire prevention technician, and Randall Thomas, fire dispatch, both with the United States Forest Service, prepare to set up stage props for the Kootenai County Fire Prevention Cooperative's annual fire prevention education program Tuesday at Sorenson Magnet School in Coeur d'Alene. The multi-agency effort perform skits for some 2,300 first-grade students in Shoshone and Kootenai counties.</p>
COEUR d'ALENE - The people behind the longest running show in Kootenai County aren't professional actors, playwrights or producers.
They're men and women who work every day to keep the region's people and places safe from fire.
For more than 15 years, members of the Kootenai County Fire Prevention Co-op have hit the road for three weeks in April, bringing a children's fire safety program to every public elementary school in Kootenai and Shoshone counties.
"Most days we have three skits, so we're usually running pretty good," said Marie Willoughby, a fire inspector with the Northern Lakes Fire District.
In the second week of their performance schedule, the group brought this year's show Tuesday to Sorensen Magnet School for the Arts and Humanities in Coeur d'Alene.
A simulated version of a game show, "Fire Safety Showdown," tested first-graders' knowledge about fire prevention.
With Shane O'Shea, Forest Management resource specialist for the Idaho Department of Lands, running sound, Kootenai County Fire and Rescue prevention specialist Jim Lyon and volunteer Angie Gunter arrived on stage to canned music reminiscent of the "Price is Right."
Lyon portrayed over-the-top game show host, Dave Brave Safeside, while his assistant, Vanna-will-do-right, was played by Gunter.
This year, the group is bringing the fire safety game show to nearly 600 children in Shoshone County and more than 1,500 children in Kootenai County.
"These kids will go home and talk about it, so it gets to their parents too," Lyon said.
With help from several puppet characters, the characters quizzed the children in the audience about campfire safety, smoke detector maintenance and relayed a zero-tolerance message for playing with matches, lighters or fireworks.
The script is usually written each year by U.S. Forest Service Fire Prevention Specialist Sandy Groth, who has been with the multi-agency co-op since its inception in the mid-1980s.
"We do it all, right down to the props," Groth said. "Every year the show is a little different, because after three weeks on the road, you really want to do something else."
The Kootenai County Fire Prevention Co-op was created, Groth said, as a way to combine agency resources to spread their fire prevention message.
"All the fire chiefs agreed there would be one person from each agency at the table," Groth said.
The agencies in the co-op include: Coeur d'Alene Fire, Eastside Fire, Hauser Fire, Northern Lakes Fire, Idaho Department of Lands, Mica Kidd Island Fire, Kootenai County Fire & Rescue, Spirit Lake Fire, Timberlake Fire, Worley Fire, Bureau of Land Management, Coeur d'Alene Tribe, and United States Forest Service.
"We all help promote this because we want people to know what's going on," said Northern Lakes' inspector Willoughby.
Recent Headlines
---