Beyond non-traditional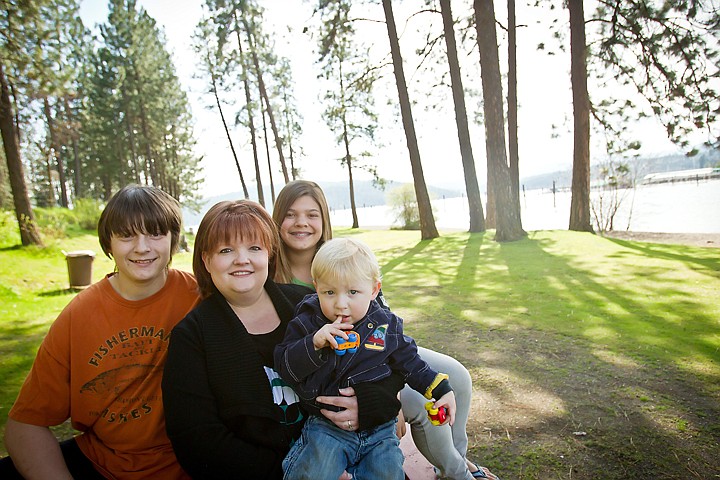 <p>DeAnna DeTemple, 37, is graduating from the University of Idaho with a degree in psychology after overcoming significant challenges with her family and day-to-day life. DeTemple's children are, from left, Austin, 15, Skylar, 13, and Jackson, 1.</p>
by
MAUREEN DOLAN
Staff Writer
|
April 28, 2010 9:00 PM
COEUR d'ALENE - As DeAnna DeTemple prepares to graduate from the University of Idaho-Coeur d'Alene next month, the 37-year-old mother of three says she did it for her kids.
"I wanted to show them that if I can do it, they can," DeTemple said.
She also did it in spite of them.
Going back to school at 32 was the most difficult thing DeTemple said she has ever done.
Balancing classes and homework with her children's and husband's needs became quite a juggling act, because DeTemple's family members' needs are beyond ordinary.
During her first two years of college, the Coeur d'Alene native's two oldest children were diagnosed with behavioral disorders that caused disruptions at school and turmoil at home, where things were already challenging.
Several years prior to her return to school, DeTemple's husband, Michael, was diagnosed with bi-polar disorder.
"We have struggled with his medication and his moods now for 10 years," she said.
Earning a college degree wasn't something DeTemple envisioned for herself.
"I almost didn't graduate from high school," she said.
After school, she worked for a popular seafood restaurant for seven years, and hoped to continue for many more.
"I loved waitressing. It was amazing," she said. "When I went to work, it was never the same, and I loved making people happy."
But fate had other plans for the contented seafood server. She developed a shellfish allergy and went into anaphylactic shock while at work.
"For safety reasons, they had to let me go," she said.
She spent a few years floundering at other jobs, first working at a call center and then working 80 hours per week as an assistant at two different pharmacies.
"I was killing myself trying to make an income and it was taking a toll on me," DeTemple said.
That's when she went back to school, starting at North Idaho College in the pharmacy technician program.
About the time she was getting into the routine of taking classes, DeTemple's son Austin was diagnosed with Asperger's syndrome, a disability that belongs to a group of neurological conditions known as autism spectrum disorders.
"Between all the appointments for my husband's medication and the trips to my son's school, I was having a hard time at school and almost gave up before I ever really got started," DeTemple said.
The following year, her daughter, Skylar, began to display odd behaviors, blinking and making unusual motions. Eventually, the family went to Seattle for an evaluation.
"I took a week's worth of homework and did it while we were driving," DeTemple said.
Her daughter was diagnosed with Tourette's syndrome, a disorder characterized by repetitive, involuntary movements.
DeTemple said her family life had become very complicated and confusing.
Her children were constantly bickering.
Austin's Asperger's symptoms, rigid thinking and a high degree of sensitivity to sensory stimulation, conflicted with her daughter's uncontrollable eye-blinking, arm-stretches and mouth movements.
Austin believed his sister was purposefully trying to annoy him, and Skylar was upset because she felt like the brother she loves was being mean to her.
DeTemple's husband couldn't cope with the fighting and retreated into a deep depression.
Education became an escape for DeTemple. Sitting in a classroom for a few hours began to feel like a small vacation away from the chaos of her everyday life.
She earned her associate's degree, but then discovered that being a pharmacy technician didn't offer enough flexibility to meet the growing demands of her family.
"It was so awful at home I couldn't even leave and get to the end of the road without someone calling me crying, or yelling," DeTemple said.
She took her NIC credits and continued her studies at the University of Idaho.
During her second semester at the university, DeTemple learned she was expecting her third child.
During the pregnancy, her husband had a severe reaction to a new medication. It landed him in the hospital for 10 days, and left him with no short-term memory, and little recollection of 2008.
"Thankfully, I did manage to finish that semester because I had made some amazing friends who helped me with my homework, and some pretty understanding teachers," DeTemple said. "With only a year to go to get a degree, I had to push forward because I was my family's only hope for a future."
The next semesters were some of the most challenging for DeTemple.
There were days she was so frayed from her older children's constant arguing, and tired from caring for the baby and worrying about her husband's well-being, that she cried all the way to school.
"As soon as I reached the parking lot, I'd get it together," DeTemple said. "I'd pull out the makeup and fix my face."
There were times she would have to leave class to go home, but thanks to the support of her peers, DeTemple was able to complete the semester's credits.
In a few weeks, DeTemple will receive a bachelor's degree in psychology.
"Finally, I have hope and prospects for my family's future," DeTemple said. "I will be able to work a flexible schedule around their needs."
"I just can't thank the people at the University of Idaho enough, and the support system that the students have is amazing. Some of them are probably the best friends I'll ever have in my entire life."
She hopes to find a job doing psychosocial rehabilitation, providing support to kids who struggle with mental health or behavioral issues, and then move on to case management.
"My goal is to become a patient's advocate over at the VA, so I can help the guys and gals coming through there," DeTemple said.
Her older children still fight, her baby is now a stubborn toddler, but she and her husband are making it through.
"This journey was the hardest thing I have ever done but getting an education is one of my proudest accomplishments," DeTemple said.
Recent Headlines
---