Forums offer three opportunities to meet commission candidates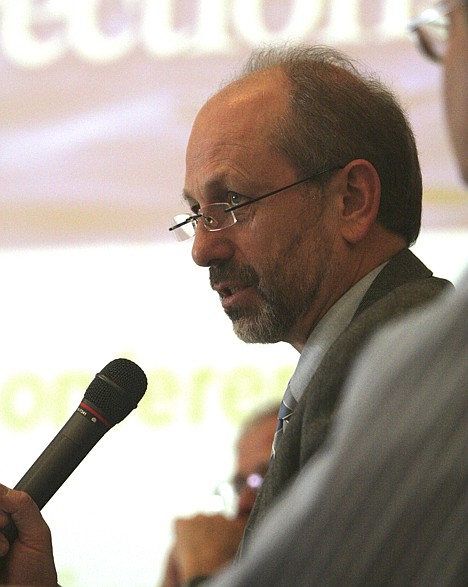 Christian Petrich of SPF Water Engineering speaks about the future demand of the Rathdrum Prairie Aquifer at the Spokane River Forum Conference in Spokane Valley on Monday.
Three forums for candidates running for Kootenai County commissioner have been scheduled.
Organizers of the forums said because rural citizens are often so spread out, the hope is that by having three different venues, more citizens will attend.
The forums are:
• May 5, Wednesday - Arrow Point Fire Station, on Highway 97 across from Arrow Point Condos, about a half mile past Squaw Bay.
• May 12, Wednesday - Harrison EMT Building, across the street from Harrison City Hall.
• May 18, Tuesday - Medimont Grange on Highway 3, about 9 miles from the junction of Highway 97 and Highway 3.
All the forums start at 6:30 p.m.
Questions have been collected from citizens throughout the community. Different questions will be asked of each candidate, and each forum will have diverse topics.
There will be time for questions from the audience as well.
Jai Nelson and Chris Fillios are running for the district 2 seat held by Commissioner Rick Currie.
Dan Green and Kevin Ratigan are running for the district seat 3 held by Commissioner Rich Piazza.
The candidates said they plan to attend the forums.
Recent Headlines
---