Cd'A hangs up cell phone ban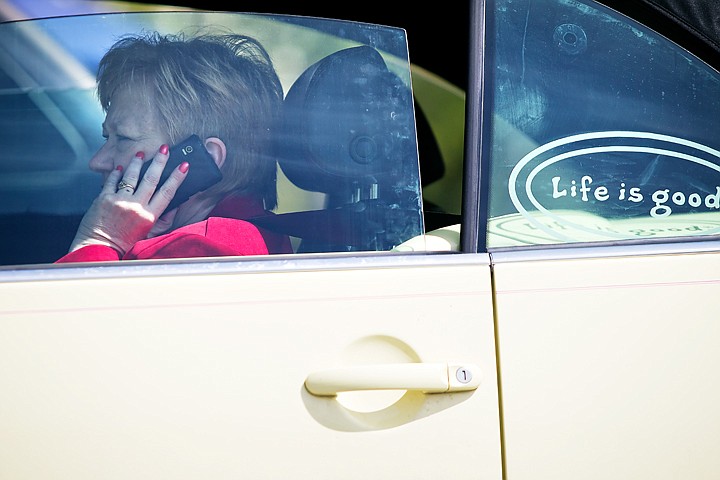 <p>SHAWN GUST/Press Pam Nordby talks on her cell phone Monday while driving on Fourth Street in Coeur d'Alene. The city of Coeur d</p>
by
Tom Hasslinger
|
April 27, 2010 9:00 PM
COEUR d'ALENE - Next year, perhaps.
The city of Coeur d'Alene will give the Legislature one more chance to pass a law banning text messaging while driving before the Lake City drafts its own.
"I'll wait one more session," said John Bruning, city councilman. "If we're sitting here talking about this again, and the Legislature has punted again," then the city must enact its own ordinance.
Meantime, Coeur d'Alene will draft a letter for the Legislature and the Association of Idaho Cities saying it supports a statewide ban on texting while driving.
That draft could be ready for the City Council to sign next week.
It will wrap up several discussions at the city level regarding banning some cell phone use while driving inside city limits. The idea for regulation came to the city's General Services Committee a couple of months ago from attorney Steve Bell, who cited the dangers of being behind the wheel with a phone.
The committee put the brakes on enacting its own rule since the topic was at the state level at the time. When the Legislature failed to enact anything, the city picked the discussion back up.
On Monday, the committee gave it back to the Legislature.
"I think it's a problem. I think it's a big problem," said Ron Edinger, councilman. "We should take the initiative and do something."
But one of the concerns about the city enacting its own rule was the practicality behind the timing.
Hosting public hearings and putting up signs warning motorists of the rule that's stricter than the rest of the state could be completed just in time for the city's rule "to be turned on its head" should the state pass its own law, said Wes Somerton, city attorney.
"My advice is to let the Legislature deal with it," he said.
Sen. John Goedde, R-Coeur d'Alene, said he expects a texting bill to pass during next year's session.
Recent Headlines
---