A night in the woods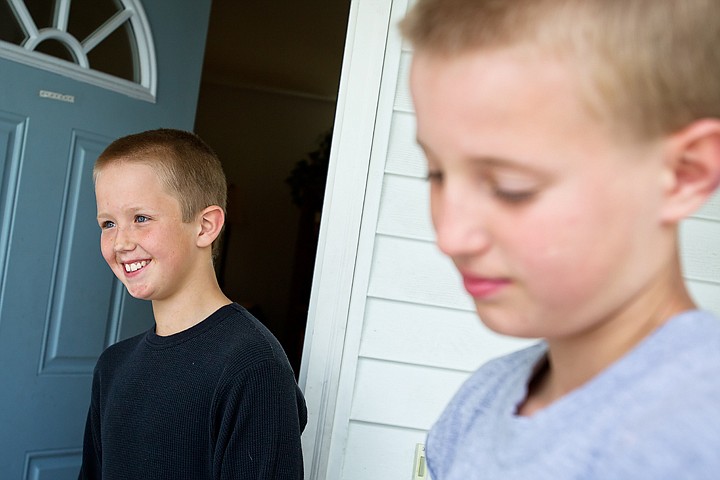 <p>SHAWN GUST/Press 10-year-old Hunter Morgan, left, and his older brother, Colton, talk Monday about being stranded the Hayden Creek area after their grandparents' car became high-centered in snow yesterday.</p>
by
Tom Hasslinger
|
April 27, 2010 9:00 PM
COEUR d'ALENE - It was like a camp out.
Three Coeur d'Alene boys back at home safely Monday morning after spending Sunday night in a stuck car with their grandparents said the night in the woods wasn't all bad.
It was still a little scary, though.
"It was a good feeling," said 13-year-old Colton Morgan on getting back home after being high-centered in snow near road 206 in the Hayden Creek area. "We were so happy."
Colton and his brothers Hunter, 10, and Gage, 5, spent Sunday with their grandparents, Neil and Connie Bigelow of Deer Park, Wash., skipping rocks at Lake Coeur d'Alene and driving around. It was fun.
They left the boys' home around 3:30 Sunday afternoon, and detoured to the Hayden Creek area to pick flowers.
But as the road continued to climb, the Dodge Durango they were riding in got stuck in the snow and ice.
"The road to start out with was so beautiful," said Connie. "It just turned ugly."
It was around dusk when they were stuck, and instead of hiking to get out then - unsure how far they were from help - the family hunkered down for the night.
The children's parents, Jeffrey and Kelly Morgan, notified Coeur d'Alene police around 2:50 Monday morning.
They suspected something had happened to the Bigelows' vehicle, and spent a sleepless night waiting for their return while search teams were organized.
"The boys were not scared," Connie said. "They were telling stories and drawing pictures. They were just having fun. They said, 'Well if we have to get stuck, we might as well get stuck this way.'"
The family ran the heater intermittently for warmth, and used coats as blankets. Early Monday morning, they found wood to put under the cars tires and knocked the snow and ice away from the bottom of the car to free it. No one in the SUV had a cell phone with them.
"The shout of joy was just ecstatic," Connie said when the car became fee. "Oh my goodness that whole car load was just hooting and hooraying."
Just before 9 a.m. Monday, they all safely returned.
"It was a good feeling. We were so happy," Colton said. "When we got home we just started eating."
"It sounds terrible, but it was an adventure," Connie said. "Something those boys are going to remember forever."
Recent Headlines
---