It was a beautiful day for a ... Spring Dash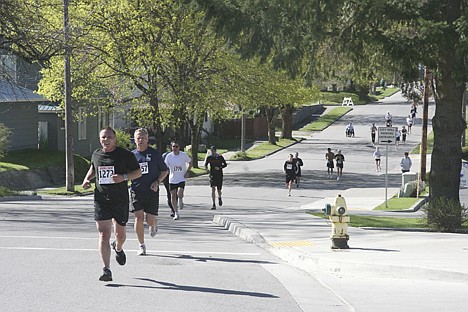 <p>Craig Singer, 54, of Post Falls, feels the burn as he charges uphill along Eighth Street and prepares for the final stretch down Front Street during Sunday's Spring Dash.</p>
COEUR d'ALENE - Except for some wind, runners and walkers in the 28th annual Spring Dash on Sunday had pleasant conditions to race the clock and each other with sunny skies and cool but not cold temperatures.
About 1,230 runners and walkers finished the five-mile race, which is a fundraiser for the United Way of Kootenai County.
The start and finish was at Bank of America at 401 E. Front Ave. The course winds through the Sanders Beach area and along the Centennial Trail.
Evan Sims, 32, of Spokane, won in a time of 25 minutes, 38 seconds. Daniel Shaw, 33, of Coeur d'Alene, came in second at 25:56, and Brian Hadley, 34, of Coeur d'Alene, came in third overall at 27:22.
For the women, Alyssa Shaw, 32, of Coeur d'Alene, won with a time of 29:28, with Jennie Olson, 29, of Greenacres, Wash., in second place at 32:56, and Michelle Neil, 39, in third at 33:21. Shaw was seventh overall.
Back in the pack a ways, friends Helen Hanna and Louise Bergeron-Jackson, both 45 and residents of Coeur d'Alene, ran the entire distance together, after expecting to both run and walk the race.
"I cried," Bergeron-Jackson said after finishing. "I was overwhelmed with joy that I actually accomplished something big at age 45."
Cocktails, a hamburger and French fries at Red Robin Gourmet Burgers the night before the race, surprisingly, didn't slow down Bergeron-Jackson, a first-time race runner. She plans to run the race again next year, and do nearly everything the same in preparation.
"I wouldn't bring the jacket," she said.
"But we have to beat this year's time next year," said Hanna, who says the most enjoyable aspect of the race is seeing the other people she knows out on the course.
Dora Williamson, 63, of Post Falls, said the Spring Dash is a good warm-up for Bloomsday in Spokane next Sunday. Williamson is also running the half-marathon in Coeur d'Alene next month, she said.
The Spring Dash is a great race because the crowd is large enough to inspire her to run faster, but not so big that people are stepping on her feet, she said.
"There's great scenery," she said. "It's really well organized, too."
A new environmental and educational nonprofit group called Keep CDA Blue, of Coeur d'Alene, was on hand volunteering at the start and finish area to make sure plastic bottles got picked up, placed in receptacles and recycled.
Group spokesman and founder, Aaron Surina, 32, of Coeur d'Alene, said, "We're trying to promote more recycling, and less recyclables in landfills."
It was the group's first big event, he said.
"Last year all the water bottles went to the landfill," he said. "So this year we're trying to take all of them out of the landfill, because there's thousands of them."
Spring Dash race results are available on the North Idaho Road Runners club's Web site at www.nirrc.org.
Recent Headlines
---