Search ends for 11 missing oil rig workers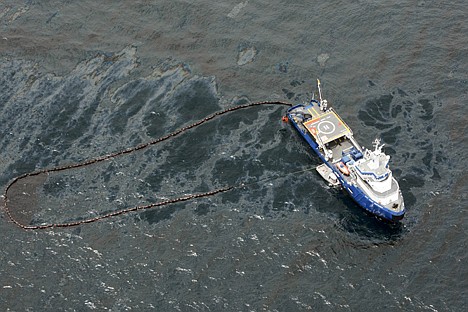 Search ends for 11 missing oil rig workers
by
Kevin McGILL & Noaki Schwartz
|
April 25, 2010 9:00 PM
NEW ORLEANS - Coast Guard officials on Friday suspended the three-day search for 11 workers missing since an explosion rocked an offshore oil rig, saying they believe the men never made it off the platform that erupted into a giant fireball.
Coast Guard Capt. Peter Troedsson said he spoke with all the workers' families about the decision to suspend the search before announcing it to the media.
"I'm a father and husband, and I have done this a few times before. It's never easy. Your heart goes out to these people," Troedsson said.
The Coast Guard says it will resume the search if any ships in the area see anything, but the workers' chances of survival had seemed slim well before Friday afternoon's announcement. "The time of reasonable expectation of survivability has passed," Rear Adm. Mary Landry said.
What caused Tuesday's massive blast off the Louisiana coast is unknown. As the search was ending, oil company crews were trying to clean up the environmental mess created by the Deepwater Horizon, which finally sank Thursday. The other 115 crew members made it off the platform, though four were critically hurt.
Federal regulators did not need this week's explosion aboard the state-of-the-art rig to know the offshore drilling industry needed new safety rules: Dozens of deaths and hundreds of injuries over the last several years had already convinced them that changes were needed.
The U.S. Minerals and Management Service is developing regulations aimed at preventing human error, which it identified as a factor in many of the more than 1,400 offshore oil drilling accidents between 2001 and 2007.
The Deepwater Horizon was the site of a 2005 fire found to have been caused by human error. An MMS investigation determined that a crane operator on the rig had become distracted while refueling the crane, allowing diesel fuel to overflow. Records show the fire was quickly contained, but caused $60,000 in damage to the crane.
An MMS review published last year found 41 deaths and 302 injuries out of 1,443 accidents from 2001 to 2007, the majority of caused by human error and operational and maintenance problems.
As a result of the findings, the MMS is developing new rules that would require rig operators to develop programs focused on preventing human error, an area that hadn't received as much attention in the past. The agency, which has yet to implement the new rules, also proposed audits once every three years.
Environmentalists say that while new technology touted by oil industry executives continues to improve, people still have to oversee those devices and human error remains a widespread problem.
Recent Headlines
---