Pens advance after Dupuis' goal in OT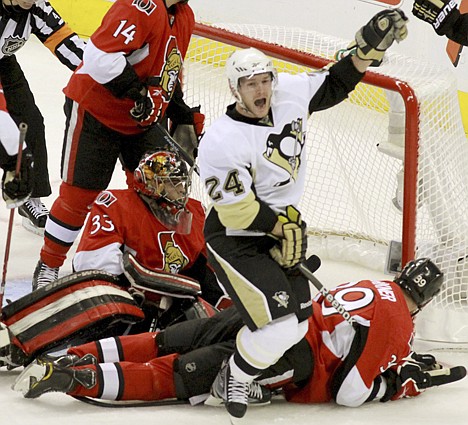 Pens advance after Dupuis' goal in OT
Pascal Dupuis scored 9:56 into overtime for the visiting Pittsburgh Penguins, who erased a three-goal deficit and eliminated the Ottawa Senators from the playoffs with a 4-3 victory in Game 6 on Saturday night.
The Senators led 3-0 in the second period and appeared to go up 4-1 in the frame, but lost a goal to video replay when it was determined the puck crossed the line after the net was knocked off its moorings.
Matt Cooke scored his second of the game with 7:36 left in regulation to tie it at 3. Bill Guerin had a goal earlier in the third, a period in which Pittsburgh held an 18-4 shots advantage.
Sidney Crosby was held off the score sheet and Evgeni Malkin limited to one assist.
"It says a lot," said Crosby, who recorded 14 points through the first five games. "We're going to do our best to create things, but there are going to be nights where it's tougher than others.
"Some nights it may not go in, or whatever the case is, but we've still got to do things out there. We've still got to be productive, whether it's not on the score sheet. We've got to be responsible out there and find ways to help, but certainly there are other guys who can step up and score those goals like we saw tonight."
Blackhawks 5, Predators 4, OT: Patrick Kane's short-handed goal tied the game with 13.6 seconds left in regulation and Marian Hossa came out of the penalty box to score the winner 4:07 into overtime as Chicago beat visiting Nashville to take a 3-2 lead in the first-round series.
Chicago can advance in the Western Conference playoffs with a win at Nashville on Monday night.
Sharks 5, Avalanche 2: At Denver, Joe Pavelski scored two goals, including the tiebreaking tally midway through the third period, to lift San Jose to a series-clinching win over Colorado in Game 6.
Pavelski and Dan Boyle scored 1:29 apart in the final period, propelling top-seeded San Jose into the next round.
Recent Headlines
---