Economy means rough times for some refugees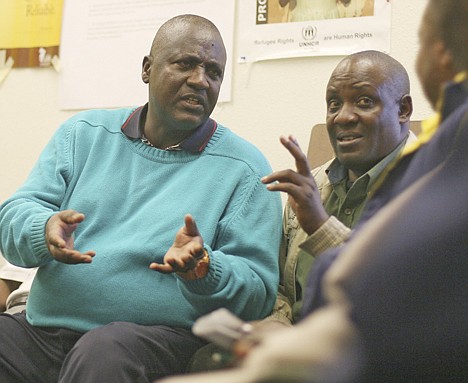 Economy means rough times for some refugees
by
Anna Webb
|
April 25, 2010 9:00 PM
BOISE (AP) - In his home country of Congo, and for a decade in a refugee camp in Rwanda, Alexis Mpalirwa taught civics and geography.
Today the father of five, who arrived in Idaho with his family just before the recession hit, is out of work.
He lives in a modest apartment on the Boise Bench. Bicycles lean against the kitchen wall. A calendar and a woven crucifix hang in the living room. Used box springs with exposed nails and mismatched bedding cover the floor of the room he shares with wife Josephine. A framed photograph of the Mpalirwas in better times - Josephine in a yellow headwrap, Alexis in a suit - sits on the floor in one corner. An overdue rent notice sits on a coffee table the Mpalirwas got from a friend at church. The family's eight months of refugee benefits expired last year.
The Mpalirwa clan is one of many refugee families who fled trauma and war with hopes of building new lives in the U.S. But those dreams have come up against a bad economy that has left even longtime, middle-class Idahoans without jobs and homes.
"I've had to wonder if we're taking families out of unacceptable situations and putting them into poverty in the U.S.," said Zoe Ann Olson, a lawyer with Idaho Legal Aid Services in Boise who has worked with 50 refugee families in the past year on the verge of losing jobs, homes and benefits.
Refugees also are required to repay their travel loans, an additional and daunting expense for the jobless. Idaho will receive more than 1,100 refugees this year. Most will settle in Boise.
Mpalirwa tried to support his family doing temporary jobs such as janitorial work and mowing lawns. Money issues aside, the local welcome for Mpalirwa - as a refugee, as an African - has not always been warm.
At one of several nonprofit organizations where he volunteers so his family can continue to receive Health and Welfare benefits, a co-worker called him a "chimpanzee" when he was having trouble understanding her. Mpalirwa speaks French and Swahili and other African dialects. He's learning English, but it's halting.
If his family can't pay its rent for March and April, they'll have to leave the apartment. Mpalirwa said he doesn't know where they'll go.
Until a couple of years ago, it was unheard of to see refugee families in Salvation Army shelters, said Amber Young, social services director for the Salvation Army. Since then, four or five families have come to the shelter seeking emergency lodging after losing their apartments. Many more have called to ask about getting help, she said.
Young credits "aggressive" work by Salvation Army staff to find low-income housing for refugee families when they've used up their maximum 90-day stay at the shelter.
Recent Headlines
---