Daytona repaving track before 500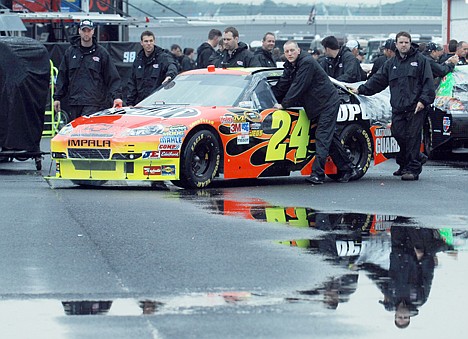 <p>Jeff Gordon's crew puishes his car through the garage at Talladega Superspeedway in Talladega, Ala., Saturday, April 24, 2010. (AP Photo/Rainier Ehrhardt)</p>
The Daytona 500 will have an improved look.
Daytona International Speedway will be repaved for the second time in history after a pothole on the track during this year's Daytona 500 forced two delays that totaled more than two hours during the Feb. 14 race.
The repaving project will begin immediately after the July 3 Sprint Cup race, with completion targeted for Jan. 1, 2011.
"We owe it to the fans to do this now," track president Robin Braig said on Saturday.
The original plan was to repave the track in 2012. Braig said the resurfacing was accelerated because they couldn't risk a similar situation next February.
Braig said a concrete patch was poured in the area where a significant pothole developed and he was confident the July race would run without any disruption. Nationwide Series cars will test there in May.
"We fixed the one area that was under stress and we fixed that properly," he said. "It's just not worth risking it. We may as well do it now and get it over with so we don't have to hold our breath at every race."
The International Speedway Corporation's team of engineers and asphalt specialists conducted an evaluation of the track, and the board of directors decided last week to go ahead with the repaving.
Daytona International Speedway's entire 2.5-mile tri-oval will be repaved as well as the skid pads, apron and pit road. Braig said drivers endorsed the fix.
The track opened in 1959 and was repaved in 1978.
Fans who renew their 2011 Daytona 500 tickets will receive a portion of Daytona's track surface.
Ready to rumble?: No wonder Jeff Gordon was sporting those dark shades this weekend at Talladega.
"Did you guys hear about the fight we got into?" Hendrick Motorsports teammate Jimmie Johnson said. "Man, we got into a hell of a fight. Caught him good with a right hook."
OK, the four-time Cup champions didn't really rumble even though they tangled on the track last week at Texas Motor Speedway. Gordon and Johnson insist there are no hard feelings after they got into a public tiff last week after some aggressive driving and critical comments of each other over the radio.
Gordon and Johnson both said they patched up their differences and chalked it up to two drivers competing hard for a win.
"We've raced hard for years. I just never had a car that could keep up with him," Gordon said. "We've got that this year. In a way, I hope we see more of it. We don't want to be bumping and banging, but I do want to be changing positions with him for the lead and swapping those positions."
Weather cancels action at Talladega: NASCAR canceled all Saturday track activity at Talladega Superspeedway because of threats of extended periods of severe weather at Talladega, Ala.
The Nationwide Series Aaron's 312 scheduled for Saturday will now be held today following the Sprint Cup Series Aaron's 499 (9 a.m., KAYU, ESPN 700). It's the second consecutive weekend that NASCAR will attempt a doubleheader.
Rain last weekend in Texas washed out both Cup and Nationwide events, and they were run back-to-back on Monday. Drivers who competed in both series totaled 801 miles of racing.
There are 10 drivers scheduled to run both of today's races, which are scheduled to total 811.30 miles barring any additional "overtime" laps.
Qualifying for Talladega's Cup race was canceled, and the field for today's race will be set by owner points. Four-time defending champion Jimmie Johnson will lead Matt Kenseth and Greg Biffle to the green flag.
Saturday qualifying caneled; race today
At Talladega Superspeedway
Talladega, Ala.
Lap length: 2.66 miles
(Car number in parentheses)
(Field set by owner points)
1. (48) Jimmie Johnson, Chevrolet
2. (17) Matt Kenseth, Ford
3. (16) Greg Biffle, Ford
4. (29) Kevin Harvick, Chevrolet
5. (24) Jeff Gordon, Chevrolet
6. (18) Kyle Busch, Toyota
7. (88) Dale Earnhardt Jr., Chevrolet
8. (31) Jeff Burton, Chevrolet
9. (2) Kurt Busch, Dodge
10. (5) Mark Martin, Chevrolet
11. (11) Denny Hamlin, Toyota
12. (20) Joey Logano, Toyota
13. (14) Tony Stewart, Chevrolet
14. (33) Clint Bowyer, Chevrolet
15. (99) Carl Edwards, Ford
16. (39) Ryan Newman, Chevrolet
17. (56) Martin Truex Jr., Toyota
18. (98) Paul Menard, Ford
19. (83) Brian Vickers, Toyota
20. (82) Scott Speed, Toyota
21. (1) Jamie McMurray, Chevrolet
22. (9) Kasey Kahne, Ford
23. (43) AJ Allmendinger, Ford
24. (42) Juan Pablo Montoya, Chevrolet
25. (12) Brad Keselowski, Dodge
26. (6) David Ragan, Ford
27. (19) Elliott Sadler, Ford
28. (47) Marcos Ambrose, Toyota
29. (77) Sam Hornish Jr., Dodge
30. (00) David Reutimann, Toyota
31. (78) Regan Smith, Chevrolet
32. (71) Bobby Labonte, Chevrolet
33. (38) Kevin Conway, Ford
34. (34) Travis Kvapil, Ford
35. (37) Robert Richardson Jr., Ford
36. (26) David Stremme, Ford, 2009 owner winner.
37. (09) Mike Bliss, Chevrolet, 2009 owner winner.
38. (7) Robby Gordon, Toyota, attempts.
39. (36) Johnny Sauter, Chev., attempts.
40. (13) Max Papis, Toyota, attempts.
41. (87) Joe Nemechek, Toyota, attempts.
42. (66) Dave Blaney, Toyota, attempts.
43. (55) Michael Waltrip, Toyota, attempts.
Failed to Qualify
44. (46) Terry Cook, Dodge.
45. (35) Aric Almirola, Chevrolet.
Recent Headlines
---