Getting graphic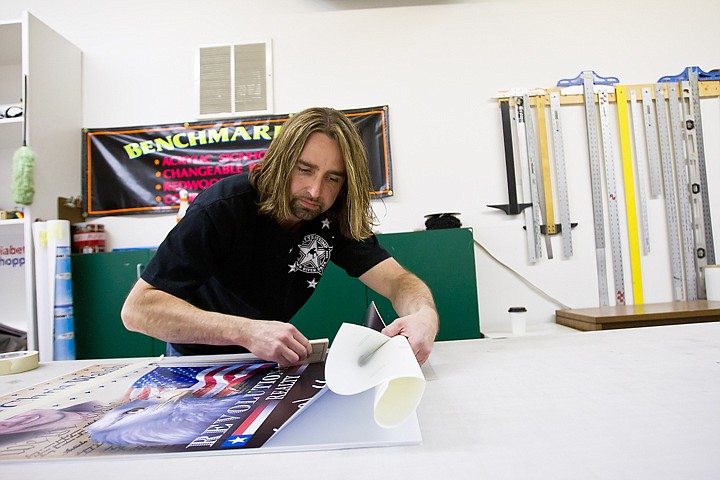 <p>Jamey Cunningham, graphic designer for Benchmark, Inc., applies a vinyl print to sign board Friday while assembling signs for a client at their Coeur d'Alene shop.</p>
COEUR d'ALENE - Sign production and graphic design specialists, Benchmark Sign & Graphics, based in Coeur d'Alene since 1993, has expanded with a new graphic design division.
Owners Luke and Cyndy Griffin have added new staff, increased production capabilities, and expanded the company's manufacturing and shipping space - in addition to creating iMGX Kreativ, specializing in branding and marketing solutions for small and medium-sized businesses and large corporate clients.
"iMGX Kreativ is generating amazing momentum for our company that's even more impressive because of the tight economic times facing so many around the country," says Luke Griffin, Benchmark President. "This is good news that we want to share, because we've brought in three new outstanding and talented professionals who each bring unmatched experience to our team," he said.
Graphic Design artist Jeremy Deming, art director for iMGX Kreativ, has spent more than a decade perfecting his graphic design and marketing solutions for such clients as Gozzer Ranch, Western Family, "Krown" wake and ski boards, Silverstone Development, Kootenai Medical Center, and CityLink bus service to name just a few of the hundreds and hundreds he has served.
iMGX Kreativ also added Jamey Cunningham, a graphic artist, photographer and production specialist with more than 20 years in the industry. Cunningham spent the last six years with Cassel promotions in Spokane where his clients included the Spokane Shock, Chiefs and Indians. He is creating visual displays to support Disney productions at the INB Performing Arts Center. In addition to his design role with iMGX, Cunningham is providing sales and production support.
The final piece of the expansion solutions for the new iMGX Kreativ division is the marketing, sales and community relations efforts by Bret Bowers. He has extensive public and private-sector experience with local Chambers of Commerce, Concerned Businesses of North Idaho, and the print and broadcast media industries.
"We are so fortunate and excited to bring about this expansion of iMGX Kreativ," says Cyndy Griffin, vice president and general manager of Benchmark Signs & Graphics and iMGX Kreativ. "We're confident the investment in our staff and our newly expanded production capabilities are going to pay huge benefits for our company, employees, the businesses we serve and the community we love so dearly," she said.
Benchmark has been a long-time supporter of community efforts, through Idaho Drug Free Youth, Coeur d'Alene High School Boosters, Coeur d'Alene Hockey Association junior-hockey and Lake City Community Church. The company's most recent project is the graphic design and vehicle wraps of two of Parker Toyota's 2010 Tacoma pick-up trucks being donated by the Coeur d'Alene based auto dealer for raffles to raise funds for local schools. The trucks will be on display at the dealership and many community, school, and fundraising events throughout the year.
Benchmark and iMGX employs 15 people and are both located at 5077 Building Center Drive, near the Coeur d'Alene Charter Academy. The companies specialize in interior/exterior signage, banners, and vinyl and plotted graphics for store fronts, vehicles and large-print applications.
"If you want your products, business or event to get noticed in any way, we will make it happen - It's what we do, and we've found new and creative ways to do it even better - and more of it," she said.
Information: 664-1265
Recent Headlines
---