Stalwarts for kids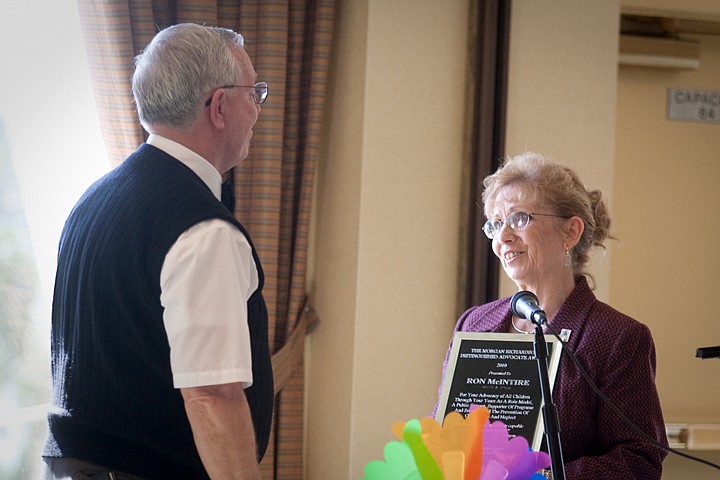 <p>Tinka Schaffer of Children's Village presents the Morgan Richardson Individual Advocate of the Year award to Mayor Ron McIntire Thursday afternoon at the Red Lion Templins Hotel in Post Falls.</p>
by
Brian Walker
|
April 23, 2010 9:00 PM
POST FALLS - Ron McIntire and Windermere make kids their business.
McIntire, who owns area Super 1 Foods stores and is Hayden's mayor, and Windermere Coeur d'Alene Realty were honored on Thursday during the Our Kids: Our Business awards ceremony at Red Lion Templin's Hotel sponsored by the Child Abuse Prevention and Awareness Coalition.
McIntire received the Morgan Richardson Individual Advocate of the Year as part of the area's Child Abuse Prevention Month activities.
"Children are our heritage," he said. "If we don't get them lined up right to begin with, they may not get lined up at all. You always hope that parents take care of those things, but they don't always do it.
"If you get kids started out right, they'll generally pay dividends to you. The children are our future."
McIntire and his wife, Joanne, have seven children and support college scholarship funds, scouting, youth sports, Children's Village, the Vanessa Behan Crisis Nursery and the Women's Center.
"He recognizes the importance of the family and the working parent," said Tinka Schaffer of the Children's Village. "He's left such a positive, permanent mark on this community."
The award is in memory of the late Morgan Richardson, the first director and co-founder of ICARE, a St. Vincent de Paul program that works to prevent child abuse through parent education.
Windermere received the Our Kids: Our Business Annual Business Award, which was accepted by co-owners Don "Pepper" and Midge Smock.
The Windermere Foundation, funded by the company's agents, has contributed $637,000 to the community to help programs such as the "Boots and Socks" program for needy children, Boys and Girls Club, Big Brothers and Sisters, Head Start, OASIS women's shelter, scholarships, the homeless and those with disabilities.
Its employees serve at Children's Village each June during the company's annual Community Service Day.
"We work with the most wonderful group of people in the world," Midge said. "It takes a village, and you are all representative of that."
Post Falls Police Chief Scot Haug said his agency investigated 85 child abuse cases in 2009, a 25 percent increase from 2008. Already in 2010, the department has had 27 physical abuse cases and six sexual abuse cases.
"We need your help," Haug said. "The police department does not work if it doesn't have the backing of the community."
Post Falls School District Superintendent Jerry Keane said all agencies and individuals need to be involved with curbing abuse.
"It's all of our responsibility and we need to get that message out," he said.
Recent Headlines
---