Derby Museum lets fans soak in Run for Roses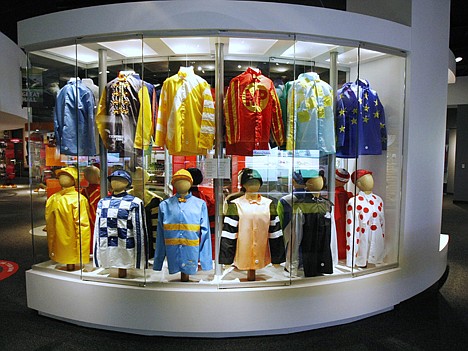 Derby Museum lets fans soak in Run for Roses
by
Bruce Schreiner
|
April 23, 2010 9:00 PM
LOUISVILLE, Ky. - Within the shadows of venerable Churchill Downs, the world's most famous horse race never ends. Nor does the pageantry of the Kentucky Derby.
The Kentucky Derby Museum, situated just off Gate 1 at Churchill, offers a treasure trove of Derby memories for horse racing aficionados and people making their maiden trip to a track. The museum was closed for renovations due to flooding for the past nine months, but reopened Sunday, just in time for the Run for the Roses on May 1.
Through videos and testimonials from racing greats to regular fans, visitors soak in the Derby Day atmosphere - from the regal millionaire's row to the raucous infield. Exhibits showcase the Derby's reputation as a giant runway for fashion - with examples ranging from the pale pink, sequined dress worn by Anna Nicole Smith on loan to the museum to the colorful, plumed hats dotting the Derby crowd.
Interactive displays let visitors pretend they're riding hard-charging thoroughbreds, guiding them to the rail or to the outside, or making wagers on randomly chosen past races at Churchill - though no actual money changes hands. Guests can clear their throats and call a horse race as track announcer, or test their Derby knowledge with a trivia game.
"If people aren't race fans yet, I hope ... this tempts them to watch a horse race," said museum spokeswoman Wendy Treinen. "I hope people who have been in before say, 'Wow, this place is great.' All the new technology just sucks you right in and you want to learn more."
Every Run for the Roses since 1918 can be replayed with the touch of a screen, allowing visitors to relive the Derby Day glory of longshots to Triple Crown winners.
"It's fun to see retired jockeys come in and watch their races," Treinen said.
Though the museum celebrates the Derby every day, the nonprofit attraction that draws about 210,000 visitors per year is a separate entity from Churchill Downs.
In the past year, the museum has shown the resilience of a Triple Crown winner.
Last August, the museum was swamped by flash flooding that caused more than $4 million in damage, forcing its closure. The museum reopened less than two weeks before this year's Derby, following an ambitious $5.5 million renovation.
Recent Headlines
---