Life in pictures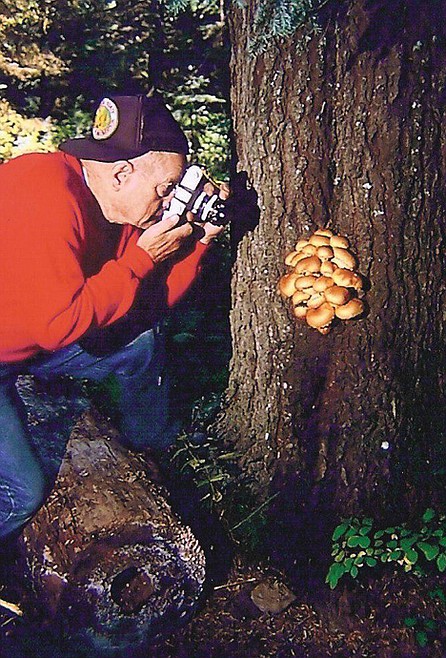 <p>Bob Thomas photographs a fungus growth on a tree near the Little North Fork of the Coeur d'Alene River, while he uses a second camera mounted on a tripod using a timer and a flash to take this self-portrait.</p>
POST FALLS - As Bob Thomas approaches 95 years old, he bemoans that he had to give up driving his car. The worst part? It has limited his opportunities to get outdoors and take pictures.
"I often said when I am confined to the ole' rocking chair I will be able to review my inventory of pictures and enjoy again where I have been," he said. "I now find this to be true."
Thomas has been shooting scenics in North Idaho for nearly 60 years, starting in 1952 when his friend Art Manley invited him to attend a meeting of the Coeur d'Alene Camera Club.
Individual members of the club showed their slide pictures and the members discussed the good parts as well as the poor parts. Discussions followed on how to correct the bad parts.
"This interested me," the Post Falls man said.
Thomas began attending more meetings, and learned the basics of photography, such as how to compose a picture, correct lighting and shutter speed.
"As a result I bought a quality Canon camera and went out and shot pictures to be shown and critiqued at club meetings," he said. "Thus I was on the road to photography shooting 35mm slides."
Thomas began taking his camera on all his outings. Photography replaced hunting and fishing.
He sent a fall color picture to an outdoor magazine and they published it as a center fold and also used it on their calendar.
"I was hooked on photography," Thomas said. "I purchased a second Canon camera."
One was used for black and white 35mm film. The other was used for color 35mm slides.
He used both cameras recently when he shot a self-portrait. As he photographed fungi growing on a tree along the Little North Fork of the Coeur d'Alene River, he set a second 35mm camera on a tripod and clicked the shutter using a timer.
Thomas eventually changed from the 35mm camera to the digital camera.
His favorite places nearby for pictures are the Centennial Trail along Lake Coeur d'Alene; Mica Bay; the Trail of The Coeur d'Alenes; Black Bay Park and Falls Park near Post Falls and along the St. Joe River.
Over the years, Thomas said he has favored landscapes, waterscapes, old buildings and flowers. He has captured scenes from Arizona to Alaska.
"I was dubbed as the guy with a camper, a camera and a can of chili," he said.
And he'll always have his rocking chair and pictures, too.
Recent Headlines
---