I-90 delays loom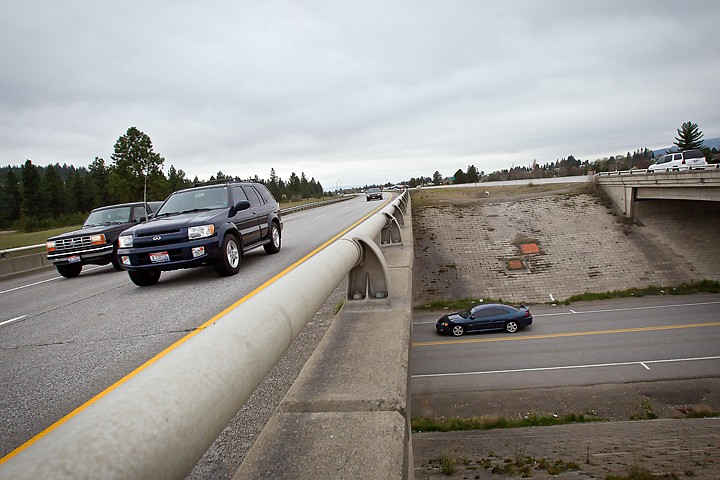 <p>Motorist travel on and under the bridges of Interstate-90 Wednesday. A $2.4 million project will prompt lane closures and delays on the interstate beginning at the bridge at state line over the Spokane River to the bridge over Spokane Street beginning Monday through mid-June.</p>
by
Brian Walker
|
April 22, 2010 9:00 PM
POST FALLS - Traffic on Interstate 90 at Post Falls in both directions will experience delays from Monday through mid-June while three bridges are rehabilitated.
"It is going to create significant impacts to traffic," said Barbara Babic of the Idaho Transportation Department, adding that delays of more than 15 minutes are expected.
Work will be done simultaneously on the bridge at the state line over the Spokane River, the one over Pleasantview Road and over Spokane Street.
ITD estimates that an average of 50,000 vehicles travel the 4.6-mile stretch per day.
Here is the work schedule and closure information:
• From Monday through May 3, work will be done from 8 p.m. to 5 a.m., including weekends. One lane in each direction will be closed during those times, then re-opened during the day.
• Beginning Tuesday, May 4, one lane in each direction will be closed on a 24-hour basis for about 30 days.
• Once the bridge work is complete, night lane closures will continue for about 20 more days. During this time, there will be paving and striping in each direction.
Motorists are encouraged to use alternate routes due to the delays and congestion.
The speed limit in the stretch will be reduced to 45 mph. The fine for speeding in a construction zone is $91.50, with a fixed penalty of $50, plus court costs and several fees.
The bridge decks will have a 1.5-inch layer of concrete removed, damaged areas will be repaired and the bridge decks will be overlaid with a new concrete surface.
The bridge approaches will receive a new asphalt surface and bridge joints will also be repaired. The work will extend the life of the bridge decks.
"None of these bridges are deficient, just in need of new deck surfaces," Babic said. "No major repairs are needed."
The contractor for the $2.4 million project is Penhall Company, of Mukilteo, Wash. The project is one of nine being financed through competitive bid savings on eight original projects funded by the federal stimulus program.
Recent Headlines
---