Caps slam Habs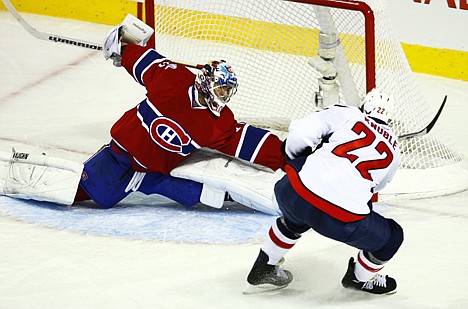 Alex Ovechkin scored his second goal of the game with 8:51 left, sending the visiting Washington Capitals to a 6-3 victory over the Montreal Canadiens on Wednesday night and a 3-1 lead in the Eastern Conference series.
Ovechkin opened the scoring at 8:10 of the first period with Washington's first power-play goal of the series. Mike Knuble tied it at 2 with the Capitals' second short-handed goal in two games with 6.3 seconds left in the second.
Game 5 is Friday at Washington.
Bruins 3, Sabres 2, 2OT: Miroslav Satan scored on a power play at 7:41 of the second overtime to give host Boston a victory over Buffalo and a 3-1 lead in the first-round playoff series.
Game 5 is Friday at Buffalo.
Canucks 6, Kings 4: Henrik Sedin scored the go-ahead goal with 2:52 to play, and visiting Vancouver scored four times in a wild third period to even the first-round series with a victory over Los Angeles in Game 4.
The Western Conference quarterfinal series shifts to Vancouver on Friday for Game 5.
Recent Headlines
---