Call for free access to cdapressEXTRA.com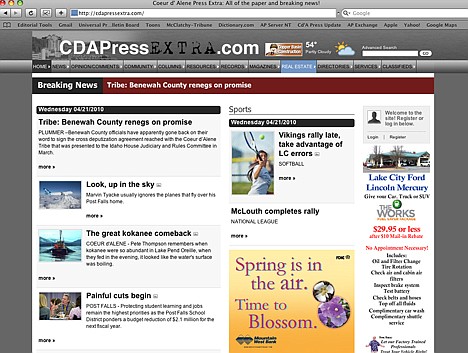 <p>Coeur d'Alene Press and Post Falls Press print subscribers have until Sunday, May 2 to ensure they get the complete online newspaper for free.</p>
Coeur d'Alene Press and Post Falls Press print subscribers have until Sunday, May 2 to ensure they get the complete online newspaper free.
Free access to cdapressEXTRA.com will continue for all print subscribers but they must first call 664-0220 or e-mail circulation@cdapress.com for their account number.
"This is an essential step for print subscribers to get uninterrupted online service," said Dan Phillips, Press circulation manager. "As long as they're a full-time print subscriber, they'll have unlimited access to the premium site, cdapressEXTRA.com."
Unlike cdapress.com, cdapressEXTRA.com provides readers complete news content from the print edition, including free, unlimited access to the newspaper's electronic archives. It is also updated more frequently than cdapress.com and offers features that cdapress.com does not.
Phillips urged subscribers not to wait until May 2 to call or e-mail for their account number. He said the circulation department has employees standing by 8 a.m. to 5 p.m. weekdays to give customers the information they need for free access to the site.
Phillips said online-only subscriptions are available by purchasing three months for $30. Online-only subscribers should call 664-0220.
Customers who allow their print subscriptions to lapse or stop delivery for 30 days will have to pay a $2.50 re-connection fee to resume access to cdapressEXTRA.com.
Recent Headlines
---