Area students create tree-mendous art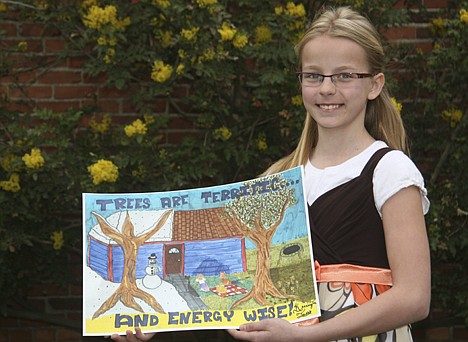 <p>Kerringten Jones, a fifth-grader at Prairie View Elementary in Post Falls, shows off her art that won first place in the Idaho Arbor Day Poster Contest.</p>
by
Brian Walker
|
April 22, 2010 9:00 PM
POST FALLS - Trees are terrific, and judges in the state's Arbor Day Poster Contest believe entries from three North Idaho students are terrific as well.
Area students made it a complete sweep in the state contest for fifth-graders, with Kerringten Jones of Prairie View Elementary placing first, Stephen Davenport of Heyburn Elementary in St. Maries second and Marcel Epkey of Immaculate Conception Academy in Post Falls third.
"I thought I was going to fall over," Kerrington said of her reaction to winning the contest. "It was really cool."
Kerringten's design, which shows trees during both the winter and summer months outside a home, will be entered in the national contest.
Kerringten said art is her favorite subject and she loves to experience trees and the outdoors with her family.
"She's our project girl," said Katharine Jones, Kerringten's mother. "She does projects all the time. In 20 minutes, she can have an entire computer made out of cardboard."
In the contest, students were asked to create a poster reflecting the theme "Trees are Terrific ... and Energy Wise!" Teachers used accompanying materials to educate students about the theme and the importance of planting and caring for trees.
Kerringten, who earlier won the contest for the city, will receive a $150 U.S. savings bond. A tree will be planted in her honor at the Capitol in Boise during the state Arbor Day celebration on April 30 and a stone marker noting her achievement will be set at its base. She will receive a poster made of her artwork from Gov. Butch Otter.
Kerringten's teacher, Jamie Pine, will receive $50 for classroom supplies.
Stephen will receive a $100 bond and Marcel a $50 bond. Their teachers will also receive $50 for classroom supplies.
George Bacon, Idaho State Forester and Idaho Department of Lands director, said the contest is intended to be educational for both students and adults.
"Art is a wonderful way for students, like Kerringten Jones, to explore and learn how trees grow, function and benefit our communities," Bacon said. "An appreciation and understanding of the importance of trees is clearly fostered. Their posters encourage us all to value and care for our community forests now and into the future."
Prize money and poster reproductions are sponsored by revenues from Idaho forestry license plates, which support reforestation efforts and educational projects such as the poster contest. Judges were from the Idaho Forest Products Commission and the IDL, co-sponsors of the contest.
Recent Headlines
---