Downtown goes brown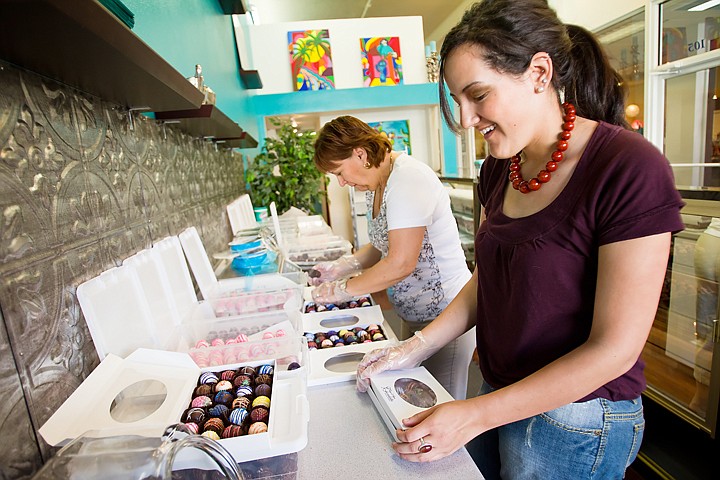 <p>Erica Vega, a sales clerk at Coeur d'Alene Chocolates, right, works with owner Edena Yeager Tuesday preparing boxes of assorted butter cream chocolates while stocking their new location with inventory.</p>
COEUR d'ALENE - Coeur d'Alene Chocolates, recently voted best chocolates in the "Best of North Idaho Readers' Survey," will open its second store today in downtown Coeur d'Alene. The new store is in the Sherman Arms building at 412 E. Sherman Ave., Suite 105 across from the Iron Horse Grill.
The chocolate business has been growing steadily since it opened its doors at its Government Way location in November. However, the owners, Tim and Edena Yeager, were looking to increase the company's walk-in traffic.
"We were fortunate to find such a prime location in the heart of downtown Coeur d'Alene and the timing couldn't be more perfect," Tim said. "The sun brings people out and downtown is a great place to be."
The couple will continue to showcase their gourmet chocolates at partnering business, Edena's Gallery of Art, at 3650 N. Government Way near Rockin' Robin Cafe.
Both stores offer gourmet specialty chocolates handmade in Coeur d'Alene.
"We control the entire process from start to finish, everything is fresh and we do not rely on machines to do the work," says Misty Davey, who manages the production process. "From habanero caramels to dark chocolate espresso truffles, from fancy caramel apples to handmade English toffee, we really do have something for everyone."
Coeur d'Alene Chocolates commercial accounts have been growing, too. Some of their clients include Northern Quest Casino, Silverwood Theme Park, Simply Northwest, Gentiva Home Health and Kootenai Medical Center.
"I want people to come by for a visit and try our chocolates," Tim said. "It's a family affair so they can bring the kids, too."
The downtown store is open 10 a.m. to 6 p.m. 7 days a week, and the Government Way shop is open 9:30 a.m. to 5 p.m. weekdays and 10 a.m. to 4 p.m. Saturday.
"Who knows, maybe someday we'll be right up there with Hudson's burgers as one of the 'must-see' destinations for people coming to visit Coeur d'Alene," Tim said.
For more information about Coeur d'Alene Chocolates, call 664-3138 or go to its Web site at www.cdachocolates.com.
Recent Headlines
---