Nuggets sound off on Jazz in opener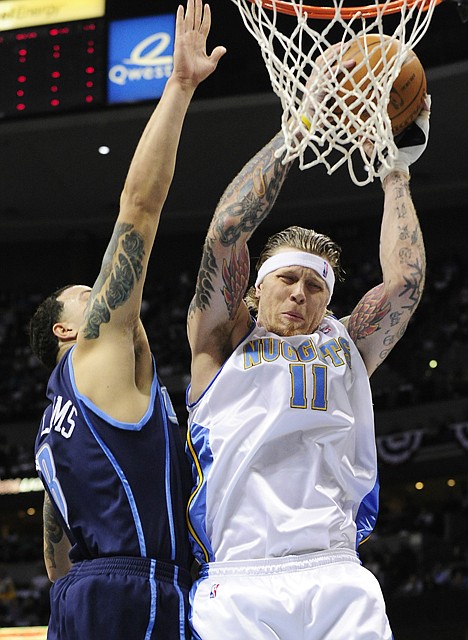 Carmelo Anthony scored a playoff career-high 42 points and J.R. Smith's fourth-quarter flurry of 3-pointers helped the Denver Nuggets beat the visiting Utah Jazz 126-113 on Saturday night in Game 1 of their Western Conference playoff series.
Anthony, whose previous playoff high was 41 points against Dallas in the second round last year, benefited from the absence of Jazz forward Andrei Kirilenko, who re-injured his strained left calf in practice Thursday and won't play in the series.
Although Carlos Boozer (rib) returned to Utah's lineup and scored 19 points, the Jazz lost center Mehmet Okur, who aggravated his left Achilles' tendon injury in the first half, and C.J. Miles also missed some time because of nausea after colliding with Chauncey Billups in the second half.
Game 2 is Monday night in Denver.
Cavaliers 96, Bulls 83: LeBron James had 24 points and four blocks, Shaquille O'Neal added 12 points and three blocks and host Cleveland opened the Eastern Conference playoffs with a win over Chicago.
O'Neal looked remarkably sharp despite missing the Cavs' final 23 games after tearing a thumb ligament. He dropped 20 pounds while he was sidelined by watching his diet and swimming.
Game 2 of the best-of-seven series is Monday at Cleveland.
Hawks 102, Bucks 92: Joe Johnson had 22 points, Josh Smith added 12 points and 10 rebounds and Atlanta beat visiting Milwaukee in Game 1 of the Eastern Conference series.
Game 2 is Tuesday at Atlanta.
Celtics 85, Heat 76: Kevin Garnett had 15 points and nine rebounds and host Boston played Miami-style defense to beat the Heat in the opener of their playoff series.
Trailing 44-41 at halftime, the Celtics held the Heat to 32 points in the second half. And with substitute guard Tony Allen shadowing Dwyane Wade, the Heat star scored 26 points after averaging 33.7 in three regular-season games against Boston.
Game 2 is Tuesday at Boston.
Recent Headlines
---