End of the line for Walter?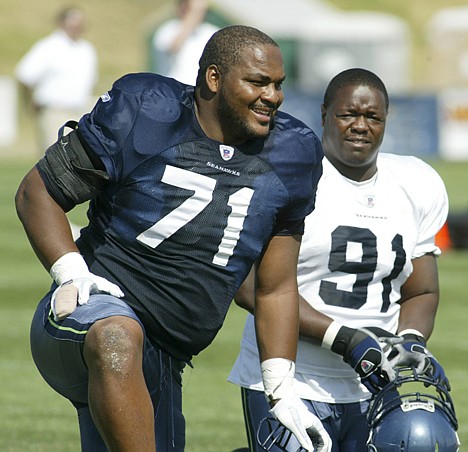 <p>FILE - This Aug. 15, 2006, file photo shows Seattle Seahawks offensive tackle Walter Jones, left, and defensive tackle Chuck Darby joking along the sidelines during football training camp at Eastern Washington University in Cheney, Wash. _ All Seahawks signs point to the imminent retirement of Walter Jones. Seattle's six-time All-Pro left tackle has not participated in new coach Pete Carroll's first, voluntary minicamp this week.And general manager John Schneider said Thursday, April 15, 2010, he is preparing for the next week's draft under the assumption the 36-year-old Jones &quo...
by
Gregg Bell
|
April 16, 2010 9:00 PM
RENTON, Wash. - Signs are pointing to the imminent retirement of six-time All-Pro Walter Jones.
Seahawks general manager John Schneider said Thursday he is preparing for next week's draft under the assumption the 36-year-old left tackle will not play in 2010.
The first-year GM said the team should know for sure very soon. Seattle has the sixth and 14th overall picks in the draft.
Offensive tackles Russell Okung of Oklahoma State, Bryan Bulaga of Iowa and Trent Williams of Oklahoma are expected to be taken in the first round.
"We're approaching it like Walter Jones will not be here, frankly," Schneider said. "If he is here, that'd be an added bonus."
Jones has been rehabilitating in Florida following two knee surgeries. He hasn't played since Thanksgiving Day 2008. Weeks later, the sixth overall pick in the 1997 draft had major microfracture surgery on his left knee.
On Tuesday, the first day of a voluntary three-day minicamp that Jones didn't attend, new coach Pete Carroll said Jones has been close to announcing his retirement.
"I haven't talked to Walter in a while now. The last time I did he is really considering that he's going to retire - but hasn't made the decision final enough to come to you guys and make an announcement," Carroll said. "We will just have to wait and see on that one.
"But we support him. He has been a great Seahawk over the years and we support whatever he is going to do here."
Jones tried to return from the microfracture surgery for training camp last summer. He made it through a couple of practices, then had arthroscopic surgery on the knee in August. He later went on the injured reserve list. His pain was exacerbated by a kidney condition diagnosed when he was a rookie that keeps him from taking anti-inflammatories to combat swelling and pain.
He said in January that his knee "feels pretty good" following months of rehabilitation but acknowledged it "still has a long way to go" to get back to playing shape.
Then this posting appeared on Jones' Twitter page Feb. 7: "I have came to the conclusion it is time for me to retire from football."
He hasn't addressed the issue publicly since.
Recent Headlines
---