Carell, Fey sparkle in 'Date Night'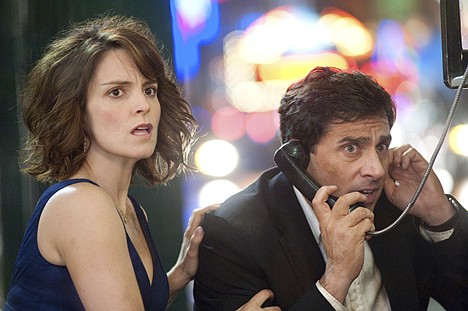 <p>In this file publicity image released by 20th Century Fox, Tina Fey, left, and Steve Carell are shown in a scene from, "Date Night." The No. 1 spot at the weekend box office is too close to call between Steve Carell and Tina Fey's comedy "Date Night" and the action tale "Clash of the Titans." (AP Photo/20th Century Fox, Myles Aronowitz, File)</p>
by
Tyler Wilson
|
April 16, 2010 9:00 PM
Fans of "The Office" and "30 Rock," rejoice! The stars of NBC's Thursday night comedy lineup team up for the action-comedy "Date Night," a movie with more laughs than its flimsy premise deserves.
Steve Carell (aka Michael Scott of "The Office") and Tina Fey (aka Liz Lemon of "30 Rock") star as Phil and Claire Foster, an exhausted married couple with loud kids, time-consuming careers and a limp love life. Their evening routine involves the application of snoring strips and retainers, and their weekly date night typically culminates at a sleepy restaurant serving salmon and potato skins.
Sounds pretty nice, actually.
In hopes of a romantic rekindling, Phil and Claire head for New York City to eat at the hottest new restaurant in town. Bumbling Phil forgets to set a reservation, so the Fosters move in on a table reserved for the absent "Tripplehorns." Not even halfway through their wine and risotto, some shifty-looking goons yank them outside and demand a missing flash drive at gunpoint.
Claire calls it a "computer sticky thing.
And with that, the Fosters engage in an evening of "North By Northwest" -style mistaken identity. It involves a corrupt District Attorney, dirty cops and the real Tripplehorns, a couple of idiotic drifters hilariously played by James Franco and Mila Kunis.
The best supporting role goes to Mark Wahlberg as a "security expert" who helps the Fosters evade the bad guys. He never wears a shirt, which of course leads Carell into his well-defined routine of insecure grumbling.
Director Shawn Levy ("Night at the Museum") never knew a story he couldn't overstuff with limp slapstick and overblown action sequences. Nothing about "Date Night" is particularly original or even believable, but it hardly matters with leads like Carell and Fey.
Having never worked together before, the two stars share an impressive natural chemistry, trading barbs, one-liners and marital sentiments as their situation escalates throughout the evening. In the most ridiculous (and funniest scene), the Fosters engage in a frantic car chase that involves Wahlberg's expensive sports car, an unlucky cab driver and a slew of police cruisers. Nobody squeals like a baby quite like Carell.
Fey is basically playing her character from "30 Rock," but considering how lovable and sarcastic Liz Lemon is, Fey could rehash the character in a dozen movies without it ever becoming stale. Carell is more bumbling "40-Year-Old Virgin" than the clueless middle manager he plays on "The Office." The point is, when paired together, they're even more lovable than they are apart.
"Date Night" isn't much more entertaining than what you can see on television every Thursday night. Still, the pairing is enough for "Date Night" to power through its ridiculous story for 90 minutes. Any longer and Phil Foster might strangle Marky Mark until he agrees to finally put on a shirt.
Grade: B
Ticket Stubs is sponsored by the Hayden Cinema Six Theater. Tyler Wilson can be reached at twilson@cdapress.com. Read more reviews and pop culture commentary at www.NormdogEntertainment.com.
Recent Headlines
---