Canadiens open with upset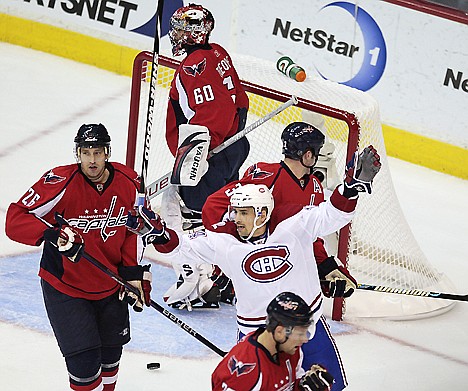 Canadiens open with upset
Tomas Plekanec scored 13:19 into overtime to give the visiting Montreal Canadiens a 3-2 victory over the top-seeded Washington Capitals on Thursday night in Game 1 of the Eastern Conference playoff series.
Plekanec scored on a drive from high in the slot that beat goalie Jose Theodore to the stick side.
Two-time reigning league MVP Alex Ovechkin did not have a shot on goal.
Game 2 is Saturday night in Washington.
Sabres 2, Bruins 1: Ryan Miller made 38 saves to lead Buffalo to a playoff-opening victory over visiting Boston.
Craig Rivet scored the go-ahead goal with a slap shot from the right circle with 6 minutes left in the second period, and Thomas Vanek also scored in Buffalo's first playoff game in three years.
Game 2 of the best-of-7 Eastern Conference quarterfinal is Saturday in Buffalo.
Canucks 3, Kings 2, OT: Mikael Samuelsson scored his second goal 8:52 into overtime to lift host Vancouver past Los Angeles in Game 1 of the first-round Western Conference series.
Game 2 is Saturday at Vancouver.
Recent Headlines
---