Vikings stretch past Timberwolves
by
JASON ELLIOTT
Sports Writer
|
April 15, 2010 9:00 PM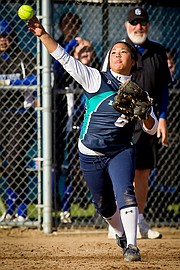 COEUR d'ALENE — The Coeur d'Alene Vikings jumped on the visiting Lake City Timberwolves with two runs in the top of the first inning and let their defense do the rest in a 2-0 5A Inland Empire League victory at Larry Schwenke Field.
Coeur d'Alene (12-2, 2-1 5A IEL) sophomore Kyeli Parker reached on a throwing error and came around to score on a double by Elli Tindall. Tindall came in on a single from Kristina Goodwin.
"Really, for us to jump on them early was the key," Coeur d'Alene coach Larry Bieber said. "When you've got pitchers like we have in our league — it's important to score first. There is good pitching throughout our league."
Lake City's Jamie Hall hit a one-out single in the top of the first, but was picked off first base on a line drive to second baseman Tindall and throw out at first.
"We can be pretty good when our defense plays like that," Bieber said. "With the way that Lindsie (Scholwinski) pitched today and Elli is hitting — this was a good win for us."
Lake City (8-3, 3-2) freshman Casey Stangel struck out 11 batters in the game — including the first six outs the Timberwolves recorded. Scholwinski had six strikeouts in the shutout for Coeur d'Alene.
"She's been throwing just well," Lake City coach Laura Tolzmann said. "Our defense was really strong behind Casey. They just strung some hits together and on a day like today — it's anyone's day."
"She got a lot of Ks on the rise ball," Bieber said. "We need to remain patient. But we got hits when we needed to."
Tindall hit her second double of the game in the bottom of the sixth inning.
"We played well as a team today," Tindall said. "It was lots of fun. It helps us having the confidence that we can beat these guys going into Friday."
Stangel had a one-out double in the top of the sixth, but the Timberwolves were unable to push the run across the plate.
"We're still working out some kinks," Tolzmann said. "We had a couple of drives right to them. They strung some hits together and that does it in fast-pitch. We'll be ready for them on Friday."
Both teams will meet again on Friday at Lake City High.
Lake City 000 000 0 — 0 3 1
Coeur d'Alene 200 000 x — 2 3 1
Casey Stangel and Avalon Leddy; Lindsie Scholwinski and Teigan Lockwood. W — Scholwinski (7-1). L — Stangel (7-3).
HITS: LC — Yurick, Hall, Stangel. Cd'A — Tindall 2, Goodwin. 2B — Tindall 2, Stangel.
Recent Headlines
---