Mavericks set up opening series with rival Spurs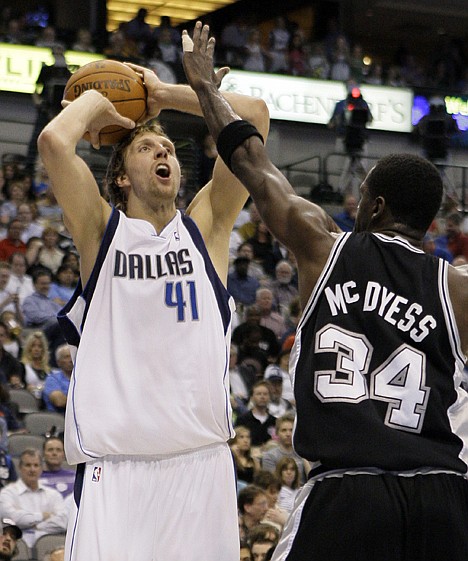 Mavericks set up opening series with rival Spurs
Jason Kidd and Jason Terry led a 16-2 run at the end of the first quarter, putting the Dallas Mavericks ahead for good on their way to a 96-89 victory over the visiting San Antonio Spurs on Wednesday night that sets up a first-round playoff matchup between these teams.
Dallas clinched the No. 2 seed in the Western Conference and San Antonio the seventh.
Before tipoff, Mavs owner Mark Cuban jokingly said this season finale was "Game Minus-1" of that series - and that was before the Spurs helped ensure the matchup by giving Tim Duncan and Manu Ginobili the night off. Both were on the initial lineup turned in by coach Gregg Popovich, but neither ended up even sitting on the bench.
Bulls 98, Bobcats 89: Chicago clinched the NBA's last unclaimed playoff spot, as Derrick Rose scored 27 points and Joakim Noah added 21 points and 13 rebounds in a win at Charlotte.
Hornets 123, Rockets 115: David West had 35 points and 10 rebounds, rookie Darren Collison added 26 points and 11 assists and New Orleans won at Houston.
Bucks 106, Celtics 95: Jerry Stackhouse and Luke Ridnour scored 17 points apiece, and Milwaukee won at Boston as the Celtics rested their Big Three in preparation for the playoffs.
Pistons 103, Timberwolves 98: At Minneapolis, Charlie Villanueva scored 13 of his 16 points in the fourth quarter to rally Detroit past Minnesota.
Clippers 107, Lakers 91: Steve Blake scored 23 points and the Clippers beat the playoff-bound Lakers in a battle of Los Angeles teams.
Thunder 114, Grizzlies 105: Kevin Durant scored 31 points to finish the season as the youngest scoring champion in NBA history, and host Oklahoma City survived a sloppy second half to head into the postseason with a win over Memphis.
The Thunder will meet the defending NBA champion Los Angeles Lakers in the first round of the playoffs.
Warriors 122, Trail Blazers 116: Stephen Curry scored 42 points and visiting Golden State finished its season with a victory over playoff-bound Portland.
The injury-depleted Trail Blazers finished as the No. 6 seed in the Western Conference and will face the third-seeded Phoenix in the first round.
Cavaliers 99, Hawks 83: Rookie Jeff Teague set career highs with 24 points and 15 assists and host Atlanta cruised past LeBron James-less Cleveland in a regular-season finale that had plenty of star power - on the bench.
Wizards 98, Pacers 97: Andray Blatche scored 26 points as host Washington beat Indiana.
Raptors 131, Knicks 113: DeMar DeRozan and Andrea Bargnani scored 24 points apiece and Toronto beat visiting New York, but finished a game behind Chicago for the final playoff spot in the Eastern Conference.
Magic 125, 76ers 111: Jameer Nelson had 21 points, Vince Carter scored 17 and Orlando broke the single-season record for 3-pointers made in its victory over visiting Philadelphia.
Heat 94, Nets 86, 2OT: Michael Beasley had 25 points and 13 rebounds, Mario Chalmers scored 15 points and Miami wrapped up the No. 5 seed in the Eastern Conference playoffs by beating visiting New Jersey.
Suns 100, Jazz 86: At Salt Lake City, Steve Nash had 11 assists in just three quarters, Amare Stoudemire finished with 20 points and seven rebounds, and Phoenix Suns easily clinched the No. 3 seed in the Western Conference by beating Utah.
The Jazz finish fifth in the West and will open the playoffs at Denver, which claimed the Northwest Division with and No. 4 seed by holding the tiebreaker over Utah.
Recent Headlines
---