Clean-up day planned for North Idaho Centennial Trail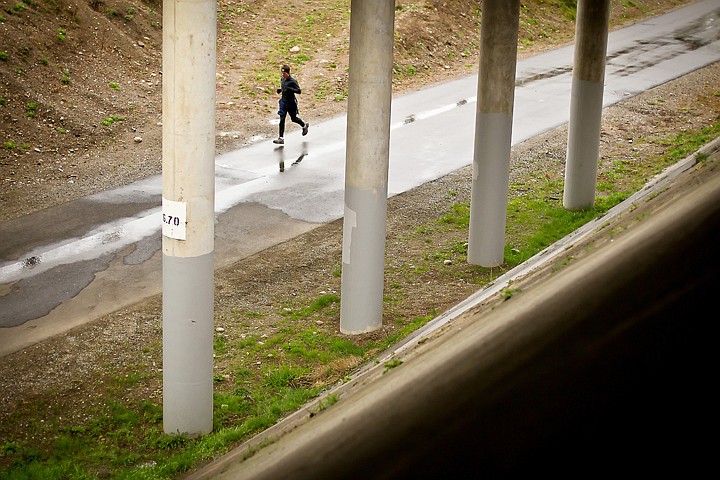 <p>A runner makes his way down the Prairie Trail Tuesday underneath Interstate-90 in Coeur d'Alene during an afternoon rain.</p>
The North Idaho Centennial Trail Foundation will have its second Trail Care Day on Saturday, April 17.
Trail Care Day will be a community effort to care for the Centennial Trail while kicking off another season of trail activities that include running, biking, walking and skating.
Additionally, the North Idaho community will be working in unison with the Washington side of the trail to simultaneously care for the entire Centennial Trail, which is more than 60 miles long.
"For those of us who live here and enjoy the trail on a regular basis, it's easy to forget just how special and important it is," said North Idaho Centennial Trail Foundation Manager Charlie Miller.
On Saturday, groups and individuals will meet at the Post Falls City Hall or the Coeur d'Alene Chamber of Commerce at 8 a.m. to fuel up on coffee, juice, and pastries, get their mile assignments, and pick-up their trash bags. The trail work should be completed by noon.
Participants should wear comfortable, sturdy, shoes and sunscreen, bring gloves, and "be prepared to end the morning feeling proud to have helped care for one of our community's great assets."
Those interested in participating in this important community event should contact the North Idaho Centennial Trail Foundation at 292-1634, or by e-mail at charlie@cdachamber.com.
"The Care Day will be an opportunity to remember how fortunate we are as a community, and also to collaborate with our neighbors in Washington to accomplish something unprecedented," Miller said.
The North Idaho Centennial Trail Foundation was established in 1989 as a nonprofit organization to oversee the maintenance, stewardship and continued improvements of the trail.
In addition, the foundation's efforts are directed to promoting, recommending, and assisting with the standardization of trail designs and construction in Kootenai County. To become a member, visit www.nictf.org, or contact Charlie Miller.
Recent Headlines
---