Fashion show to raise funds for area groups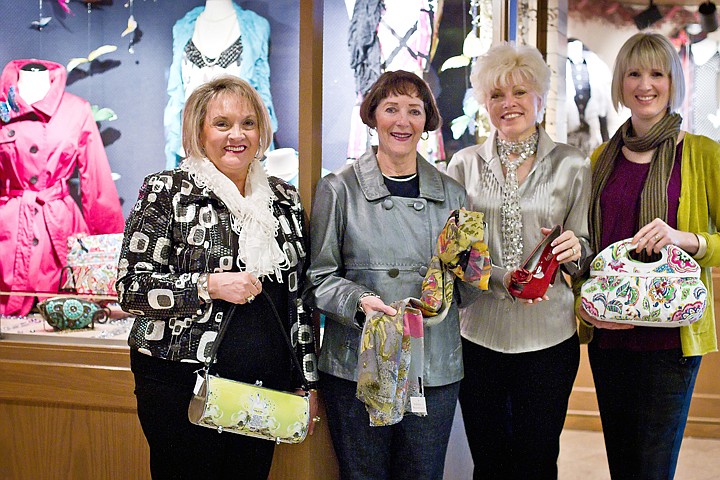 <p>The 3C's "Spring into Fashion" show is scheduled for April 27 at 11:30 a.m. at the Coeur d'Alene Resort. From left, Bobbi Freeman, publicity chair, Sally Cannon, 3C president, Angela Cross, event chair, and Marie Widmyer, owner of Marie's Boutique and coordinator of the fashion show.</p>
Purses, scarves and heels, oh my.
It's time again for the 3Cs "Spring Into Fashion" show, one of the largest annual fundraisers for the women's charity organization.
The 11th annual event, which includes a fashion show, silent auction, raffle and luncheon, raises funds that the group later disperses among a multitude of Kootenai County charities.
"We keep all the money local," said Event Chair Angela Cross. "People are going to have fun (at the show). They'll be able to eat and see wonderful fashions."
The 550-member group is already immersed in preparations for the fundraiser, slated for 11:30 a.m. on Tuesday, April 27 at The Coeur d'Alene Resort.
The event's fashion coordinator, Marie Widmyer, owner of Marie's Boutique and Marmalade clothing store in Coeur d'Alene, is selecting chic apparel from more than 20 local shops that will hopefully entice folks when they see the duds on the runway.
"It's a little peek (of local retail)," Widmyer said. "We're encouraging them to go into the stores later on if they see something they like."
The group is also recruiting 51 volunteers to strut down the catwalk, said Cross, adding that the models always make the show entertaining.
"You're never sure what the models will do," Cross said. "People enjoy seeing their friends modeling."
This year will again include the Glitz and Glamour raffle, she said, where folks have a shot at winning a $1,200 package including a designer handbag, checkbook clutch, and lunch and spa treatment for two at The Coeur d'Alene Resort.
Above all, the event is a chance for locals to support local nonprofits, said 3Cs President Sally Cannon.
Last year, the 3Cs, or Cancer and Community Charities, donated $75,000 to more than 25 charitable organizations.
"It just goes toward a good cause, every penny," Cannon said. "We're here to raise money to give back to our community."
Tickets are $40. Reservations can be made by calling Caroline Crollard at 667-1946. The organization asks for reservations to be made by April 23.
Raffle tickets, $5, may be purchased at the event or by calling Sharon Reynolds at 762-9959.
Recent Headlines
---