Bursting with bad apples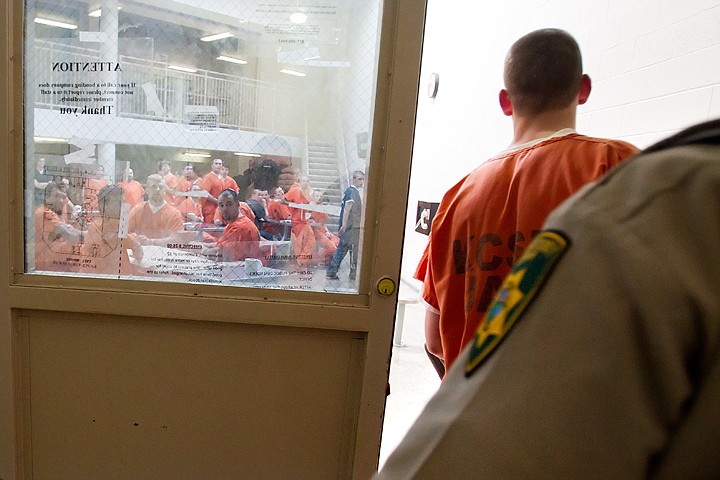 <p>An inmate is escorted into a dormitory-style pod by a sheriff's deputy Monday at the Kootenai County jail in Coeur d'Alene. Inmates are being transported to a Lewiston facility as a way to manage conflict within the inmate population.</p>
by
Alecia Warren
|
April 13, 2010 9:00 PM
COEUR d'ALENE - Facing an overcapacity of inmates with violent temperaments, the Kootenai County jail has resumed shipping inmates to out-of-county facilities.
As of Monday, 16 Kootenai inmates were being housed in the Nez Perce County jail in Lewiston.
That number looks to go up, said Maj. Travis Chaney with the county sheriff's department.
"Our situation is critical, and it's only going to get worse," Chaney said. "You can keep putting off the inevitable, but that doesn't change the picture. We have to have more jail space."
Although the 319 inmates in Kootenai County jail on Monday were just under the facility's 325-bed capacity, Chaney said the problem lies with lack of room to safely manage higher-risk prisoners.
Jail policy calls for those classified with medium-high or high aggressive status to be placed in hard lock-down cells, segregated from the general population that lives in an open dormitory.
This is both safer and easier for staff to manage, Chaney said.
But due to a rise in inmate population in the last two months, the medium-high risk cell pods are packed, with two beds to a cell and, in desperate times, inmates sleeping on the floor.
"We try to avoid that," Chaney said. "Tension is high at that point. And when tension is high, it affects everyone's safety."
Least ideal is that jail staff has been forced to place medium-high risk inmates with the general population.
"It's putting other inmates in harm's way, and also our staff members," Chaney said. "You have all these alpha males with assaultive behavior, you put them all together, and you think you'll have problems? Yeah. I guarantee you."
Shipping higher risk inmates to Lewiston is the only way to provide a safer atmosphere, he said, though it's neither easy nor cheap.
On top of the $45 a day to house a prisoner in Lewiston, there is also the cost of fuel for the four-hour round trip, as well as overtime, since at least two deputies are required to transport an inmate.
Some inmates trucked to Lewiston haven't been sentenced, added Administrative Sgt. Brad Cox, and they must be driven back and forth for medical evaluations and meetings with attorneys.
"It's a logistical nightmare," Cox said. "We're usually looking at going (to Lewiston) three or four times a week."
The jail staff has predicted the number of inmates housed out of county will rise to 60 this year, which Chaney estimated will cost roughly $1.2 million.
County Commissioner Todd Tondee wasn't surprised by the number.
That's what the county had projected for the cost of shipping out inmates, he said, and what the commissioners warned the public about when a $57 million jail expansion was put on the ballot last year.
Since voters rejected the expansion, Tondee said, now they have to pay for the alternative.
"That's what the voters have said," he said. "This is what was expected, and it's coming to pass."
Commissioner Rick Currie agreed.
"This is not new ground," Currie said, referring to how jail overcrowding has been a problem for several years in Kootenai County. "This is the most economical way to address this at the time. It's not good money management, but we don't have a lot of choice."
He couldn't say if an expansion would be considered again.
"Probably not for some time," Currie said. "The voters have spoken."
The jail is already funneling thousands of individuals to programs as an alternative to incarceration, Chaney said.
Roughly 400 are on a community labor program instead of in jail, for instance, and about 1,000 are on adult misdemeanor probation.
"That's another 1,000 people not behind bars," he said.
Chaney added that 73 percent of Monday's inmates were felons.
"So much of the public thinks we're holding people who shouldn't be here, but those who qualify for alternative incarceration are there already," he said. "People who are here need to be here."
Recent Headlines
---