Tribal economy gets law school boost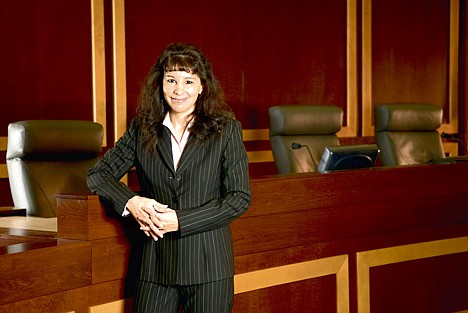 <p>Angelique EagleWoman, University of Idaho associate professor of law, focuses on law, economics, and the quality of life for nations next door.</p>
by
Donna Emert
|
April 10, 2010 9:00 PM
While there are 562 federally recognized tribes and at least 35 states with sovereign, tribal nations within their boundaries, there are only a few law schools offering academic programs that address the onion-like layers of federal, state and tribal laws governing Native Americans and their enterprises.
"Right now in the field of Native American Law, very few practitioners had the benefit of taking Native Law courses when they were in law school," said Angelique EagleWoman (Sisseton-Wahpeton Oyate), University of Idaho associate professor of law. "Native law programs allow students to think deeply and broadly about Native law. This is really the first time in history that law students have that opportunity, and can bring that expertise into their practices."
The College of Law launched its Native American Law academic emphasis in 2009, providing that specialization for upper level laws students.
EagleWoman, chief architect of Idaho's academic emphasis in Native Law, modeled its components on the two major Native American Law programs in North America: One at University of Tulsa, Oklahoma, and the other at University of New Mexico.
She has firsthand experience of Tulsa curriculum, having earned her master's degree in law there. EagleWoman also studied political science at Stanford University and holds a juris doctor at University of North Dakota. She is the James E. Rogers Fellow in American Indian Law at University of Idaho and currently serves as immediate past chair and secretary of the Association of American Law Schools (AALS) Section on Indian Nations & Indigenous Peoples. EagleWoman joined the Idaho College of Law faculty in 2008 and also serves on the University's American Indian Studies (AIST) faculty.
The rigorous University of Idaho Native American Law Emphasis she devised incorporates a 55-60 credit academic emphasis on Native law, participation in the Native American Law Student Association, and direct collaboration with regional tribal nations. It also requires completion of a substantial, final research paper and 20 hours of service learning experience - each with Native law focus and direct application. The emphasis provides a specialization designation recognized within the legal field and acknowledged on program graduates' official transcripts.
The Native Law emphasis has reinvigorated an annual Native Law Conference, also shaped by EagleWoman.
"I pick a topic each year that is central to what's going on with Idaho tribes," she said. "Then we invite leading scholars to our law school to discuss related challenges and solutions."
In 2009, the conference addressed Indian water rights, a focus reflecting a series of adjudications on water rights in Idaho that year. The 2010 Native American Law Conference, titled "Living in Balance: Tribal Nation Economics and Law," was held in March.
"This year, I hope people walked away with the understanding that building tribal economies presents great opportunity not only for the tribes, but for the regions in which tribal economic development happens," EagleWoman said. "For example, the Coeur d'Alene Tribe recently conducted a study that measured tribal economic impact demonstrating that the Tribe is the most significant economic engine in North Idaho. Those impacts need to be made known in order to illustrate the positive role tribes can have in rural communities and how law undergirds economic systems. I think it's important for lawyers to understand that strong tribal laws, a strong judiciary, and comprehensive governmental regulations provide the stability for good business in Indian country."
"Lawyers have a real role in economic stability," EagleWoman said. "This is my primary area of interest and scholarship: Law, economics, and raising the quality of life for tribal citizens."
Recent Headlines
---