Stevens to retire; summer battle ahead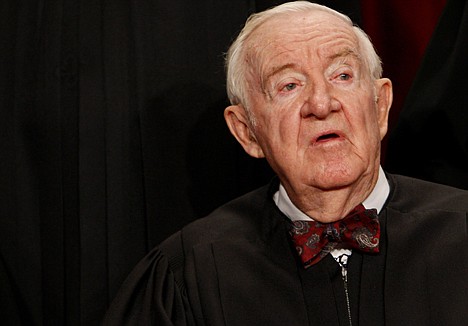 Stevens to retire; summer battle ahead
by
Mark Sherman
|
April 10, 2010 9:00 PM
WASHINGTON - The retirement of Justice John Paul Stevens, the Supreme Court's leading liberal, touched off an immediate election-year political battle Friday over President Barack Obama's second high court pick. Republicans promised trouble for any activist nominee.
Obama said he would quickly name a successor in the mold of Stevens, who he said was a voice for ordinary people rather than powerful interests.
Eleven days before his 90th birthday, Stevens said he would step down when the court finishes its work for the summer in hopes that a replacement could be confirmed well before the next term begins in October.
"We cannot replace Justice Stevens' experience or wisdom," Obama said at the White House after returning from Prague where he had signed a nuclear treaty. "I'll seek someone in the coming weeks with similar qualities: an independent mind, a record of excellence and integrity, a fierce dedication to the rule of law and a keen understanding of how the law affects the daily lives of the American people."
A White House official said about 10 people are under consideration, but speculation has focused on fewer than that. Leading candidates are said to be Solicitor General Elena Kagan, 49, and federal appellate Judges Merrick Garland, 57, in Washington and Diane Wood, 59, in Chicago. All three were considered last year as well, and Obama interviewed Kagan and Wood before choosing Sonia Sotomayor for the high court.
Of those, Wood would be most likely to excite Obama's liberal base and stir up conservative opposition. Garland is seen as most acceptable to Republicans, with Kagan somewhere in between.
Stevens is the court's last remaining World War II veteran and the second oldest justice in the court's history. His retirement had been hinted at for months, and the White House had made clear it would be ready to nominate a replacement without delay.
Republicans have not ruled out efforts to delay confirmation, and GOP Sen. Orrin Hatch of Utah said Obama would face a "whale of a fight" if he nominated an activist judge.
At the very least, the high court nomination could rev up both Democratic and Republican fundraising machines for the November election, even though Stevens' replacement by a liberal-leaning justice would not alter the court's ideological balance. Ideologues of both sides were ready for a conflict.
Jay Sekulow, chief counsel at the conservative American Center for Law and Justice, said, "President Obama is likely to name a nominee who will embrace an extremely liberal judicial philosophy."
Michael Keegan, president of the liberal People for the American Way said, "In recent years, the court has given extraordinary preference to powerful interests at the expense of ordinary Americans. Justice Stevens was a bulwark against that trend. Our country's next Justice must play a similar role."
Recent Headlines
---