Four missing W.Va. miners dead, final toll at 29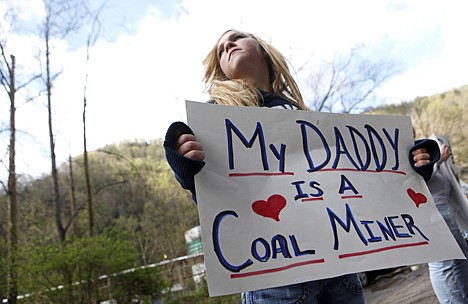 <p>Brianna Bailey, 14, holds a sign showing her support for coal miners near the entrance of the Upper Big Branch Mine on Friday in Montcoal, W. Va.</p>
by
Dena Potter & Peter Prengaman
|
April 10, 2010 9:00 PM
MONTCOAL, W.Va. - Rescue workers located four bodies deep in a West Virginia coal mine, dashing any faint hopes of finding more survivors of a deadly explosion that has claimed 29 lives, the worst U.S. mining disaster in a generation.
Officials announced the grim discovery at the Upper Big Branch Mine around 1 a.m. Saturday, after first notifying family members.
"We did not receive the miracle that we prayed for," Gov. Joe Manchin said. "So this journey has ended and now the healing will start."
Until late Friday, officials had held out a slim chance that four missing miners may have made it to an underground refuge chamber which held enough oxygen and water to survive for four days.
"None of the chambers had been deployed and none of our miners suffered," Manchin said.
The death toll makes it the worst U.S. coal mining disaster since a 1970 explosion killed 38 in Hyden, Ky.
Earlier, federal mine safety administrator Kevin Stricklin had said there was no way anyone in the mine could have survived after the blast unless they were in a refuge shelter.
"There's no way that life could be sustained in that type of atmosphere, even for a short period of time," Stricklin said.
Rescuers had hoped the miners might have made it to the chamber stocked with food, water and enough oxygen for several days.
Officials say the mission now is to recover all 22 bodies still inside the Upper Big Branch mine 30 miles south of Charleston. Seven other bodies were recovered after the blast Monday and two other miners were injured.
"It's hard to turn a rescue into a recovery with the same group of people," Stricklin said.
During the previous rescue attempts, searchers were forced to withdraw by dangerous gases and the risk of fire or explosion.
The first time rescuers went into the mine after the explosion they walked past three of the four missing miners without seeing them, because of the smoke and dust in the area.
The fourth and final missing miner was found deeper into the mine around 11:30 p.m. Friday, Stricklin said.
The federal mine agency has appointed a team of investigators to look into the blast, which officials said may have been caused by a buildup of methane. President Barack Obama said he wants a report by next week.
The mine's owner, Massey Energy Co., has been repeatedly cited for problems with the system that vents methane and for allowing combustible dust to build up. On the day of the blast, MSHA cited the mine with two safety violations - one involving inadequate maps of escape routes, the other concerning an improper splice of electrical cable. However, Stricklin said the violations had nothing to do with the blast.
Massey CEO Don Blankenship has strongly defended the company's record and disputed accusations from miners that he puts coal profits ahead of safety.
Recent Headlines
---