Cooperating for mutual success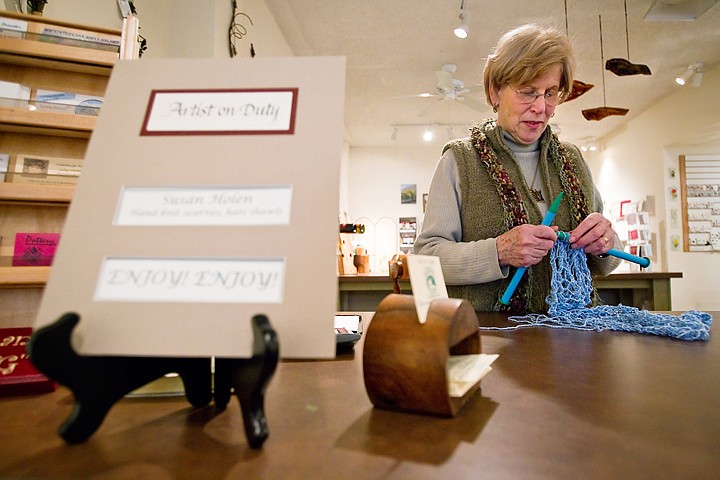 <p>Susan Holen knits a scarf Wednesday during her shift at Northwest Artists. Each of the 30 members of the shop take one shift per month working in the store.</p>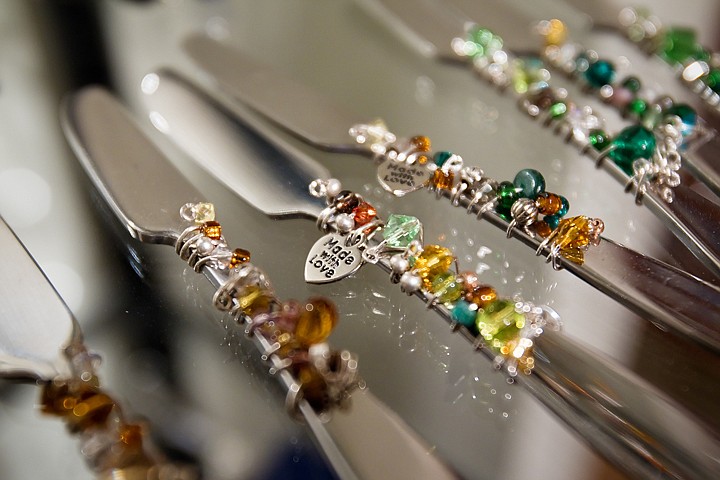 <p>Northwest Artists features work from dozens of local artist such as these beaded silverwares crafted by Julia Ellis of Ponderay.</p>
Previous
Next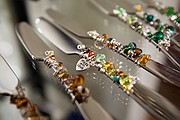 COEUR d'ALENE - Tonight is the night nearly four dozen artists have been waiting for since last summer.
It will be the first ArtWalk for the 25 members and 18 consignors at Northwest Artists in their new, larger store at 509 Sherman Ave. since they shut down operations three blocks west in December.
"We voted whether to stay or to find another store," said Shirley Erlandsen, president of the cooperative gallery. "We chose to look for a larger store."
From December to February their works were put into storage as the store was remodeled, giving them twice the space they occupied for the first 20 years of operation.
"A lot of us worked long hours," Erlandsen said.
She credits contractor Ken Fish, husband of one member, for doing much of the work for "a pittance," going the extra mile to provide a quality finish. Mark Frates, the co-op's treasurer, gave his all designing the gallery, she said.
"A lot of people in there are really givers," Erlandsen said. "That is what makes a co-op work well. Everybody gets just as excited when somebody else's stuff sells."
The store reopened in time for Chocolate Walk in February, and $800 worth of merchandise sold that night. Last month's wine tasting also netted a large turnout and brisk sales, and now they are ready to showcase their new location at an art-specific event.
Reaction already has been fantastic, Erlandsen said. One visitor during the February show told her that on a scale of one to 10, the store is a 25.
"We really worked to get remodeled and ready to go," she said.
One shopper who visits the city regularly from Sacheen Lake, Wash., never fails to stop at the store, and was impressed with the increased space and openness.
"I always pack something back," she said.
Susan Holen joined the co-op in February, and like other members shares in the job of working at the store, a way to keep costs down. She sells knitted scarves and other items at the store.
"It is nice it's all made here, not in China," she said. "It is more open and comfortable, an exciting venture for all of us."
Northwest Artists is open every day, though it does close on Mondays during the winter. Presently, hours are 10 a.m. to 6 p.m., though they are charting visitors to determine if an hour earlier or later is justified.
Information: 667-1464
Recent Headlines
---