White supremacist leader killed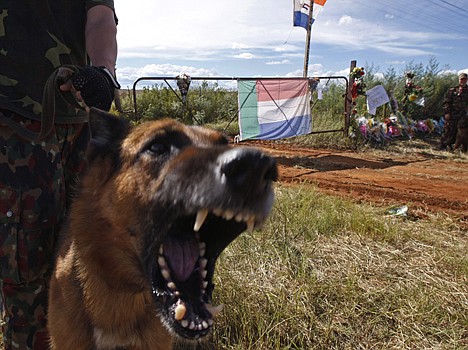 <p>A dog held on a lead by a guard from a private security company providing security outside slain white supremacist leader Eugene Terreblanche farm situated on the outskirts of Ventersdorp, South Africa, Wednesday, April 7, 2010. South Africa's governing party said Wednesday it has asked all its wings to stop singing controversial songs including one with lyrics that encourage people to shoot white farmers which some blame for the slaying of a white supremacist leader. The flag in the centre is of the old Transaal province and on the top of frame is the old South African national fl...
VENTERSDORP, South Africa (AP) - A 15-year-old who minded cattle for South Africa's most notorious white supremacist told his mother that he and an older laborer bludgeoned him to death because he hadn't paid them in months.
The confession detailed in an exclusive interview with AP Television News Monday undermines claims the killing was inspired by an apartheid-era song urging people to kill white farmers.
It was a brutal end for Eugene Terreblanche, 69, a man once convicted of beating a farm worker so badly the man was left brain damaged.
According to the 15-year-old now accused of his murder, some of Terreblanche's last words were threatening: "I will kill you and throw you to hell."
Terreblanche's slaying has heightened racial tensions as South Africa prepares to host soccer's World Cup in June and July. And it draws unwelcome attention to crime in the country with one of the world's highest murder rates, some 50 a day in a country of 50 million people.
It also comes amid controversy over a fiery black leader's insistence on singing the song "kill the boer." Boer means farmer in the Afrikaans language but also is a derogatory term for whites.
Members of Terreblanche's Afrikaner Weerstandsbeweging movement, better known as the AWB, have blamed African National Congress Youth League leader Julius Malema, saying he spread hate speech that led to Terreblanche's killing.
Malema led college students in the song last month, sparking a legal battle in which his governing ANC party is challenging a high court ruling that the lyrics are unconstitutional. The ANC insists the song is part of its cultural heritage and that the lyrics - which also refer to the farmers as thieves and rapists - are not intended literally.
"The death of Terreblanche has got nothing to do with the song. We know who Terreblanche was, his character and how he related with his workers," Malema said.
He again sang the song while on a weekend visit to neighboring Zimbabwe, defying a high court injunction temporarily ordering him to stop it.
In Ventersdorp, AWB member Rean Olivier said Malema needs to be killed to prevent a race war.
"I personally think Malema has to be taken out to clear the playing field," Olivier was quoted as saying by the South African Press Association.
Recent Headlines
---