NIC receives $625K grant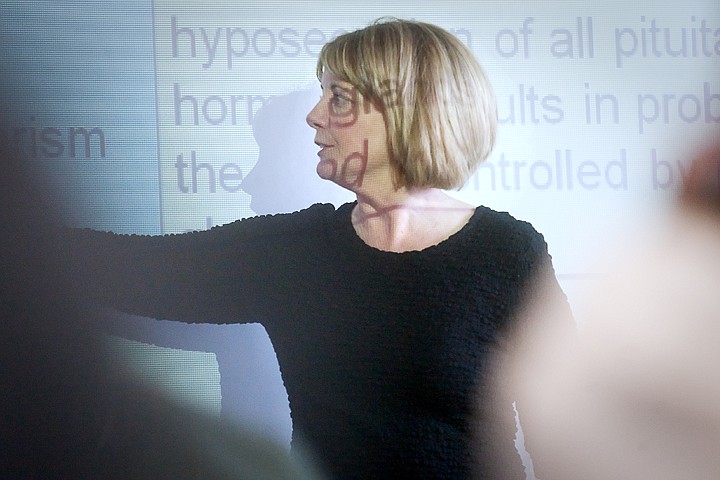 <p>Sue Shibley, medical administrative programs instructor at North Idaho College, teaches a health terminology class Wednesday afternoon in McLain Hall. Shibley is the program manager for a $625,000 grant awarded to NIC to train health professionals.</p>
North Idaho College has been awarded a $625,000 grant to train health information technology professionals across the state of Idaho. The grant is part of a $6.2 million grant awarded to a consortium of eight community colleges in a 10-state region.
Community colleges funded under this grant will establish intensive training programs that will result in a training certificate that can be completed in six months or less.
Training will be geared to students who already possess some of the competencies needed for the program. This could include individuals with information technology skills who have little or no health care experience, or individuals with health care experience needing additional information technology skills.
"As far as I know, this is the first time NIC has participated in a grant program like this," said NIC Grants Coordinator Jack Purdie. "It is an unprecedented multistate effort to train students in an emerging high-growth employment sector."
Federal estimates indicate approximately 51,000 qualified health information technology workers will be required over the next five years to meet the needs of hospitals and physicians as they move to adopting an electronic health care system.
Community colleges in the consortium will offer high quality, modular education programs to train students in at least one of six workforce roles established by the U.S. Department of Health and Human Services. North Idaho College has identified three of the six workforce roles in which it has the capacity to use existing curricula to train workers: Implementation Support Specialists, Implementation Managers, and Technical/Software Support Staff. NIC will subcontract with other institutions to train 300 students statewide over the next two years. Training will be provided using a combination of classroom, Internet and interactive e-learning delivery methods.
Sue Shibley, medical administrative programs instructor at NIC, will act as program manager for the grant.
"This is an exciting step towards realizing the vision of connected care with electronic health records supporting collaboration and communication among care teams and patients across the nation," Shibley said.
Funding for the grant originates with the American Recover and Reinvestment Act of 2009, which includes the Health Information Technology for Economic and Clinical Health Act of 2009.
The American Recovery and Reinvestment Act includes an estimated $167 billion over 10 years for programs to increase access to health care, protect those in greatest need, expand educational opportunities and modernize infrastructure. Of these funds, $70 million will support cooperative agreements under the Community College Consortia to Educate Health Information Technology Professionals cooperative agreements.
The consortium also includes Portland Community College in Oregon, Pueblo Community College in Colorado, Salt Lake Community College in Utah, Montana Tech in Montana, Lakes Region State College in North Dakota and Bellevue College in Washington. Bellevue College will serve as the lead institution for the consortium, which will be responsible for training 2,400 students in health information technology over a two-year period.
Recent Headlines
---