Leading Idaho remains Otter's plan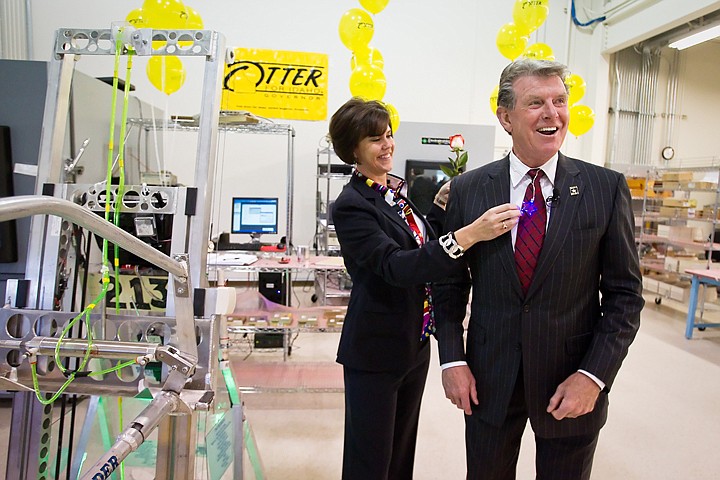 <p>Idaho Governor C.L. "Butch" Otter reacts as his wife, Lori, helps with a pendant that he received from a Bonners Ferry robotics team Wednesday after announcing that he plans to run for re-election.</p>
by
Brian Walker
|
April 8, 2010 9:00 PM
POST FALLS - Gov. Butch Otter's re-election campaign got off to a high-tech start during the first stop of his announcement tour in Post Falls on Wednesday.
Leonardo, a robot constructed by Bonners Ferry High students, received the honors of introducing Otter, a promoter of creating high-tech jobs, to about 70 supporters at LCF Enterprises, a communication device manufacturer.
"I am energized when I'm on the ground and meeting Idahoans face to face," Otter said. "There are no better people anywhere and I have been honored to represent them as their governor. I look forward to asking them for their continued support."
Otter will seek the Republican nomination for governor on May 25.
"I hope you remember the promises I made four years ago," he said. "There were promises made and promises kept. I can also tell you our work is not done."
Otter touted his record of taking a stand on federal health care mandates, making difficult cuts during the recession, increasing companies' interest in moving to Idaho and making strides with government efficiency.
He believes Idaho is poised to be one of the first states to pull out of the economic slump as a result.
Otter said some potential companies saw Idaho's 2.7 percent unemployment rate in 2007 as a lot of competition for a limited employee pool and were turned off as a result. But he said recruitment efforts over the past three years have changed the tide.
"We had 27 potential businesses in our pipeline (in 2007); we now have more than 100," Otter said. "We need the jobs, and we want jobs that turn into careers."
Otter drew applause after he spoke about how Idaho has taken the lead on suing the federal government in pursuit of giving residents an alternative choice to the recently approved federal health care package.
He said similar gains were made with the Endangered Species Act, including improving salmon habitat and native plant populations.
"We're asking the federal government to take into account all the good things we're trying to do," Otter said.
Otter said he's looking forward to seeing educational advances such as the Idaho Education Network come to completion. The network, which expands learning opportunities to students, especially those in smaller, rural districts, is expected to be finished in about two years.
He said he also wants to explore more ways to increase government efficiency amid tough economic times.
Otter said making the Human Rights division part of the Department of Labor made sense due to sharing of resources and related purposes.
"We're going to continue those kinds of efforts," he said.
Cutting the parks budget also seemed practical when push came to shove.
"I'm a user-pay guy to the extent that parks can take care of themselves," Otter said. "Communities have gathered around their parks because they know they are part of their economic engine, and they now look better."
Otter said Idaho has had a stable regulatory and tax climate under his leadership.
"We will be the leader on the way out of this recession," he said. "I want to continue to be your leader, to have Idaho stand up for its right to be the architect of its own destiny."
Recent Headlines
---