Going West in style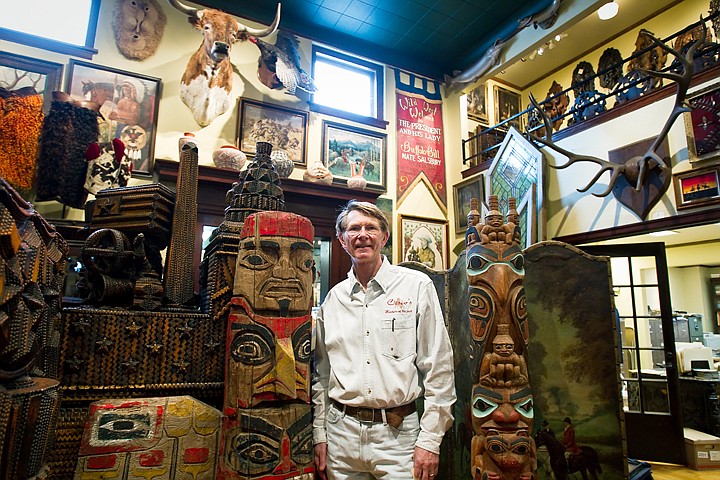 <p>Sam Kenendy, owner of Cisco's, has recently expanded his Fourth Street antique shop after more than three years of remodeling.</p>
by
Rick Thomas
|
April 6, 2010 9:00 PM
COEUR d'ALENE - Sam Kennedy only moved his store about 50 feet, but it took him nearly four years to get the job done.
After three years of refinishing what looks like acres of wood, and nine months of moving and arranging the tens of thousands of rare Western and Native American items, Cisco's is now in the former Odd Fellows building at 220 N. Fourth St., on the corner of Coeur d'Alene Avenue.
"I put more energy into this than anything I have ever done," Kennedy said.
The result is a multi-tiered, two-story museum-quality store filled with artifacts from the 19th and early 20th centuries.
Kennedy knew that under the linoleum floors and Masonite ceiling, and the painted wood trim and the walls, so thick with paint they had to be replastered, was early-20th-century architecture and construction.
"We put it back better than it was," he said. "It is more interesting than when it was first built, with more character."
Dozens of solid wood doors with glass panes separate the different rooms, each filled with rustic products that require regular attention.
"Who does your dusting?" a customer called from the first floor as Kennedy showed the furniture and other items on the U-shaped upper level that looks down over the rest of the shop.
"It's an everyday thing," Kennedy answered.
The items on sale are not just old, he said.
"Our ideal inventory (has) historical significance and is a piece that is visual or functional," he said.
When Kennedy and wife Denise purchased the building, what they got was a 6,000-square-foot footprint slightly larger than the space next door they have occupied for 14 years, but with a second floor and ceilings high enough to allow for several levels on the main floor.
That gave them the opportunity to not only restructure the inventory to adjust for changes in the market, but to arrange it in new ways.
There are now several separate themed rooms and display areas. Some are filled with items so rare and old they can be viewed by anyone visiting the store, but accessed only in the company of the half-dozen employees of the store.
One is the Native American room, with dozens of peace pipes and other antiquities.
"It is for seriously interested people, so we don't have to have everything under glass," he said.
While most of the inventory is too bulky to worry about theft, in a recent incident a robber grabbed a tray filled with $20,000 worth of jewelry and made a run for it. Kennedy chased him down and tackled him a couple of blocks away, holding him until police arrived, but the merchandise was nowhere to be found.
Five days later, after retracing the possible route of the culprit, he found the goods stashed in a plant outside the office of The Press, two blocks away.
The Kennedys moved to Coeur d'Alene from Iowa in 1996 to open the store. She had run an antique store, but for him it was a new business. But the understanding of what frontier America was about is part of his family heritage.
"My great-grandmother was the first woman born in the North Dakota territory," he said. In the course of her life, she accumulated a large collection of period pieces, but after a couple of generations, Formica counters and metal cupboards were the materials his parents wanted.
"They didn't want old things," Kennedy said.
But much of it remained in the family, and was the foundation for the store. That previous generation left countless items behind, over the years estate sales have been a major source of product.
And this is about as far from Walmart as it gets.
Many of the items, mostly decor, but also collectible and useful goods, sell for five figures.
Kennedy also offers a design service, and works with other decorators. And while 2009 was a slower year than usual for sales, the market has not dried up. Many of the high-end homes planned during the boom days of real estate are only now being finished, and that is where his market lies.
What Kennedy considers his most important items are not presently in the store, they are on loan to a museum in Monroe County, Mich. The writing desk, sword and wedding outfit of Gen. George Armstrong Custer were purchased with a partner, and could, before this summer is over, be displayed in the new store.
"His sword is more valuable than Lee's, Grant's or Washington's," Kennedy said. "Everybody knows Custer."
The most viewed item in the store is a copy of the New York Herald from Saturday, April 15, 1865, with the news of the assassination of President Abraham Lincoln.
"History written at the time is different," he said.
Other display rooms include one filled with 800 Navajo rugs and decor, one with saddles, canoes and dozens of duck decoys, and an enclosed glass display area with the family's personal collection. About 75 percent of the goods in the store are for sale, the rest for display only. That includes a large, counterfeit silver certificate, changed by hand to $5 from $1.
"All that work, to go from $1 to $5," Kennedy laughs.
Cisco's is open 9 a.m. to 5 p.m. weekdays, and most Saturdays. There is also Cisco's II in the Coeur d'Alene Plaza, operated by Pat Alvarez, who has run the store since it opened a decade ago.
Information: 769-7575
Recent Headlines
---