Cougar Bay residents call for hearing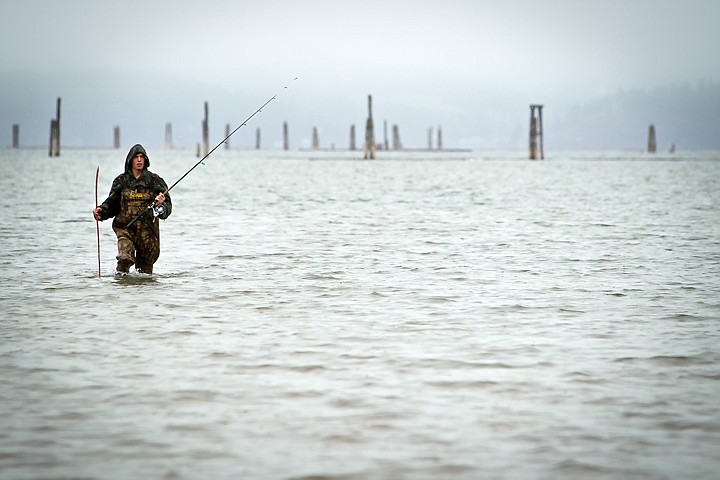 <p>Trower Crain walks back to the shore with his fishing pole in the shallow waters of Cougar Bay during an outing Monday.</p>
by
Alecia Warren
|
April 6, 2010 9:00 PM
COEUR d'ALENE - They say phooey to buoys.
A handful of Cougar Bay residents have requested a public hearing to speak out against mooring buoys proposed for the bay, which they worry will threaten wildlife and the water's tranquility.
"I don't have objections to that kind of thing, except that sort of encourages large parties to go out and raft up together and hang out there," said Dave Larsen, one of the neighbors who requested the hearing. "Our concern is we don't want this to become some kind of a big party spot."
Kootenai County has applied through the Idaho Department of Lands to install 12 20-inch public-use mooring buoys with 4,000-pound anchors, as well as 15 regulatory buoys delineating the no-wake zone, across the mouth of the bay.
The regulatory buoys will help enforce the bay's no-wake zone, said Parks and Waterways Director Nick Snyder, now that the bay will no longer be used to store log pilings.
"Currently, it is virtually impossible to really visually see where that line exists on Cougar Bay," Snyder said, adding that it will be easier for power boats to enter the area once the pilings are removed. "With the deployment of buoys, it makes it easy for boaters as well as the sheriff's marine patrol to know where it starts and stops."
The public mooring buoys would facilitate navigation, he said.
"It's just good planning is what it is," Snyder said.
But that's not how it looks to Larsen, who requested IDOL hold a public hearing on the application along with neighbors Ed Haglund, Sue Flammia and Rasmussen, Inc.
Touting how the bay has long been a refuge to osprey and beavers, as well as a magnet for solitary fishermen and kayakers, Larsen said power boat users will see the mooring buoys as an invitation.
"Groups like that, they start bringing in jet skis with them. We certainly don't want those people coming up and chasing the wildlife around the bay and being crazy," said Larsen, who said his property has been in the family since the 1920s. "We're certainly not saying that Cougar Bay should be locked up and shouldn't be used. But this is one of the few places where people can go out on a kayak and not worry about getting run down."
Haglund did not respond to messages, and Flammia referred all questions to her attorney.
The public hearing on the buoys is scheduled for 6 p.m. on May 6 in the Sundance Room at the IDOL office at 3258 W. Industrial Loop in Coeur d'Alene.
The agency will have 30 days to make a decision on the application.
Snyder said the no-wake zone will be enforced by the sheriff's department, but he otherwise couldn't comment on the complaints until after the hearing.
Larsen said he has high hopes others will speak out.
"The main thing is Cougar Bay has been a quiet, serene bay," he said. "I think everyone on the shoreline of the bay is in favor of keeping it a quiet place."
Recent Headlines
---