Playland for pooches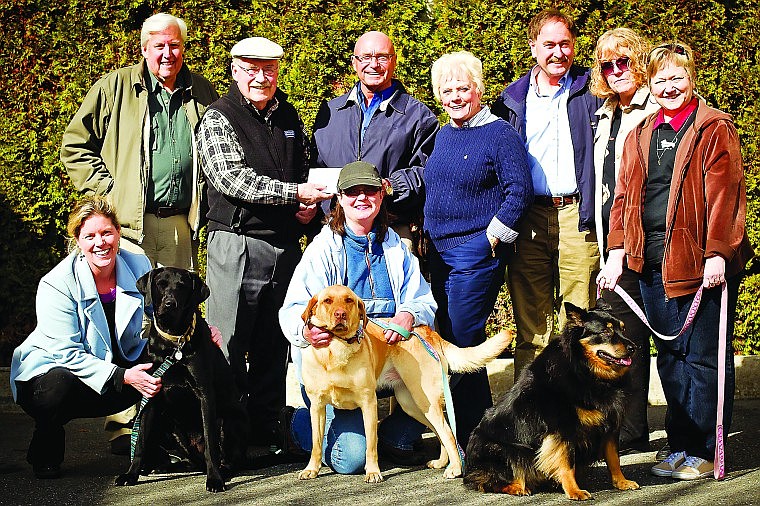 <p>JEROME A. POLLOS/Press Dog owner Vickie Davis (not pictured) donated $5,000 to the Kootenai County Dog Park Association, a volunteer group raising money to build a new 2-acre dog park north of Northshire Park. The group has received $35,000 in in-kind donations and around $14,000 in cash with the latest pledge. Photographed, from left, Terry Wright, with Porter, Bob Knechtel, Bob MacDonald, Chris Shafer, with Echo, Ron Ouren, Panhandle State Bank, Bonnie Warwick, Doug Eastwood, Judy Busath, and Pam Nordby, with Josie. They hope to cover the remaining $10,000 with fundraisers and by...
by
Tom Hasslinger
|
April 5, 2010 9:00 PM
COEUR d'ALENE -The plan is to unleash the park by summer.
The Kootenai County Dog Park Association is nearing its financial goal to build a Coeur d'Alene dog park, hoping to fill the final $10,000 by June so it can break ground on the pooches' playland in time for the warmest weather.
Once it's up and running, the off-leash playground will complete the top three community requests the city's parks department received when it did its parks master plan in 2003.
"It's Tubbs Hill and the Centennial Trail," said Robert Knechtel, with the association, on the places dog owners are allowed to take their pets. "So the need is there."
During the 2003 plan, the community identified open space, trail connectivity and a dog park as its top three wishes for Coeur d'Alene parks. Since then, the city has added parks and connections to the Centennial Trail, but still has room for the dog park.
Thanks to the volunteer group, the city might get a three-year temporary site on a 2-acre plot of land donated by Coeur d'Alene School District 271 north of Northshire Park by this summer.
Vickie Davis donated $5,000 to the association recently, bringing it closer to reaching the $24,000 goal to make it happen.
Davis is a dog owner who wants the park up and running as soon as possible, said Doug Eastwood, parks director.
Included in the designs are walking areas, dog waste receptacles and K-9 water fountains.
The association - a volunteer group of dog park enthusiasts - will be holding fundraisers and is selling plaques so dog lovers can memorialize their favorite pets' name on the site.
They've been working on raising the money for more than a year, and donors have already pitched in around $30,000 of in-kind donations.
The city would move the park to a permanent site between Ramsey Road and U.S. 95 near Neider Avenue in about three years, Eastwood said.
The association meets at 6 p.m. the first and third Wednesdays of the month at the Coeur d'Alene Public Library.
Information or to donate: KCDogPark.com.
Recent Headlines
---