National RV Show officials said RV sales have seen extreme growth over the last two years.
Stories this video appears in: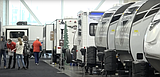 January 17, 2022 3:47 p.m.
Officials said RV sales are up 30% since pre-pandemic levels. The RV Industry Association said it expects over 600,000 units will be sold in 2022.