Former Spokane Chief Kyle Beach has revealed himself as the "John Doe" in the Chicago Blackhawks' sexual assault investigation.
Stories this video appears in: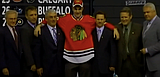 October 28, 2021 11:10 a.m.
According to the Associated Press, Beach stated that he was sexually assaulted by an assistant coach with the Blackhawks organization back in 2010.