30-year-old Jonathan Moody was arrested outside of the Gorge Amphitheatere in George on Friday after deputies found two loaded 9 mm pistols on him.
Stories this video appears in: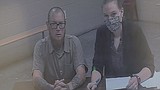 August 23, 2022 7:26 a.m.
According to court documents, deputies were called to Gate B at the Gorge at approximately 9:30 p.m. on Friday. Event organizers told deputies they didn't know what was happening but that deputies were needed immediately.