August 17, 2022 1 a.m.
James Courtney O'Neill passed away peacefully at home in Dalton Gardens, on August 11, 2022.

August 12, 2022 1 a.m.
The world changed when he entered on May 12, 1958, and again when he left May 30, 2022. Born in Kensington, Philadelphia, PA where men are men (and so are some of the women), Brian joined a large brood.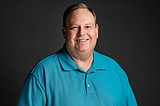 August 14, 2022 1:30 a.m.
Weird thing about college wood-bat league games — walking among the umpires and the players on the way out of the ballpark after the game. Hard to imagine that happening at a major league game.
---