Starting in 1942, women were trained as pilots to ferry more than 70 types of aircraft, including B-17s, as members of the Women Airforce Service Pilots (WASPs) due to a shortage of pilots. Shown here from left are: Frances Green, Margaret Kirchner, Ann Waldner and Blanche Osborn with B-17 "Pistol Packin' Mama" behind them.
October 31, 2021
Stories this photo appears in: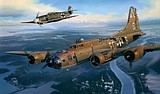 October 31, 2021 1 a.m.
Luftwaffe fighter escorts wounded B-17 bomber
The American bomber was so badly shot up, it was a sitting duck for the German Messerschmidt 109 fighter plane.
---