HISTORY CORNER: Flying Tigers and Pappy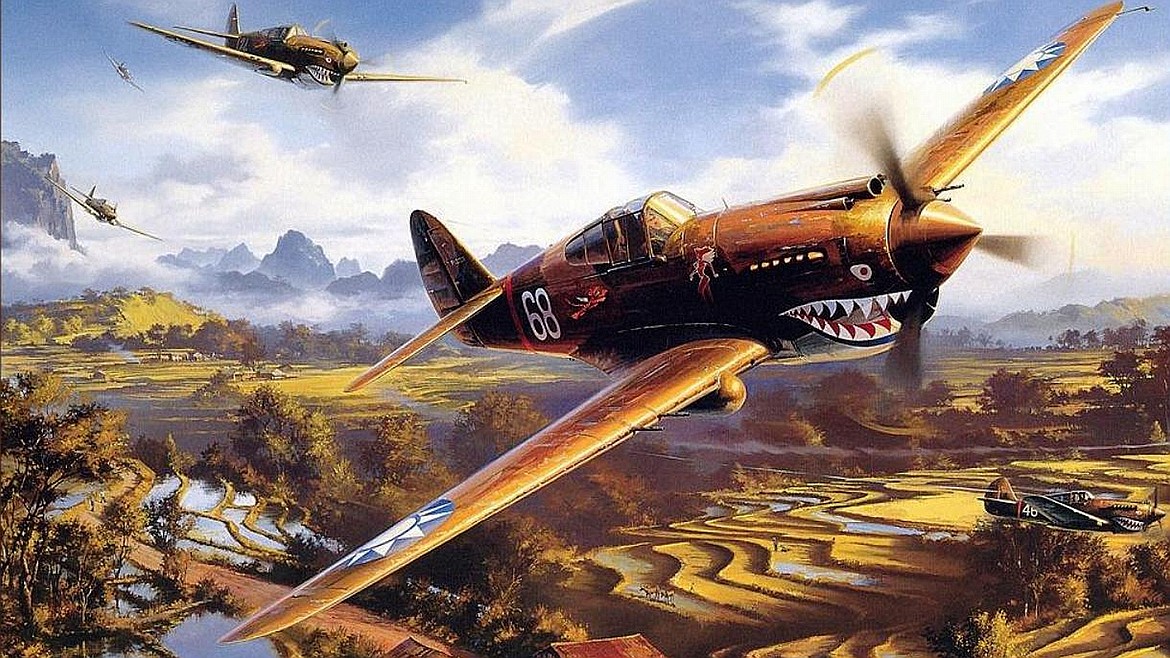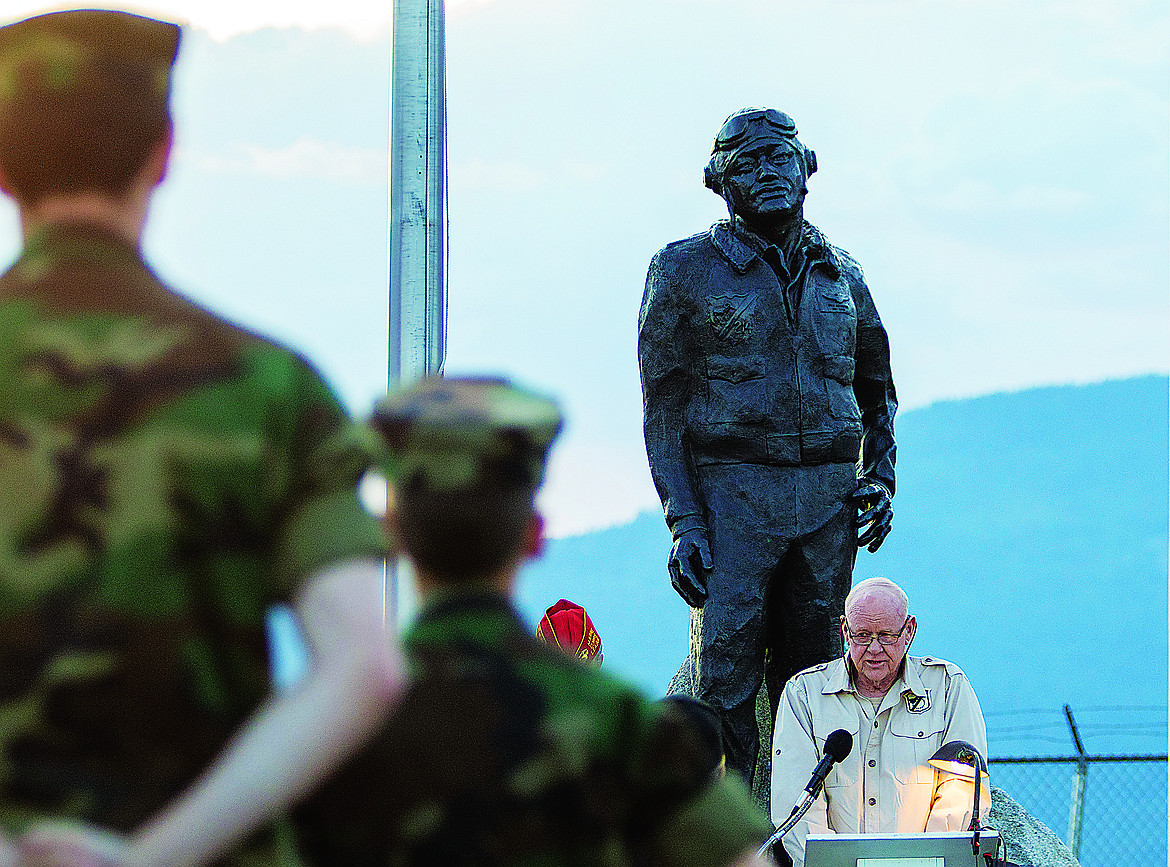 Gregory Boyington Jr., son of Pappy Boyington, speaking in front of the statue of his father, before the Semper Fi Marine Corps group in Coeur d'Alene (2015).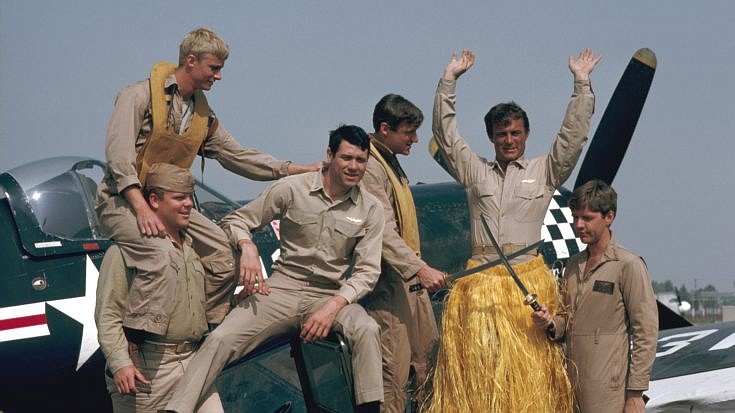 Television series (1976-78) "Baa Baa Black Sheep" starring Robert Conrad (with hands up) was based on Pappy Boyington and his Marine Corps Black Sheep Squadron in the South Pacific during World War II.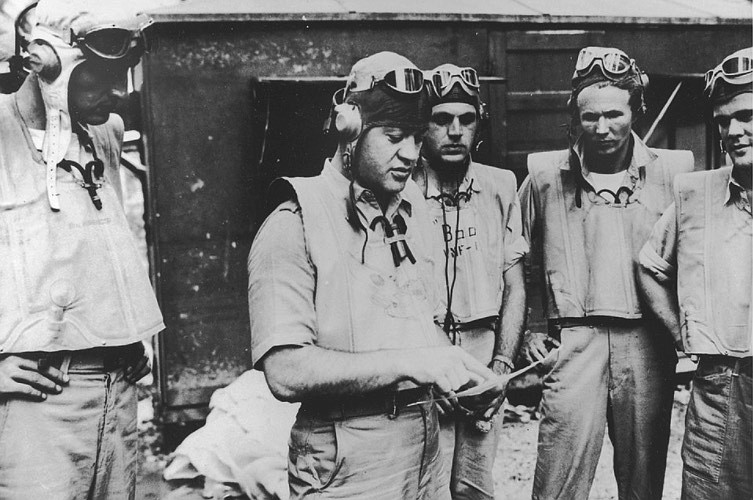 Greg "Pappy" Boyington, of Idaho, shot down 26 Japanese aircraft and was one of 19 Flying Tiger aces (five or more kills).
This famous photo of Pappy Boyington's VMF-214 Marines Black Sheep Squadron shows everyone wearing a St. Louis Cardinal baseball cap, each cap donated by the team for every Japanese plane the squadron shot down — so many that everyone, including ground crew, got one.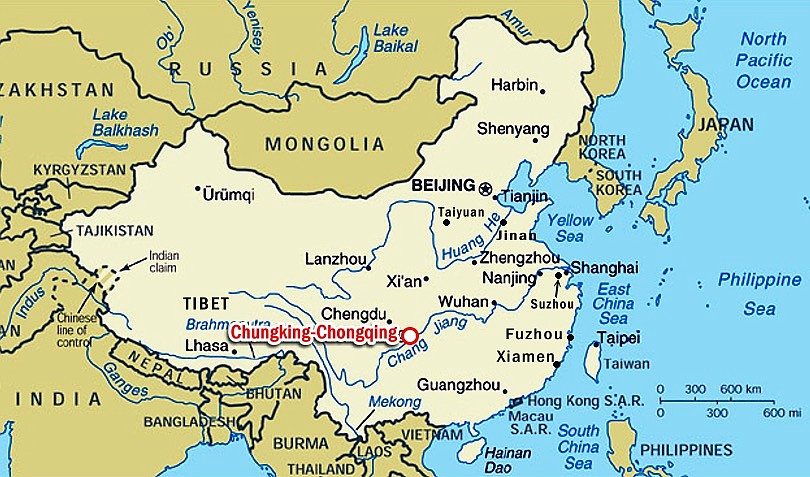 Map of China c.1942 showing Chungking area, location of Flying Tigers AVG that also operated at other bases in China and Burma (now Myanmar).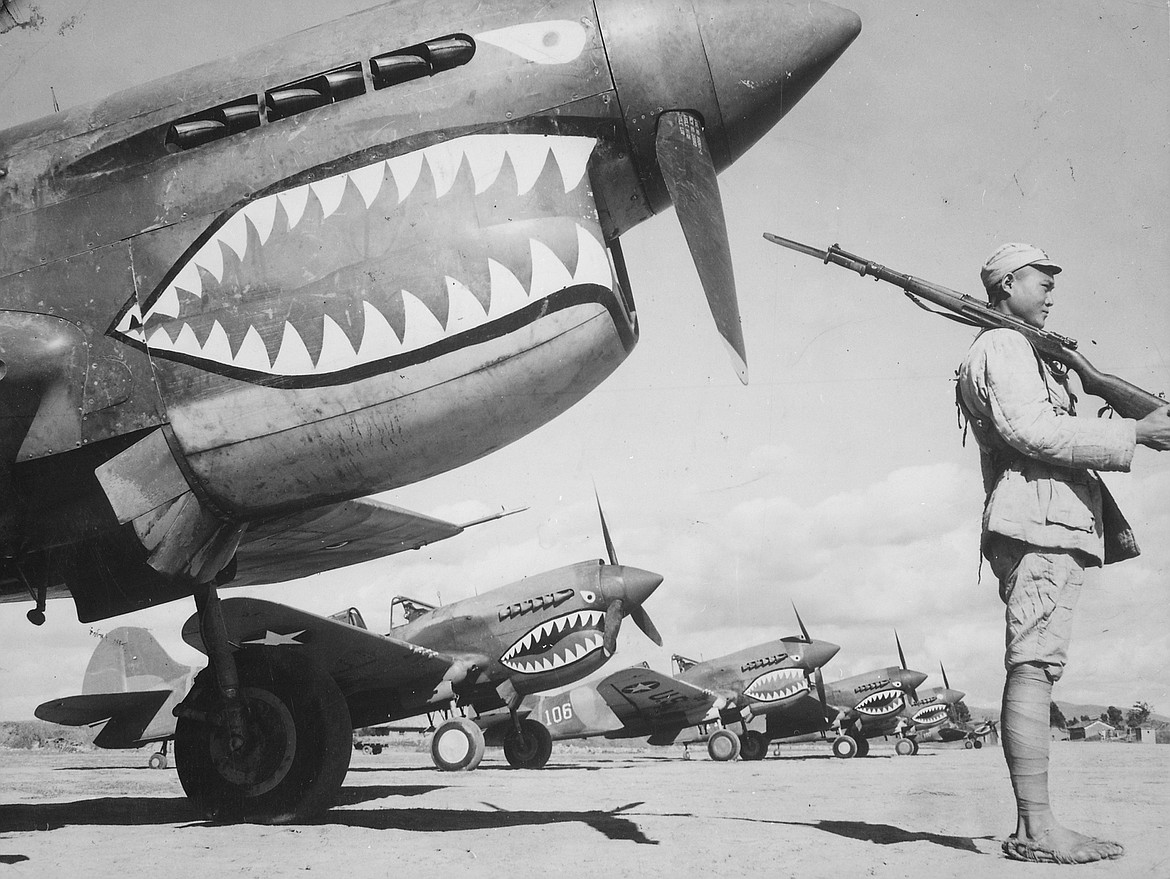 Chinese soldier guarding Flying Tigers P-49 fighters (c.1942).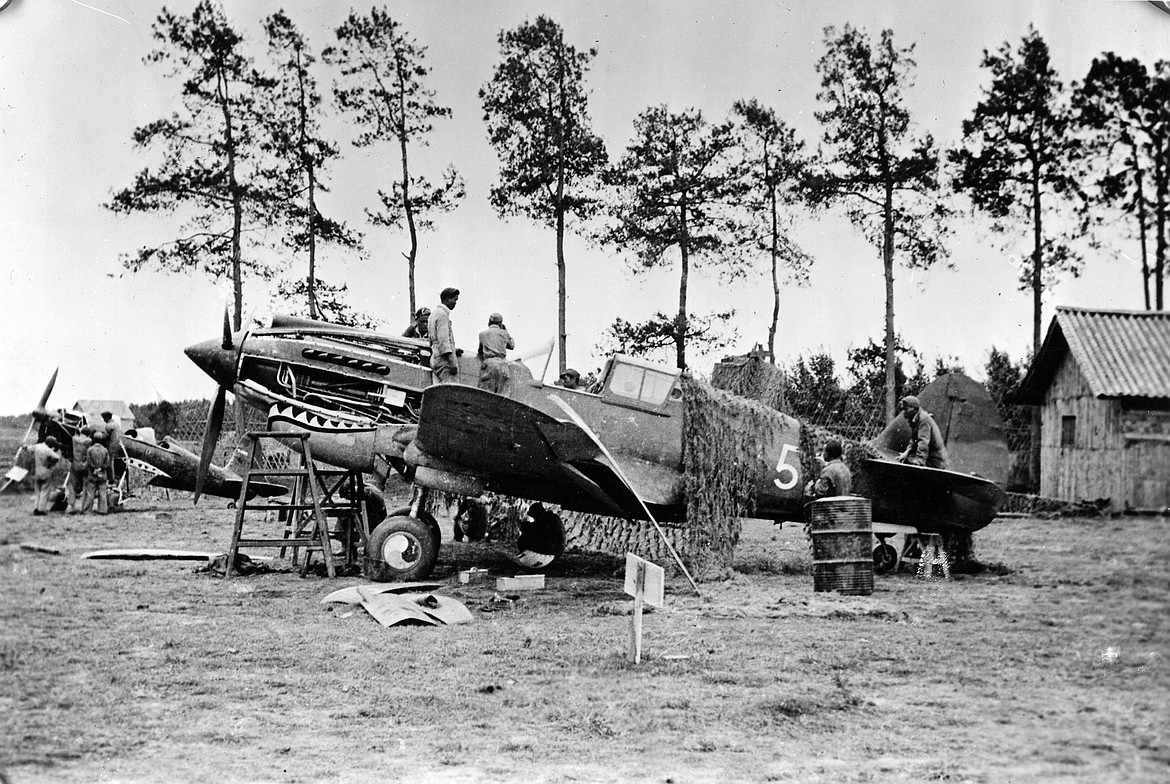 Flying Tigers P-40 fighter under repair in China in World War II.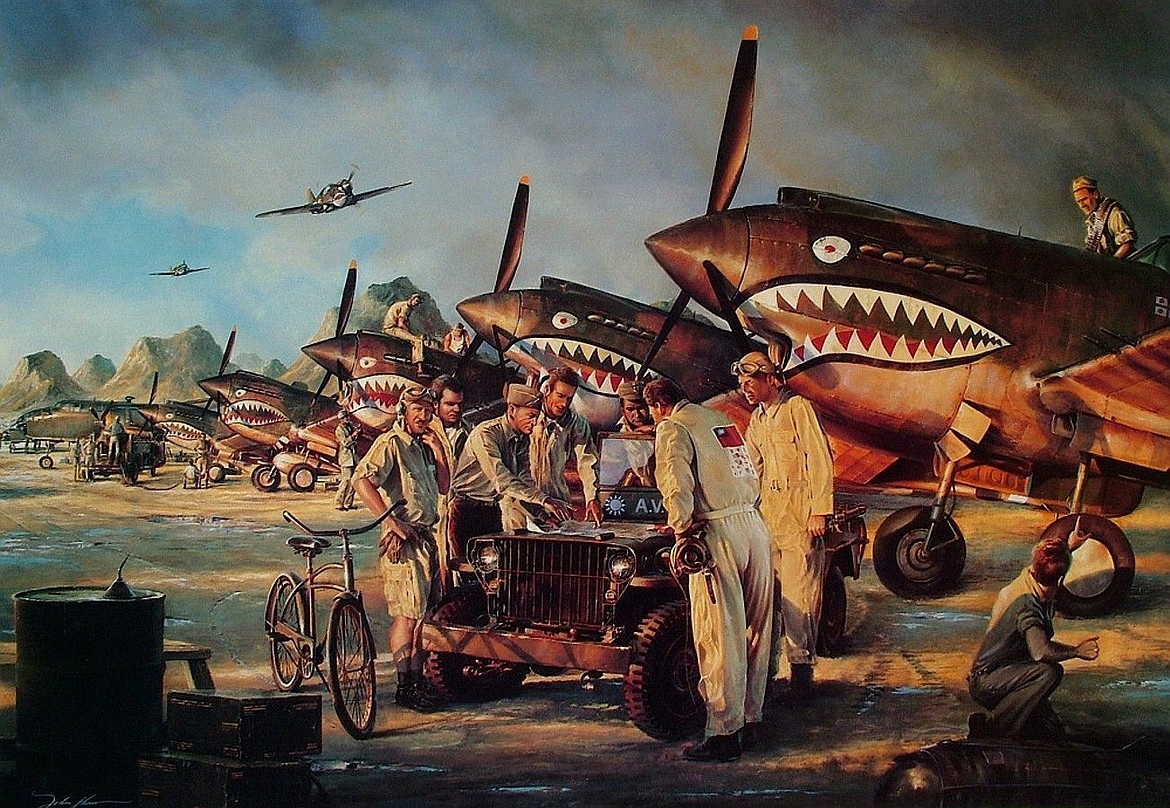 Lithograph scene of General Claire L. Chennault in Kweilin, China, briefing Flying Tigers American volunteer pilots Bob Neale, "Tex" Hill, Dick Rossi, Joe Rosbert, and others on an upcoming mission (c.1940s).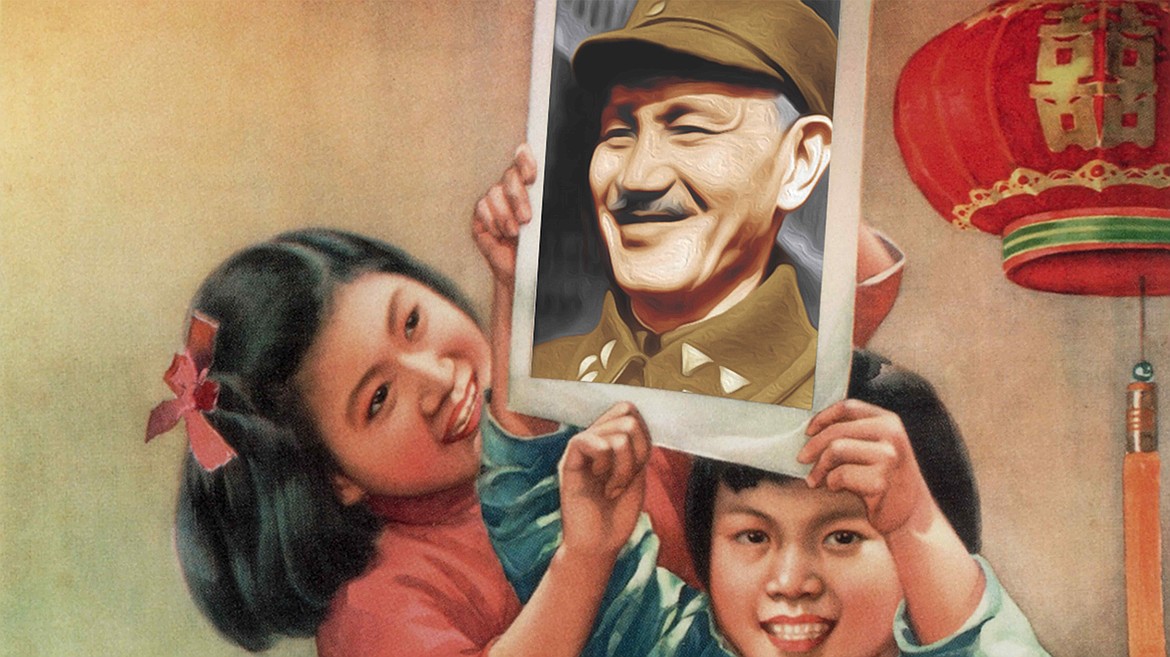 America's ally in World War II, China leader Generalissimo Chiang Kai-shek was aided early in the war by Flying Tiger volunteers who in seven months destroyed 297 Japanese aircraft — including 229 in aerial combat — losing only 14 pilots.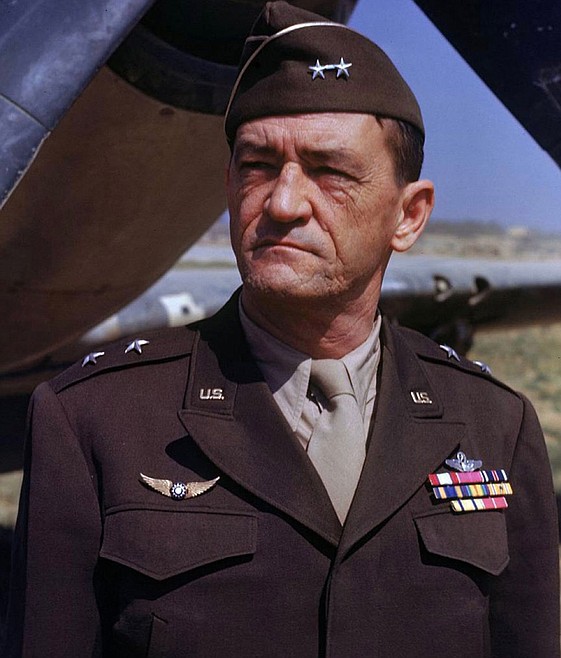 Major General Claire L. Chennault, who organized Flying Tigers American Volunteer Group (AVG) in World War II, later founded Air America used for covert operations by the CIA during the Vietnam War.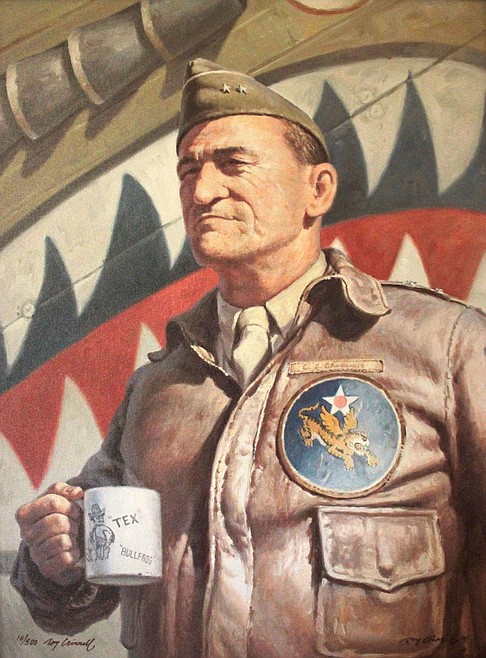 Texas-born General Claire L. Chennault (1893-1958) founded the Flying Tigers AVG (American Volunteer Group) fighter squadron to aid the British in Burma and China's Chiang Kai-shek to fight the Japanese in World War II.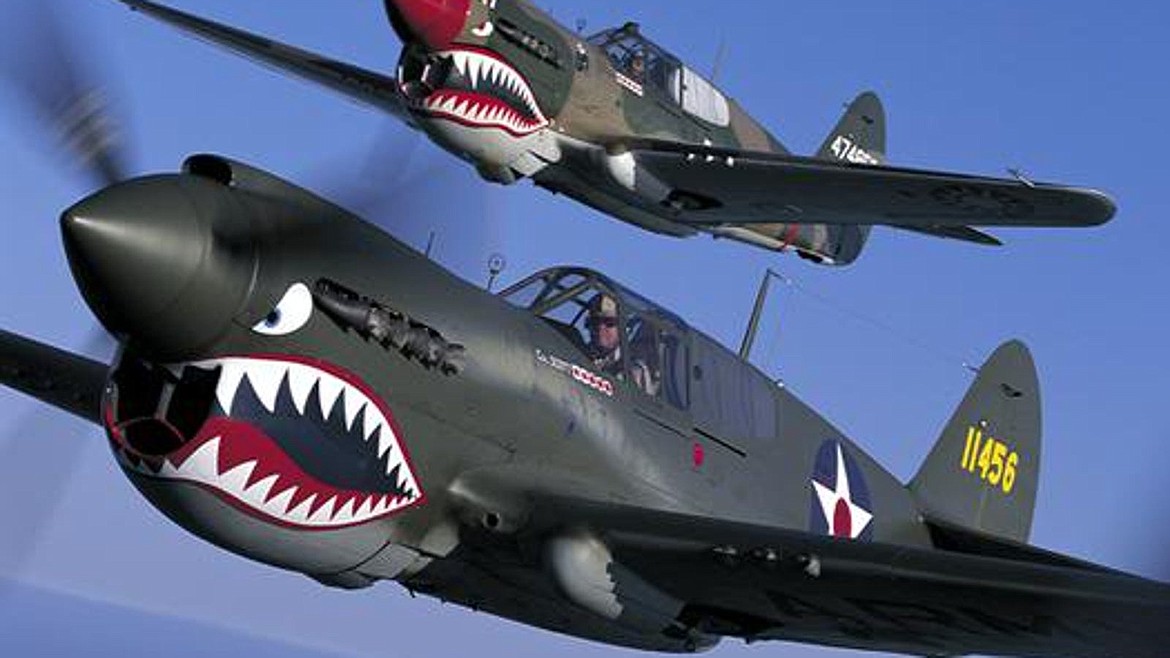 The ferocious-looking shark teeth image painted on Flying Tigers P-40 fighter planes was first used on German aircraft, then with eyes added by the Royal Air Force.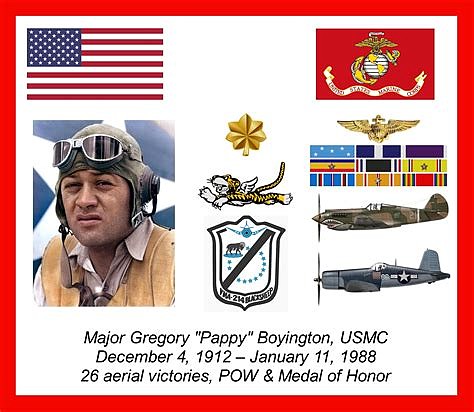 Previous
Next
by
SYD ALBRIGHT
|
February 27, 2022 1:00 AM
Two years before Hitler invaded Poland in 1939, launching World War II, the Japanese Empire invaded China — confident that they could beat the Chinese again as they did in 1895 in the First Sino-Japanese War.
The Imperial Japanese Army was rampaging across Manchuria and China and couldn't be stopped.
China's leader, Generalissimo Chiang Kai-shek, needed help.
A Louisiana farmer who was also a retired U.S. Army Air Corps pilot named Claire Lee Chenault was already in China as a civilian "adviser" to the Bank of China.
Quietly, he was helping Generalissimo Chiang Kai-shek and the ruling Kuomintang Party by training Chinese pilots, and personally leading a squadron of mercenary pilots in operational sorties.
He also established air bases across China and set up an air raid warning system.
He knew that Japanese air power was superior to America's or China's, but he had a tactical air combat plan that was contrary to traditional tactics — which in America was high altitude bombing.
"My plan proposed to throw a small but well-equipped air force into China," Chennault said. "Air bases in free China could put all of the vital Japanese supply lines and advanced staging areas under attack."
He promoted the new aerial combat tactic of having fighter planes climbing to high altitudes and then diving down at the enemy, hitting them hard and then getting out — hit-and-run.
He advocated avoiding aerial dogfighting, because the Japanese fighters were faster and more maneuverable — though also more vulnerable to falling apart when hit, and had no protective armor for the pilots.
In 1940, Chiang Kai-shek sent Chennault back to the U.S. to raise financial and logistical help for China, at a time when the U.S. was officially neutral in the war.
Though opposed by top military brass, FDR authorized Chennault to organize a civilian group of trained combat pilots and ground personnel in China to help them stop Japan.
He agreed to send 100 Curtiss P-40 Warhawk fighter planes and also provide money to prop up the Bank of China.
Chennault was free to recruit his team from wherever he could find them. And find them he did — many from the Navy and Marines.
They were called the American Volunteer Group (AVG) that would later be known as the Flying Tigers.
Chennault quietly recruited some 300 American pilots and ground crew — many from branches of the U.S. military.
Pilots were paid $600 a month (up to $250 more for leaders) and $250 for ground personnel — good pay for those days. The Chinese agreed to pay an additional $500 bonus to pilots for each enemy plane they destroyed.
The AVG was a secretive group, that couldn't be seen as a U.S. political link with China.
Posing as tourists, the selected volunteers boarded ships and headed for Rangoon, Burma (now Yangon, Myanmar).
Their passports listed false occupations, such as banker, clerk, musician, student, etc.
Former U.S. Marine and barroom brawler Gregory Boyington, born in Coeur d'Alene, listed his occupation as "cleric."
An American missionary traveling on the same ship with him saw through the cover story right away and asked him if he'd like to deliver the sermon at the shipboard service the following Sunday.
Boyington declined.
"Having gone through a painful divorce and responsible for an ex-wife and several small children, he had ruined his credit and incurred substantial debt, and the Marine Corps had ordered him to submit a monthly report to his commander on how he accounted for his pay in settling those debts," according to a Defense Department source.
By spring 1941, the crated P-40 fighter planes arrived in Rangoon, where they were reassembled and flight-tested by the Central Aircraft Manufacturing Company (CAMCO), a Chinese company established by American entrepreneur William D. Pawley in the 1930s.
Ready to go, the planes were delivered to the Flying Tigers AVG based in Taungoo, 144 miles north of Rangoon.
Then came the Dec. 7 attack on Pearl Harbor.
Thirteen days later, with the U.S. formally at war with Japan, the Flying Tigers on their first mission intercepted a flight of 10 Japanese bombers on their way to bomb the Burma Road — a highly strategic supply route for the Allies between India and China.
The Tigers 1st and 2nd squadrons — "Adam & Eves" and "Panda Bears" — shot down four of the bombers near Kunming (700 miles northeast of Rangoon) and stopped them from reaching the target.
After that, the Japanese abandoned any further raids on Kunming.
It got even better for the Flying Tigers between Christmas and New Year's Eve 1942.
The official Flying Tigers website reports that during that time, the Flying Tigers and the RAF together battled more than 300 Japanese planes in sorties over Burma.
Flying Tigers shot down 66 of them, with only one loss.
And so it went for the American volunteers until the summer of 1942.
"Those pilots, posing as tourists," one report said, "were adventurers or mercenaries and not necessarily idealists out to save China. But under Chennault they developed into a crack fighting unit, always going against superior Japanese forces, and became the symbol of America's military might in Asia."
Keeping the planes in the air wasn't easy. Parts were hard to come by, so they had to be cannibalized from damaged aircraft. The original P-40s were replaced by a later model that was originally ordered by the British, who agreed to cancel the order.
In a laudatory but politically-incorrect article (by today's standards) about Flying Tigers said in a wartime issue of LIFE magazine, "American ingenuity at patching up their battered planes with hand tools and old material is one reason for their continued practical success over the Japs.
"On the alert every daylight hour, these pilots make excellent fighting teams, every man pretty much his own master, for every man is squadron-leader material of the highest type. Perhaps half a dozen have lost their lives in combat.
"The factual story of their skill, courage and fighting spirit has swept Free China with the knowledge of what America's joining the war means. But their highest compliment came in a Tokyo broadcast that complained that the A.V.G. was not using orthodox tactics."
Despite all the heroics by the Flying Tigers, RAF and British, Indian and other ground forces, the Japanese won control of much of China, Burma and other parts of Southeast Asia.
Flying Tigers had accomplished their mission and Allied strategies were changing.
So on the Fourth of July, 1942, they were officially disbanded and their heroics went into the history books.
But the war wasn't over for Pappy Boyington, who'd shot down six Japanese planes while with the Flying Tigers — according to his memoirs.
He was nicknamed "Pappy," being 10 years older than most of the other Tigers.
He returned to the Marine Corps and amazingly shot down another twenty before he was shot down in a dogfight over Rabaul.
No one saw him go down. He was believed killed in action and FDR awarded him a posthumous Medal of Honor.
He survived, however, and was picked up by a Japanese submarine and ended up spending most of the rest of the war in a POW prison near Tokyo.
Hollywood made a television series about him for NBC called "Baa Baa Black Sheep," starring Robert Conrad.
The last surviving Flying Tiger was Frank Losonsky from Columbus, Ga., crew chief of the "Hell's Angels" squadron.
On one assignment, he was part of a salvage crew sent out to recover four wrecked P-40s. All four of those planes, led by Pappy Boyington, had to make forced landings near the Indochina border.
Losonsky died on Feb. 6, 2020, of natural causes in Columbus at age 99.
Pappy died of cancer in 1988 in Fresno at age 75, and is buried at Arlington National Cemetery.
During the short time they served, only ten Flying Tigers were killed in action — seven in aircraft accidents. Nineteen pilots became aces, having downed five or more Japanese aircraft.
Britain's then-Prime Minister Winston Churchill said, "The victories of these Americans over the rice paddies of Burma are comparable in character, if not in scope, with those won by the RAF over the hop fields of Kent in the Battle of Britain."
In only seven months of combat operation, the Flying Tigers destroyed 299 enemy planes.
Not a bad record for a small bunch of rag-tag volunteers …
• • •
Contact Syd Albright at silverflix@roadrunner.com.
• • •
The other side of Pappy…
"Yes, Gregory "Pappy" Boyington was a hell-raising, hard-drinking, and hard-living individual. His drinking plagued him for the rest of his life and most likely contributed to several divorces. He worked various civilian jobs, including participation in professional wrestling and refereeing. 'Pappy' was all too human. He had his faults; we all do."
— Pete Mecca, The Citizens
Boyington and Hollywood…
American ace "Pappy" Boyington was the hard-drinking commanding officer of the Marine Corps' "Black Sheep" Squadron. After the war, he wrote his memoirs, "Baa Baa Black Sheep," which was turned into a television series. His former crew hated the series because it glamorized Boyington, often at their expense; in his defense, Boyington admitted the show was "hogwash and Hollywood hokum."
— Factinate
Flaw in TV series…
In the Baa Baa Black Sheep TV show, whenever a Zero was shot down by a Corsair, it would bellow white smoke and begin to trail away. In reality, because the Zero did not have self-sealing fuel tanks, in would in almost every circumstance have burst into flames or exploded when shot down.
— IMDb
Flying Tigers cargo airline…
After World War II, Flying Tigers ace Robert W. Prescott and nine other Tigers pilots, plus two ground crew founded Flying Tigers all-cargo airline with additional funding from oil tycoon Samuel B. Mosher. They started with 14 Budd Conestoga aircraft bought from the Navy. They made a profit in their third month of operation. Prescott served as president and CEO until he died in Palm Springs in 1978 at age 64. The company was acquired by Federal Express in 1989.
POST SCRIPT…
In late December 1941, this writer was a youngster on board the American President Lines ship SS President Madison that had recently evacuated U.S. Marines from China, stopped in Manila and then Borneo, Indonesia, before picking up families in Java who were scrambling to leave before the Japanese invasion. That included us.
On the Madison were a small group of Americans, who said they were engineers heading for Burma to work on the Burma Road. It's unclear where they boarded the ship. After leaving Java, the ship sailed to Ceylon and then Calcutta — but was unable to dock there and forced to leave.
There were no engineers listed on the Madison passenger list.
Were those "engineers" really incognito Flying Tigers volunteers who were supposed to disembark in Calcutta on their way to Rangoon if we'd been able to dock?
Recent Headlines
---