North Coeur d'Alene price-cut-a-palooza
by
TYLER WILSON/Special to The Press
|
October 17, 2021 1:00 AM
Fall means cooler weather, and, sometimes, cooler prices on the real estate market.
After another surging summer of home sales, autumn has provided a slight breather, as it usually does. Price cuts happen for many reasons, and even the most spectacular properties in highly desirable neighborhoods can see price cuts in order to find that "sweet spot" buyer. Some agents even like to start higher and begin incremental price drops after a couple of weeks in order to lure shoppers.
While the market remains strong, autumn can bring about new urgency for some buyers, especially those looking to move a property before the end of the year and/or when the snow falls.
This week, we're looking at perhaps the most consistently in-demand area in all of North Idaho — the Coeur d'Alene Place and neighborhoods that lead up to the Hayden line at Prairie Avenue. Families always want to be there, thanks to convenient access to great schools, park areas and essential amenities.
So we start at the south and move our way toward Prairie. East of Atlas Road and just south of Hanley Avenue — three bedroom, 1,600-plus square feet recently remodeled home in Coeur d'Alene Place — down 40K to $599,000 this month.
Another home nearby and close to Bluegrass Park with three bedrooms and about 1,350 square feet dropped 26K to $399,000 to start the month and promptly changed its status to "pending." Strong proof that strategic price cuts work, baby.
North of Hanley and closer to the Coeur d'Alene Soccer complex are a few other notable price drops. A three-bedroom, 2,200-plus-square-foot-home built in 2009 dropped $30,000 after a week on the market and is now listed at $599,000.
Two other larger homes in that same area recently went pending after similar drops. Listed prices on those are $647,000 and $725,000, respectively, so that $599K number looks like a sweet spot price.
Have a lot of kids and need some space away from them? Try a six-bedroom, almost 3,400-square-foot-home in the nearby Sunshine Meadows neighborhood for just a shade under $830,000, down $20,000 from its price last month and $50,000 from its initial listing at the end of the summer. That size of home is a little trickier to price, as most buyers don't need six bedrooms (I do. I do so badly.).
West of Atlas, you can find an attractive property near Landings Park at a new price — a four-bedroom, 2,000-square-foot-home on a corner lot and just across the street from the park is now $555,000, down $14,000 from late last month.
West of that property and still in the landings is a three-bedroom, almost 2,000-square-foot-home with a new price — $540,000 after a 10K drop.
Head west through the Landings to find another large home with a price cut — a four-bedroom, 2,750-square-foot-home is recently down $12,000 to $658,000. Two smaller homes just nearby are now pending after price cutting the properties into the high $400,000s range.
• • •
Let us know about the standout neighborhoods around North Idaho you want to see featured in Neighborhood of the Week. Reach out to us with updates on new developments and established neighborhoods in Coeur d'Alene, Post Falls, Hayden, Rathdrum and beyond. Contact Tyler Wilson at twilson@cdapress.com.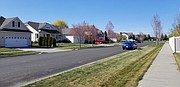 ---