HISTORY CORNER: YOSEMITE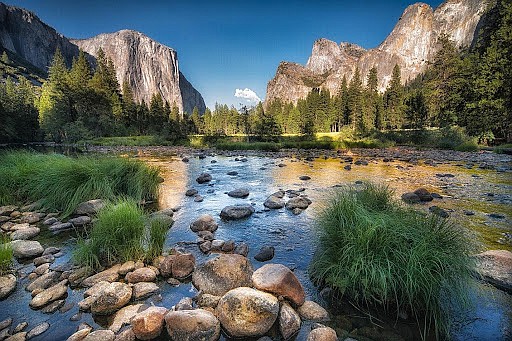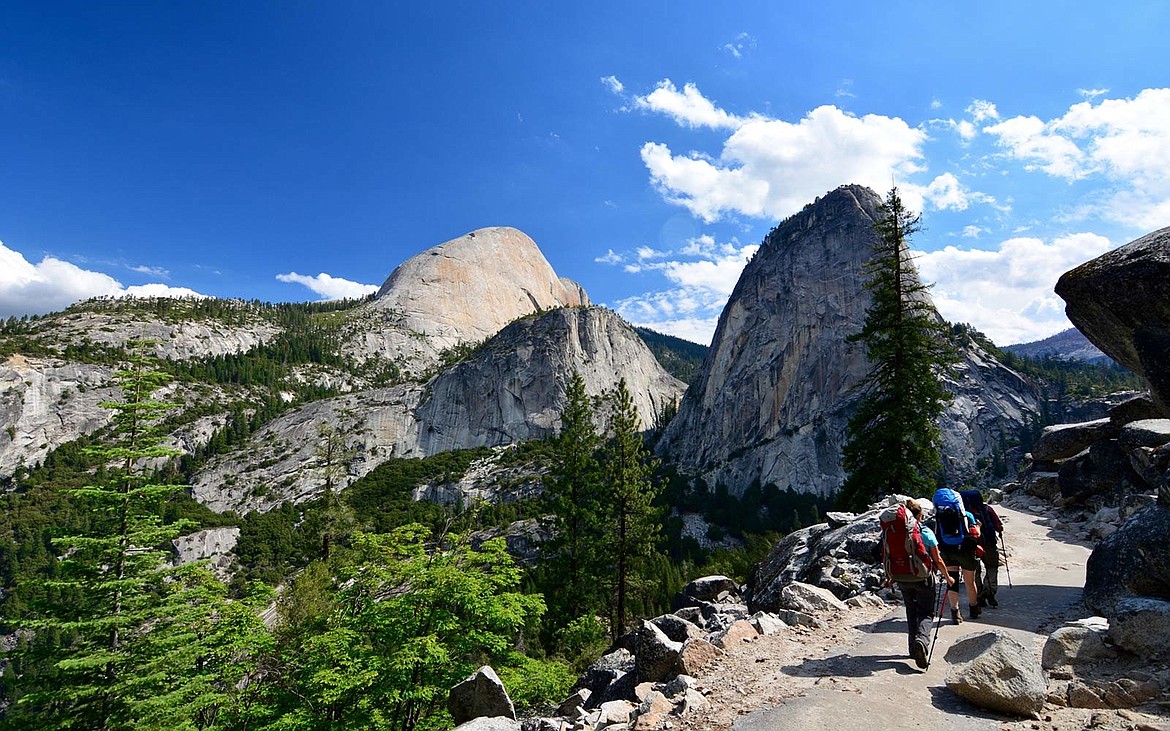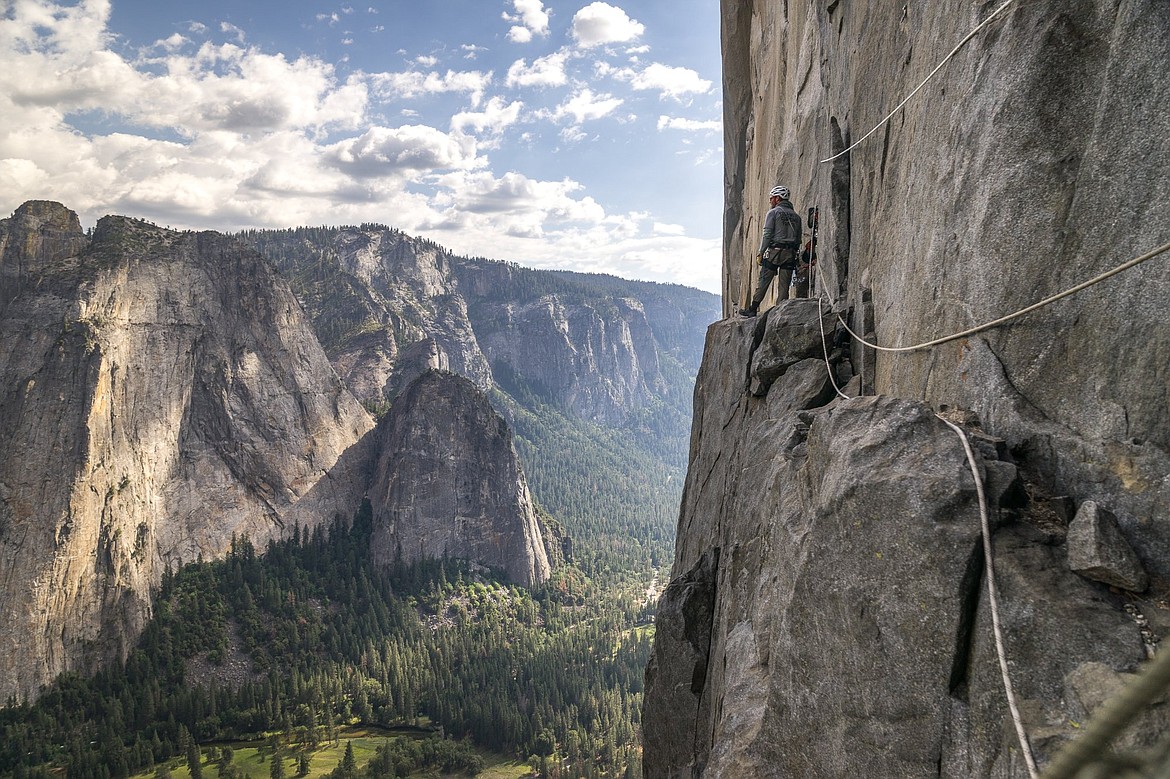 Rock climbing at Yosemite is not for the faint-at-heart.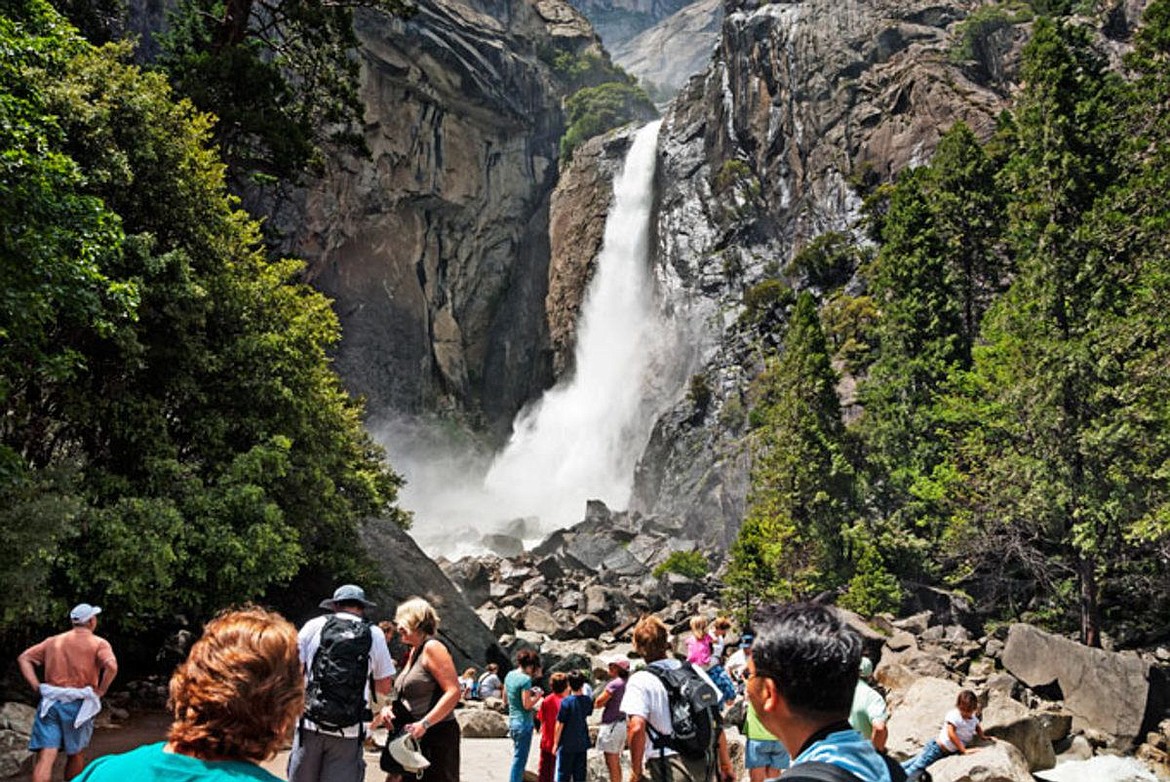 A popular visitor attraction at Yosemite is Yosemite Falls, dropping 2,425 feet from the top of the upper fall to the base of the lower fall.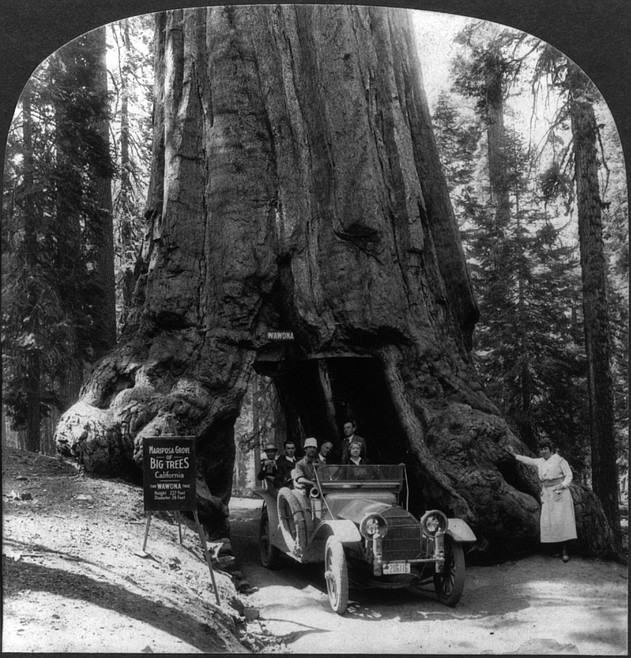 The 2,300-year-old Wawona Tunnel Tree in Yosemite was cut through in 1881, becoming a great visitor attraction, but was toppled be a heavy snow load in 1969.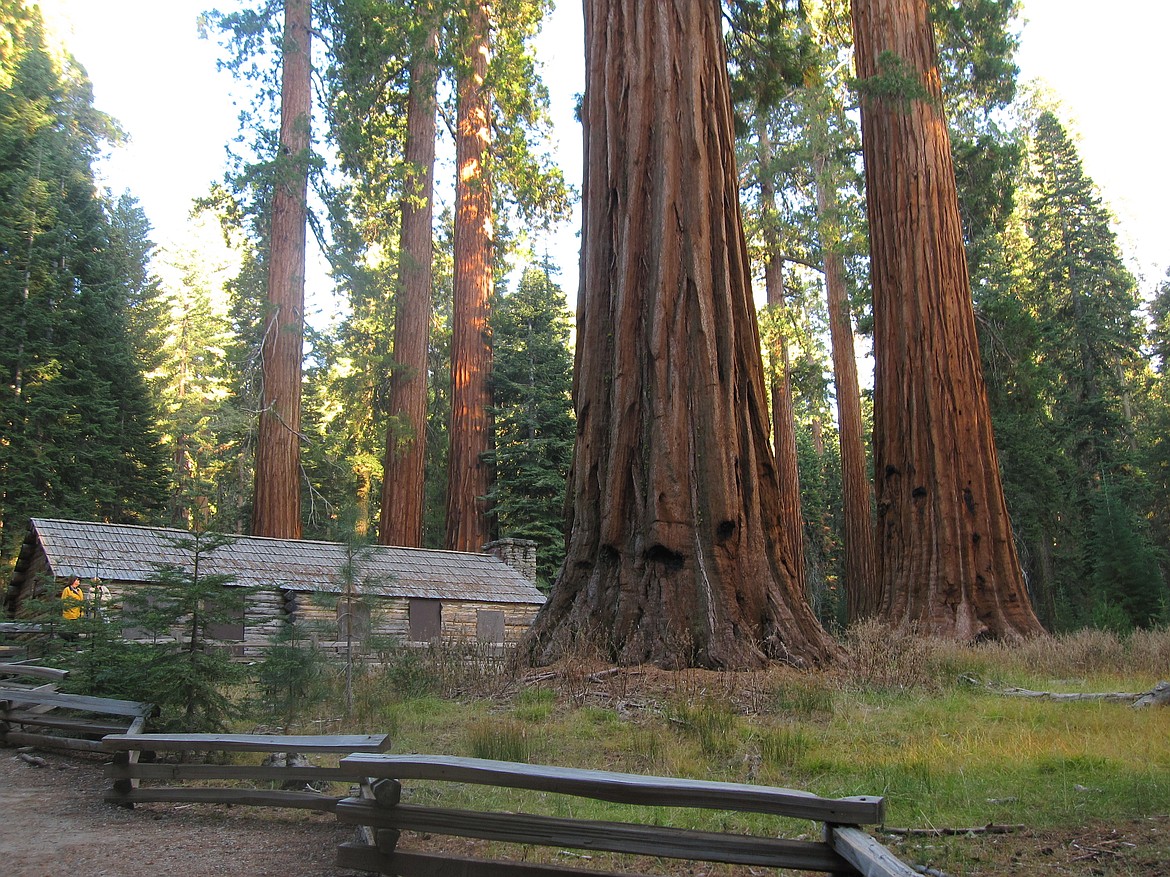 Two of the largest Sequoia redwood trees in the world by volume are at Sequoia National Park, 109 miles south-southeast of Yosemite, the General Sherman (on right) being the largest, standing at 275 feet, seeded between 700 and 300 B.C., with the General Grant, 267 feet (center), 2,700 years old second most massive; highest tree in the world is a 316-foot Sequoia at Redwood Mountain Grove, Calif.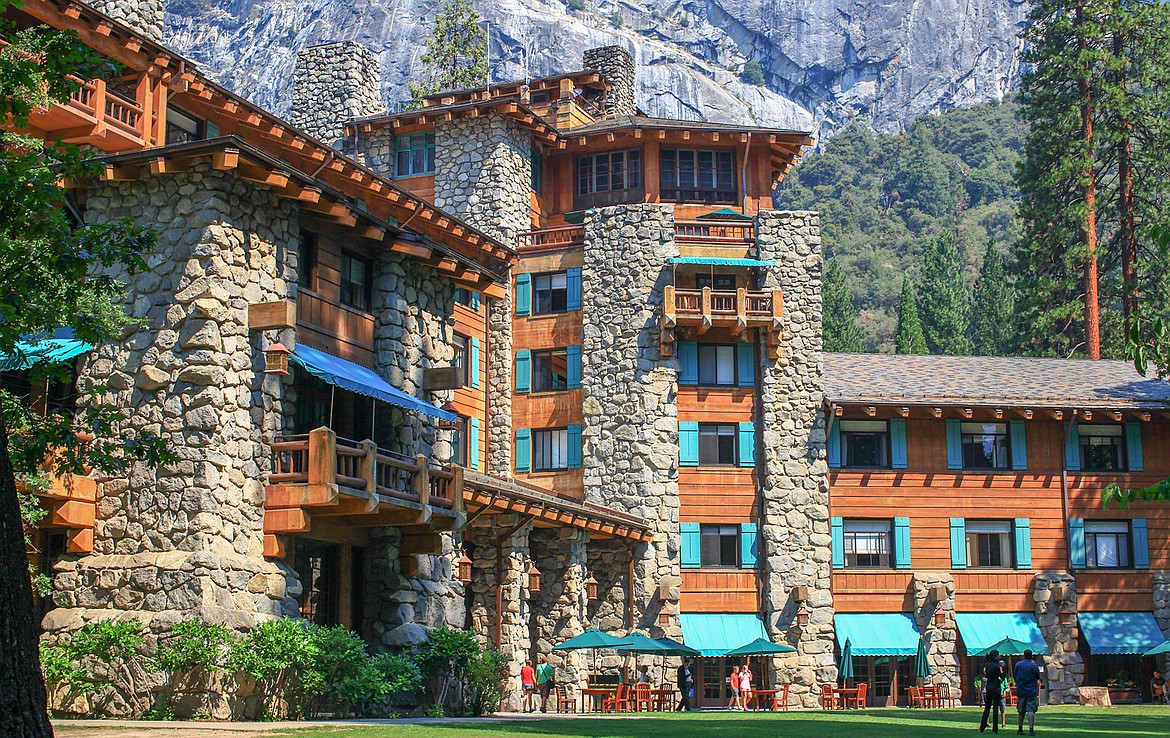 The iconic Ahwahnee Hotel in Yosemite opened its doors in 1927.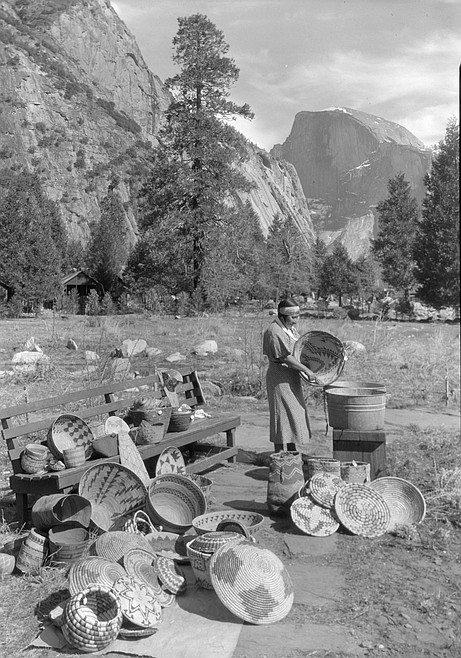 The Yosemite Indians have long been highly creative basket makers.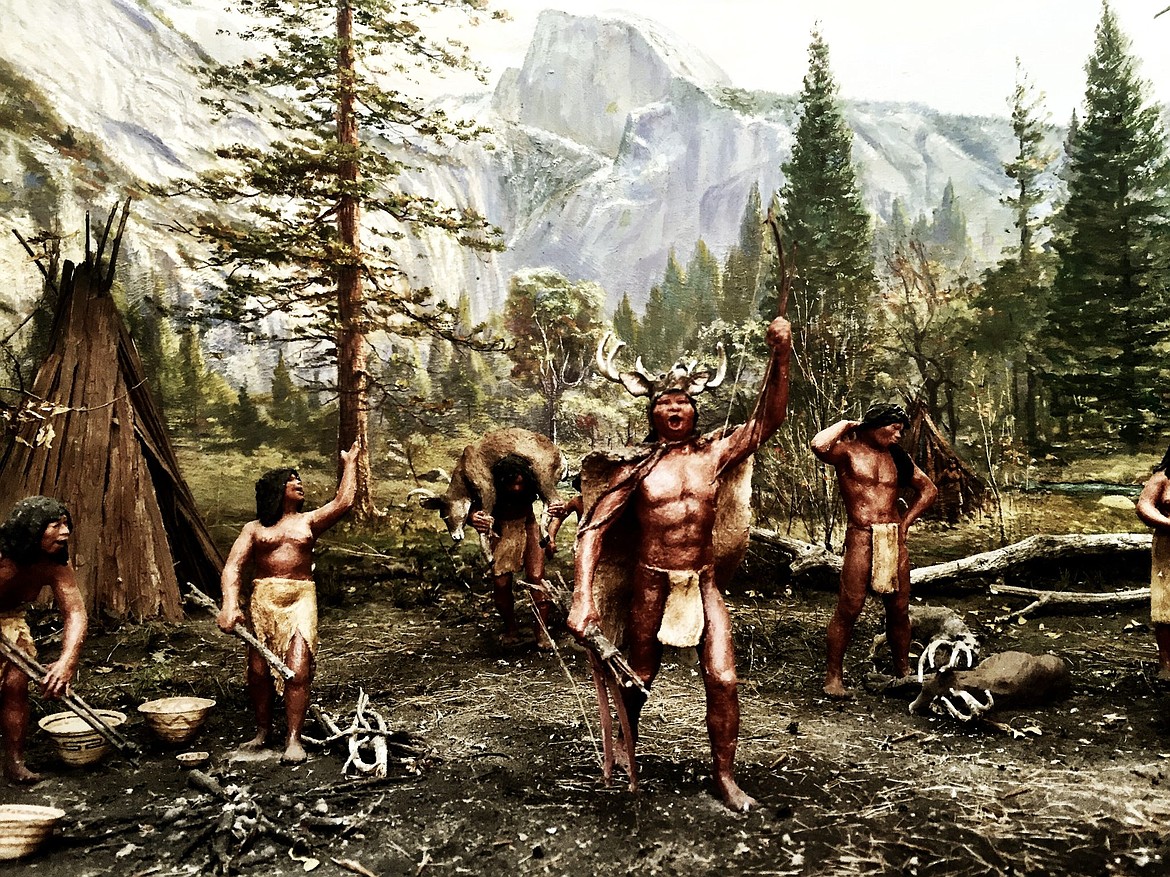 Like most Native American tribes, the Ahwahnee Indians were hunters and gatherers living in Yosemite Valley for thousands of years where food resources were plentiful.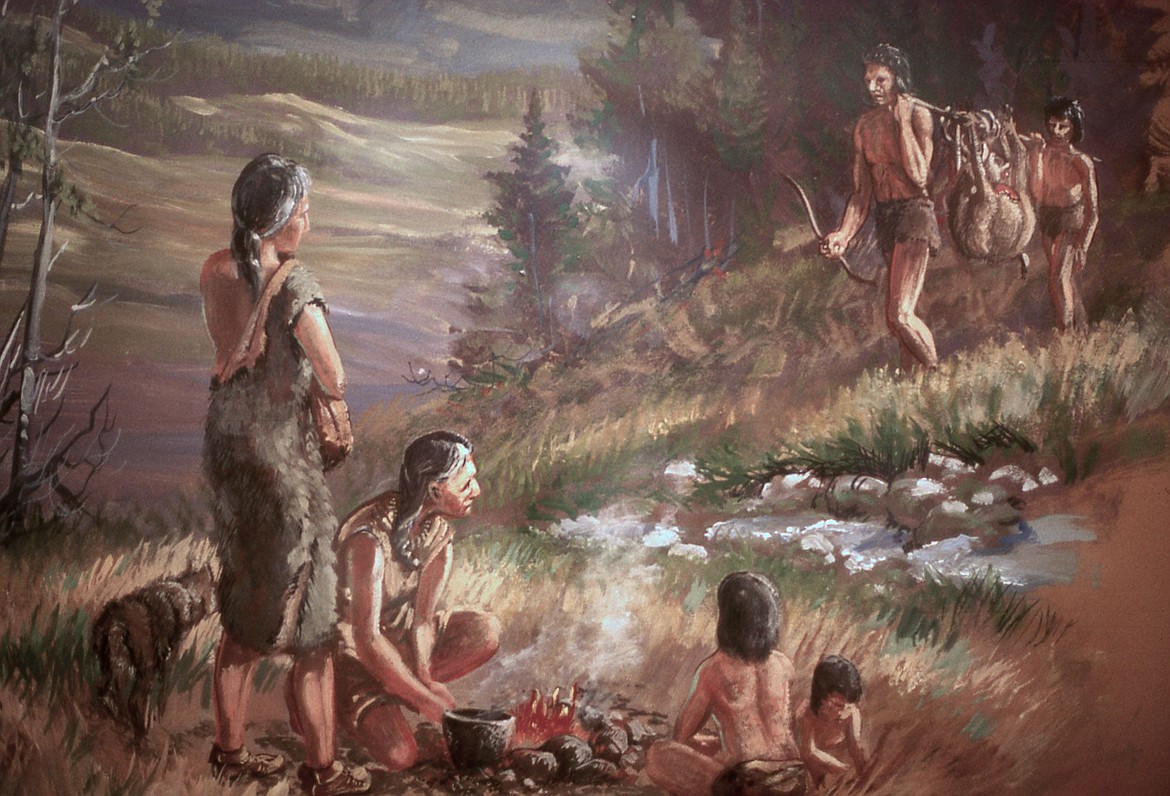 Earliest known Native American tribe in Yosemite were the Ahwahneechee, a Miwok or Mono Lake people believed to have arrived about 7,000 years ago from a "land to the west."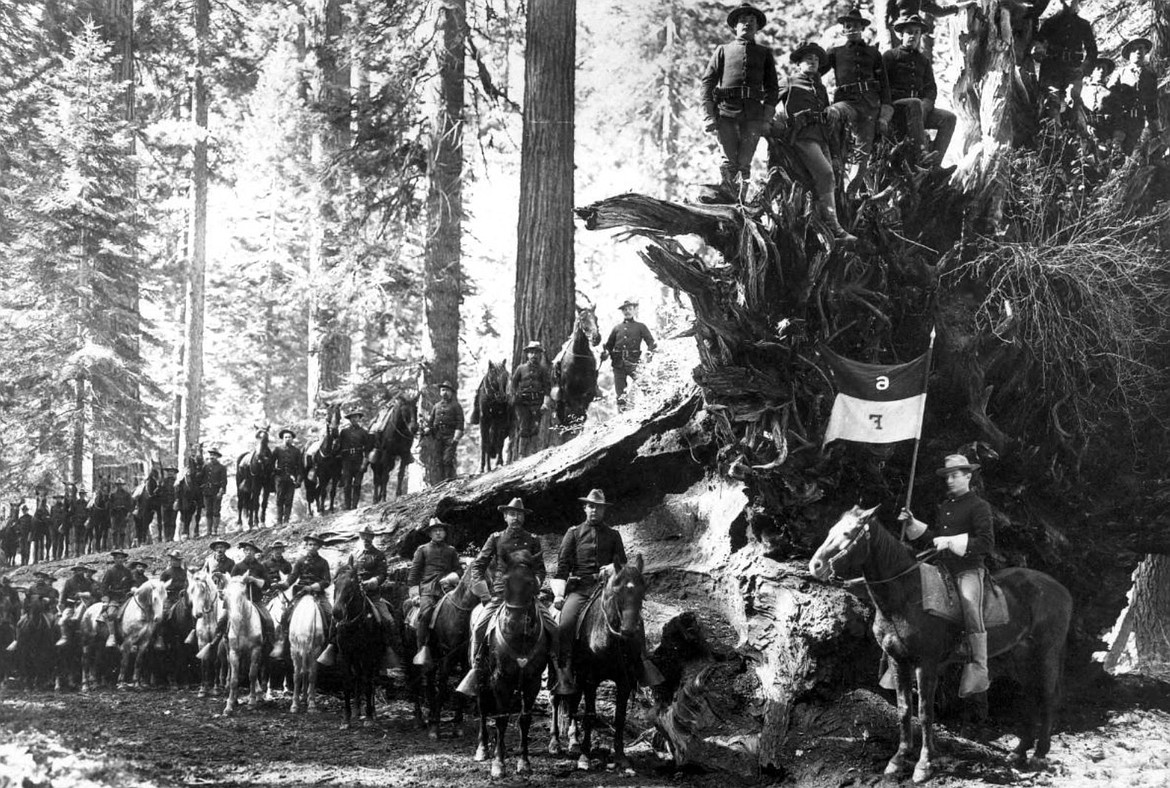 U.S. Cavalry F Troop at "Fallen Monarch" Sequoia redwood in Mariposa Grove, Yosemite, the tree believed to be 1,800 years old, and fallen down 300 years ago (Photo c.1899).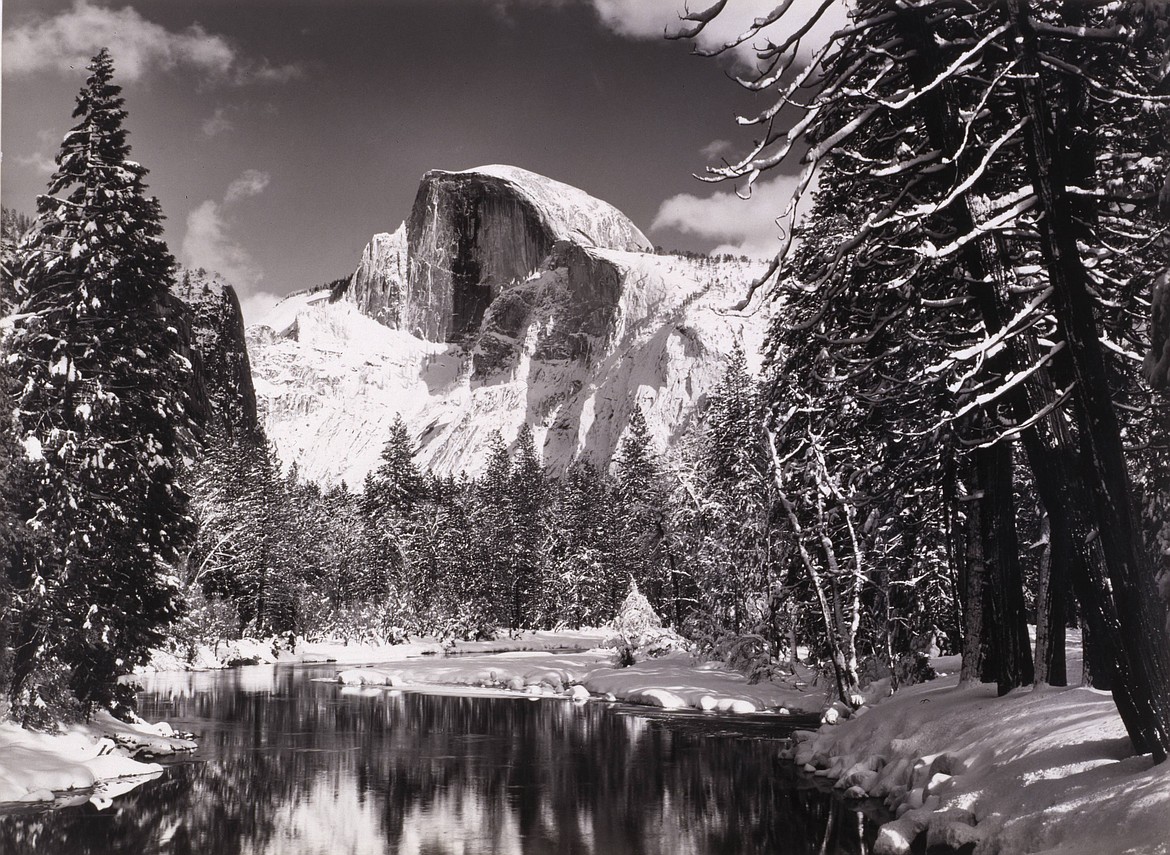 Yosemite's Half Dome in winter.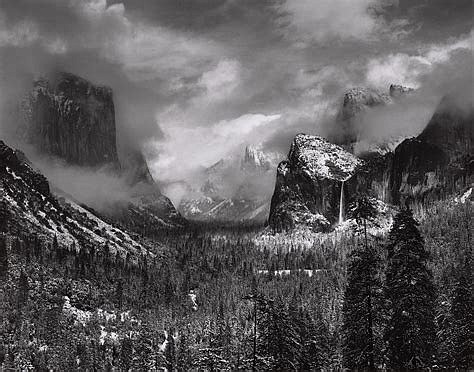 Ansel Adams photo of Yosemite.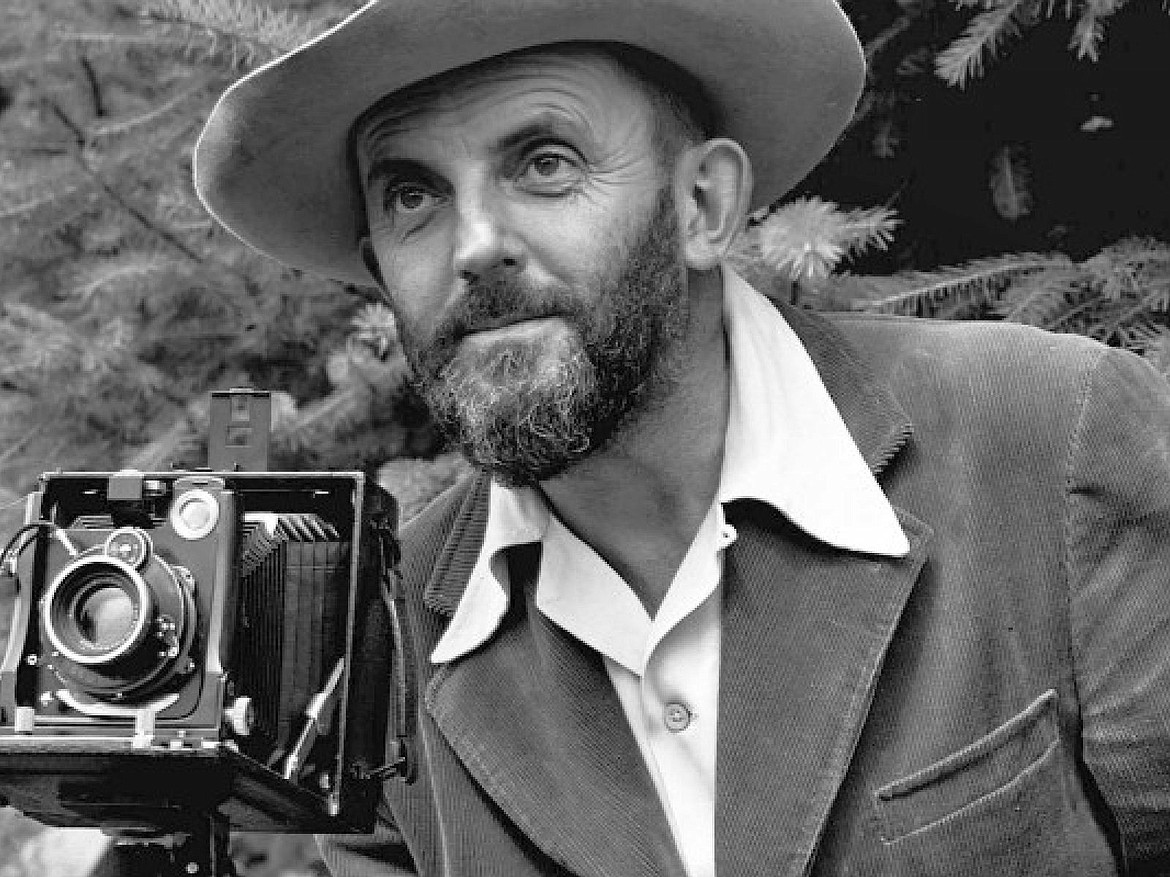 Ansel Adams (1902-1984) was the great photographer whose photos have dazzled the world with the beauty and majesty of Yosemite.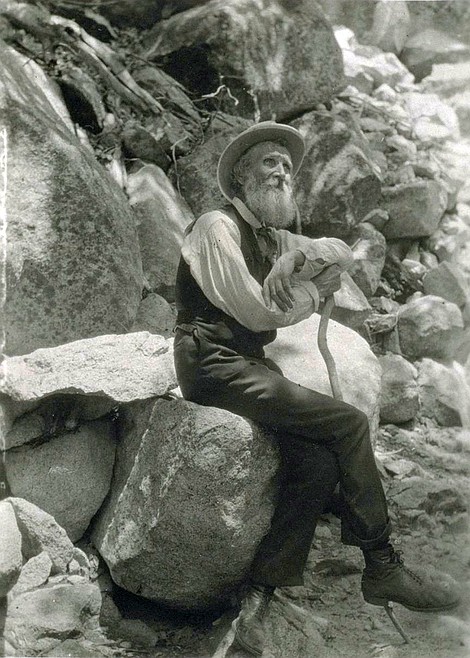 Naturalist John Muir said, "It is easier to feel than to realize, or in any way explain, Yosemite grandeur. The magnitudes of the rocks and trees and streams are so delicately harmonized, they are mostly hidden." (Photo 1907)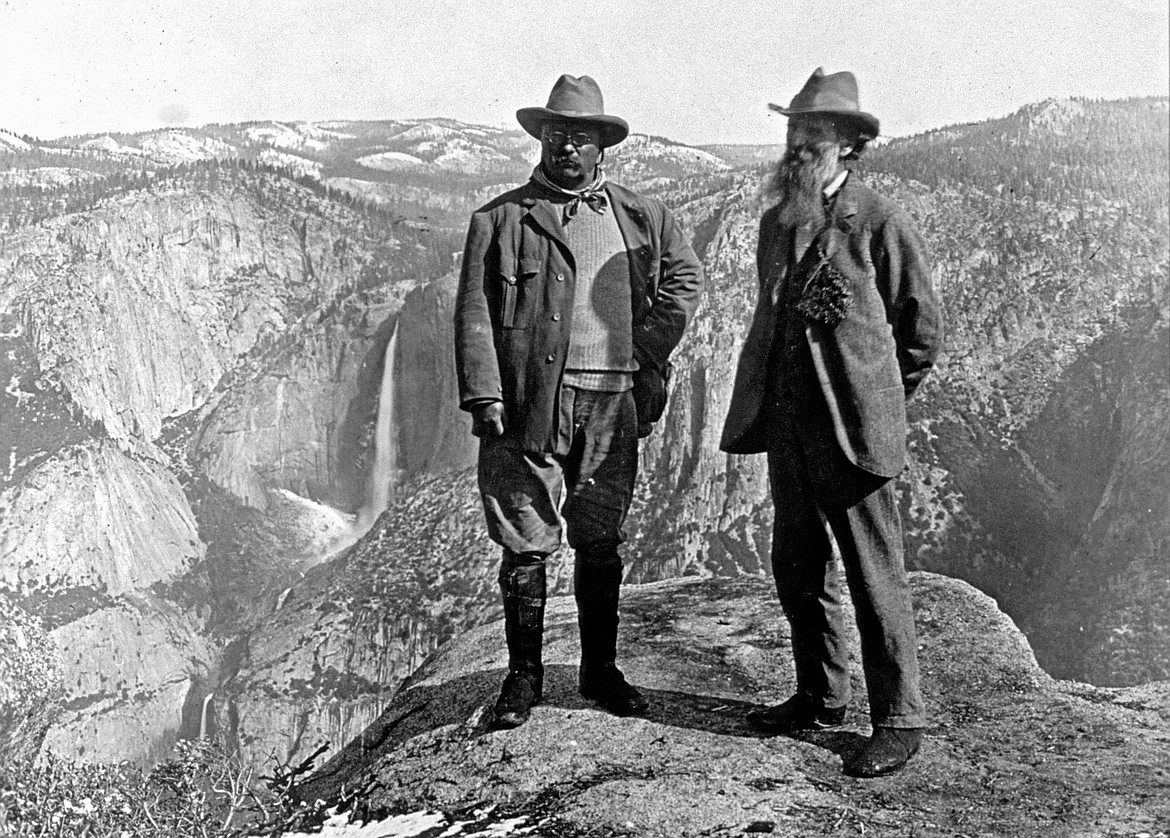 President Theodore Roosevelt and naturalist John Muir at Glacier Point, Yosemite (1903).
Backpackers in Yosemite enjoying the scene of Lake Merced, and the back side of Half Dome in the distance.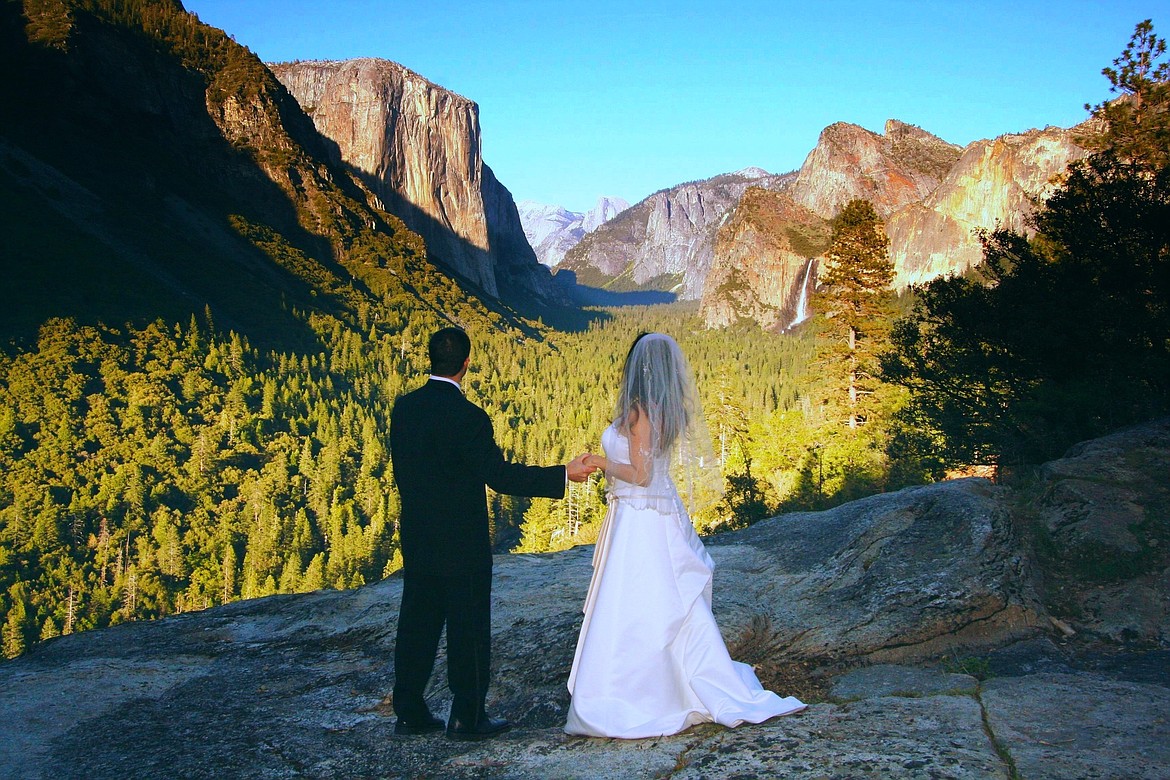 Wedding couple at Yosemite.
Previous
Next
by
SYD ALBRIGHT
|
November 21, 2021 1:00 AM
"There can be nothing in the world more beautiful than the Yosemite, the groves of the giant sequoias and redwoods, the Canyon of the Colorado, the Canyon of the Yellowstone, the Three Tetons; and our people should see to it that they are preserved for their children and their children's children forever …"
President Teddy Roosevelt said that in "Outdoor Pastimes of an American Hunter," published in 1905, two years after camping for four days at Yosemite with the great naturalist John Muir.
Muir was a Scottish naturalist, writer and conservationist whose glowing articles told the world about the grandeur of the iconic park in California.
Loving nature as a boy in Dunbar, Scotland, Muir explored the seacoast and wilderness with friends — an activity not approved by his father, who punished him severely.
In 1849, the family moved to Wisconsin, where his father burdened his children with hard labor on the family farm.
In due course, wanderlust took the young man on a long walk to Florida, then boat-rides to Cuba, New York and San Francisco.
From there, he walked to Yosemite — and into the history books.
It was 1868, and the years that followed were filed with adventure:
First, John Muir took a ranch hand job in California "to support his nature habit." Then he switched to being a shepherd in Tuolumne Meadows for $30 a month so that he could study the animal and plant life there and sketch the mountain scenery.
There was more adventure ahead — Alaska, overseas world travel, marriage, two daughters, running a California fruit farm, founding the Sierra Club and tirelessly promoting his passion of preserving the wilderness and fighting to make Yosemite a national park.
For 40 years, he kept a daily log — one story telling about climbing a tall Douglas spruce in a strong windstorm, just to feel the full force of the wind and experience how the tree would feel.
He made friends easily, relating to people equally with loyalty, generosity and good humor — though sometimes showing a touch of eccentricity.
Those qualities would serve him well in his life work.
During the camping trip at Yosemite with President Roosevelt, Muir convinced him that that the Valley needed more protection. People were creating ecological damage ever since they starting coming in after the 1849 California Gold Rush.
Damage included logging and later, carving tunnels through the base of ancient Sequoia redwood trees, big enough for cars to drive through.
The last of those "tunnel trees" — some maybe 3,000 years old — called the Wawona Tunnel Tree came tumbling down in 1969 due to a heavy snow load at the top. It was 227 feet tall. Only two tunnel trees remain — only wide enough to walk through.
In planning the camping trip, Roosevelt told Muir, "I do not want anyone with me but you, and I want to drop politics absolutely for four days and just be out in the open with you."
Later, Muir said, "I stuffed him pretty well regarding the timber thieves, and the destructive work of lumbermen and other spoilers of the forest."
His persuasion worked. TR followed up the camping trip by providing federal protection for Yosemite — and also signing into existence five more national parks, 18 national monuments, 55 national bird sanctuaries and wildlife refuges and 150 national forests.
In 1916, the National Park Service was established.
Not only did John Muir become a leader of the Conservation Movement, but also earned the title of Father of the National Parks.
He called Yosemite, "by far the grandest of all the special temples of Nature I was ever permitted to enter."
"He was a remarkably gifted amateur, an authentic genius," one report said. "His combination of abilities was exactly right for what he came to do with his life."
Four to five million visitors come to Yosemite each year (before COVID). But the scenic park had been home for the Ahwahneechee Indians for some 7,000 years, according to NPS historians.
The Ahwahnee were primarily Southern Miwok, a tribe separate from other Miwok tribes living elsewhere, with whom they interacted, traded and inter-married — and sometimes fought.
Frequently called Yosemite Indians, those ancient hunter-gatherers had no trouble finding food. There was plenty of big and little game, birds, fish, along with edible plants including bulbs, camas (like in Idaho), mushrooms and berries.
A favorite food was the black oak acorn — ground into mush, leached to remove the bitterness, then cooked into patties.
Then came gold and civilization.
Yosemite means "those who kill," referring to the Miwok Indians — considered a band of renegades and greatly feared by some tribes.
The name was given to the Valley in 1851 by Lafayette H. Bunnell, a physician with the Mariposa Battalion, sent to capture the Yosemite Indians — the name oddly honoring the soon-to-be-captives.
The Yosemite Indians referred to themselves as Ah-wah-ne-chee or "dwellers of Ahwahnee," meaning gaping mouth — referring to the entrance to Yosemite Valley.
(Some say "Ahwahneechee," referring to the Ahwahnee people.)
Yosemite's path to worldwide fame as one of America's most magnificent wilderness gems has been a rocky one.
We know the Indians had lived there for millennia, but it's still unclear who the first Euro-Americans were to visit. Most likely, it was James D. Savage, a California pioneer who was working at John Sutter's sawmill northeast of Sacramento, when James W. Marshall discovered gold there in 1848 — triggering the California Gold Rush.
It was a major event in American history, and brought civilization to the doorstep of Yosemite.
Hundreds of thousands from the U.S. and overseas poured in, hoping to strike it rich. Savage was one of them, finding some gold but getting richer selling supplies to the miners.
He was an interesting man. Born in Illinois, he had a passion for the outdoors and had a natural gift for learning languages. In 1846 he arrived in California with a wagon train he'd joined in Independence, Missouri.
For a while, he served in the Mexican-American War with John C. Fremont's California Brigade.
During the Gold Rush, he set up trading posts, built relationships with the Indians, learned their dialects and married five Indian women from different tribes, earning their trust by helping them trade gold for supplies. They called him The Blond King.
On a trip to San Francisco, accompanied by an Indian named Jose-Juarez to help buy supplies for local Indians — and place his gold in safe-keeping — Savage drank too much and gambled away all the Indian gold and his own.
Confrontation erupted between the two men, and that was the start of a deterioration of Savage's relationship with the Indians, who were being increasingly hostile toward the whites moving in.
While Savage was trying to calm the Indians down, Jose-Juarez turned them against him.
Then Savage's trading post on the Fresno River was raided by the Indians, who also killed three employees — one with 20 arrows in him.
The Ahwahnee led by Chief Teneiya was blamed.
When local militia couldn't stop the violence, the Mariposa Battalion was organized, commanded by Savage as major, to go after Teneiya and Indians in Yosemite and force them onto a reservation.
After negotiations, six tribes agreed to terms, leaving Savage to go after the rest.
His militia spent six months chasing them down.
In 1853, Chief Teneiya was stoned to death by the Mono Paiutes over stolen horses.
John Savage was killed by a former business partner.
Though the war was over, conflict with the Indians continued. Four times after that, the federal government evicted them from Yosemite because they kept returning. The last time was in 1969.
Today, the guns of war are silent and the sounds of nature abound in Yosemite National Park. Among its wonders is El Capitan, towering 3,593 feet above the valley floor as "king of the granite monoliths" and a mecca for fearless rock climbers.
And Half Dome, is one of the West's most photographed landmarks.
A memorable hike to Glacier Point ends where President Roosevelt and John Muir stood in 1903, a vista 7,214 feet high overlooking Yosemite Valley and the High Sierras.
Yosemite is also home to the largest living organisms in the world — the giant Sequoia redwood trees, possibly 3,000 years old, with two of them the tallest trees in the world.
After having a fabulous dinner at the iconic Ahwahnee Hotel — enjoy the memory of Yosemite forever …
• • •
Contact Syd Albright at silverflix@roadrunner.com.
• • •
Bug snack loved by Yosemite Indians…
One of the most important articles of trade between the Mono and Yosemite Indians traded was Ka-cha-vee, an insect pupa from the salty waters of Mono Lake. Breeding there in huge numbers, millions of their dead bodies would wash ashore, be gathered by the Indian women, dried, then rubbed to remove the skins, then dried again and eaten as a delicacy — said to taste like mild shrimp. The Indians also liked tasty Pandora moth caterpillars.
Beware the bear…
Black bears frequent Yosemite's Wilderness and are adept at grabbing backpacks from hikers and campers — during both day and night. Always keep your food within arm's reach (or on your back); never leave it unattended. If you see a bear, act immediately to scare it away: make as much noise as possible by yelling. If there is more than one person, stand together to present a more intimidating figure, but do not surround the bear.
— National Parks Service
High praise from the editor…
Before naturalist John Muir helped make Yosemite famous, Horace Greely, editor of the New York Tribune who famously said "Go west, young man," put the spotlight on Yosemite by visiting the iconic valley in 1859 and sending dispatches back to the paper praising its beauty — calling it "the greatest marvel of the continent."
Muir and friends…
John Muir returned to the home of friends, soaking wet from the rain. His pals felt sorry for him. "Don't pity me. Pity yourselves," he said. "You stay here at home, dry and defrauded of all the glory I have seen. Your souls starve in the midst of abundance!"
Brush with blindness…
An accident changed John Muir's life. A file he was using slipped and pierced his right eye. Then his left eye failed and he lived in darkness for six weeks recovering — hoping he wouldn't go blind. When his sight returned, "he saw the world and his purpose in a new light," later writing, "God has to nearly kill us sometimes, to teach us lessons."
Recent Headlines
---