HISTORY CORNER: The Old West Cowboys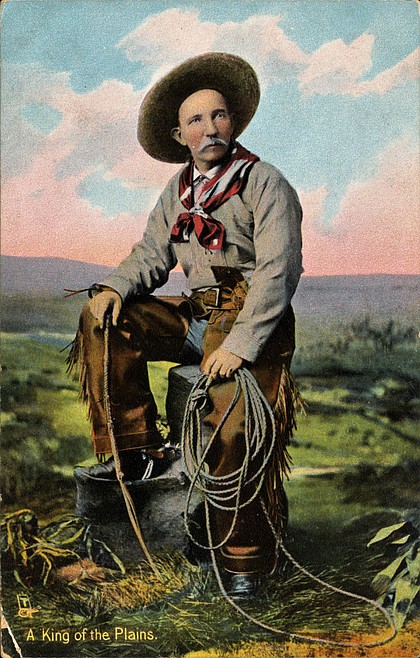 Cowboy postcard (1907)
WIKIMEDIA COMMONS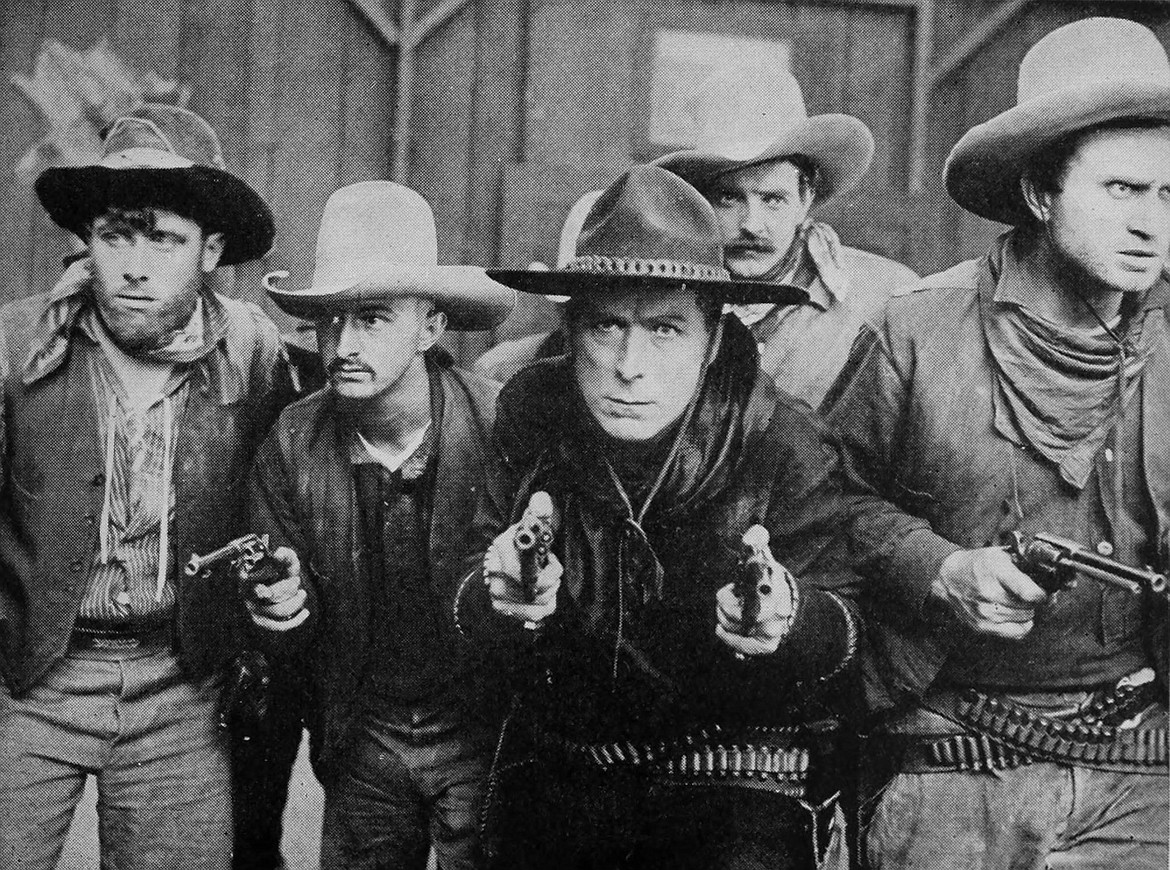 William S. Hart, America's first cowboy actor.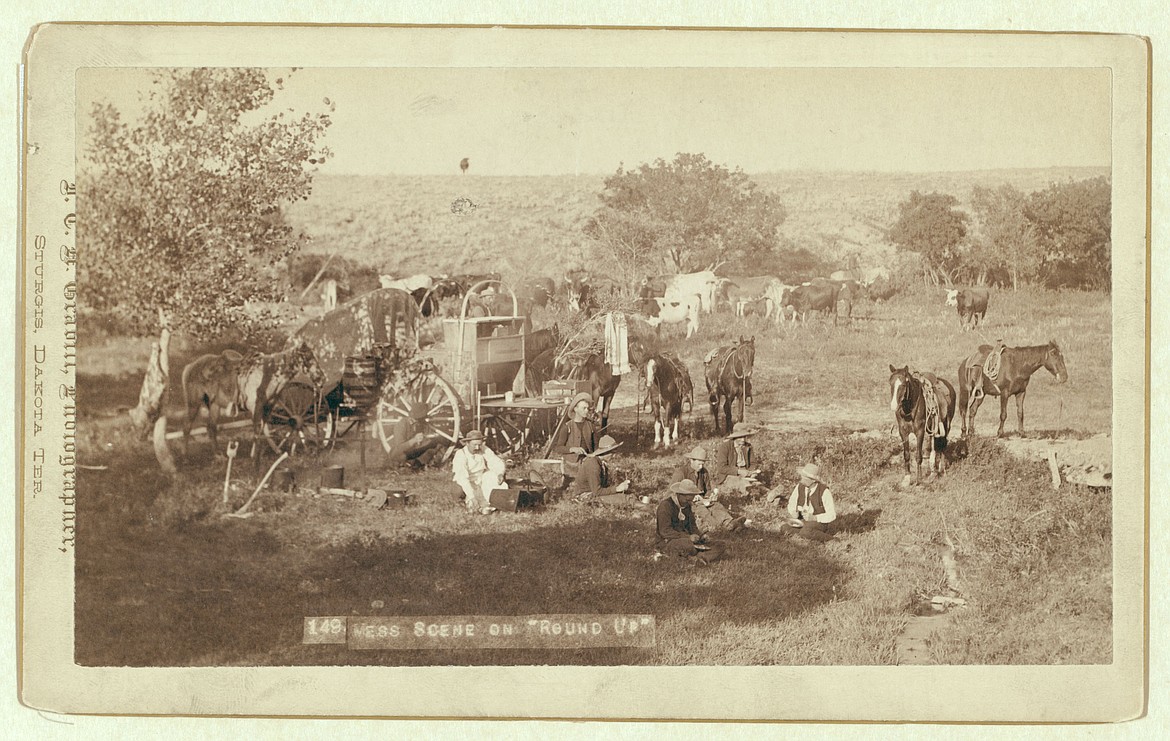 Cowboys at round-up camp site.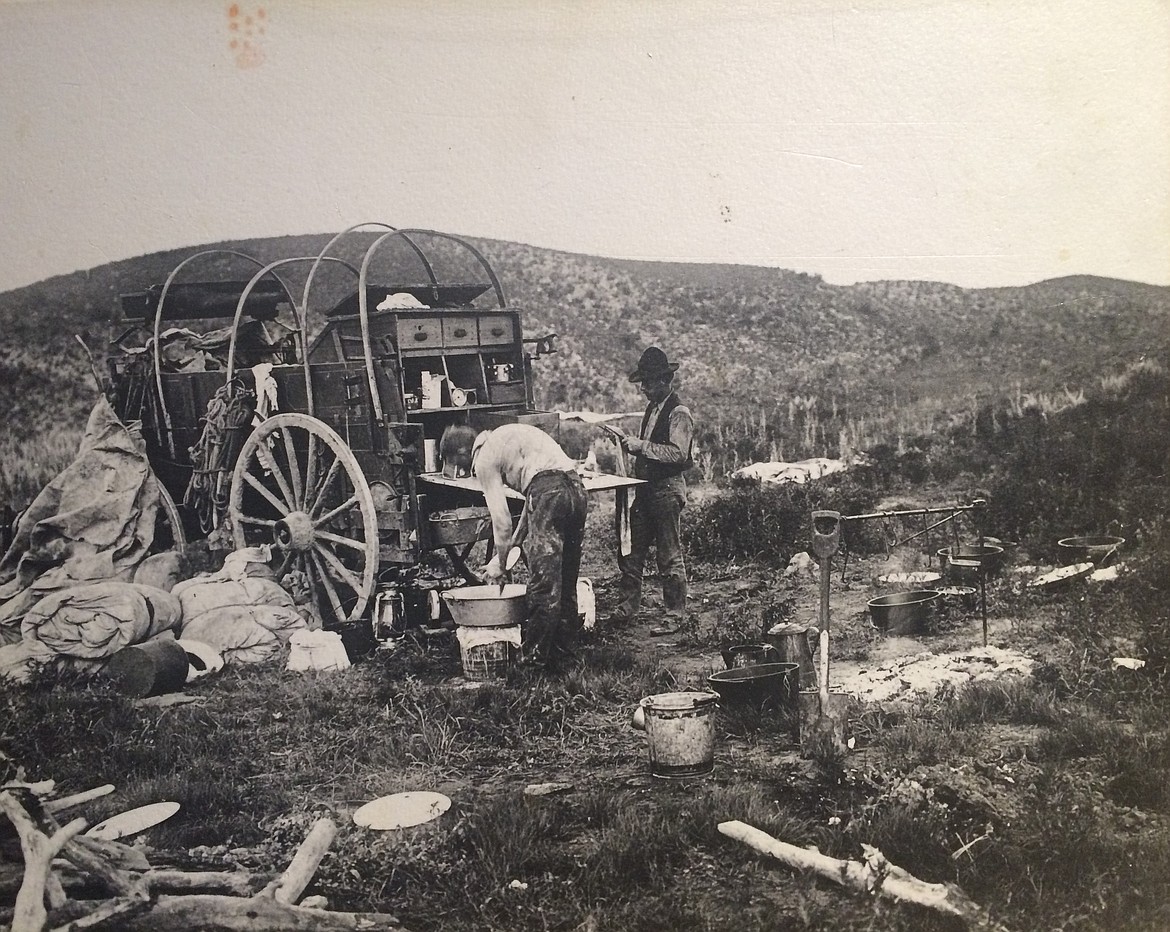 Cowboy chuckwagon on the trail wasn't always the neatest "kitchen."
Longhorn cattle at Dodge City, Kan., once a hub of the open range cattle drives.
Painting of cowboy bronco busting by French-Canadian artist and American West writer Will James (1892-1942).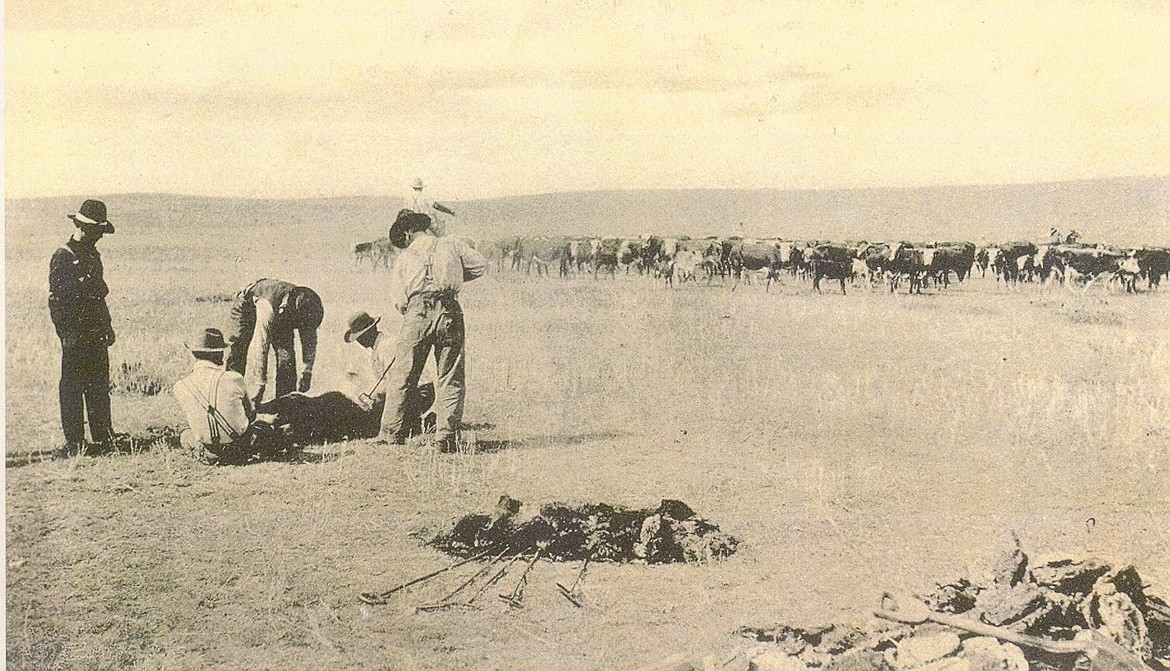 Branding cattle in Old West Montana.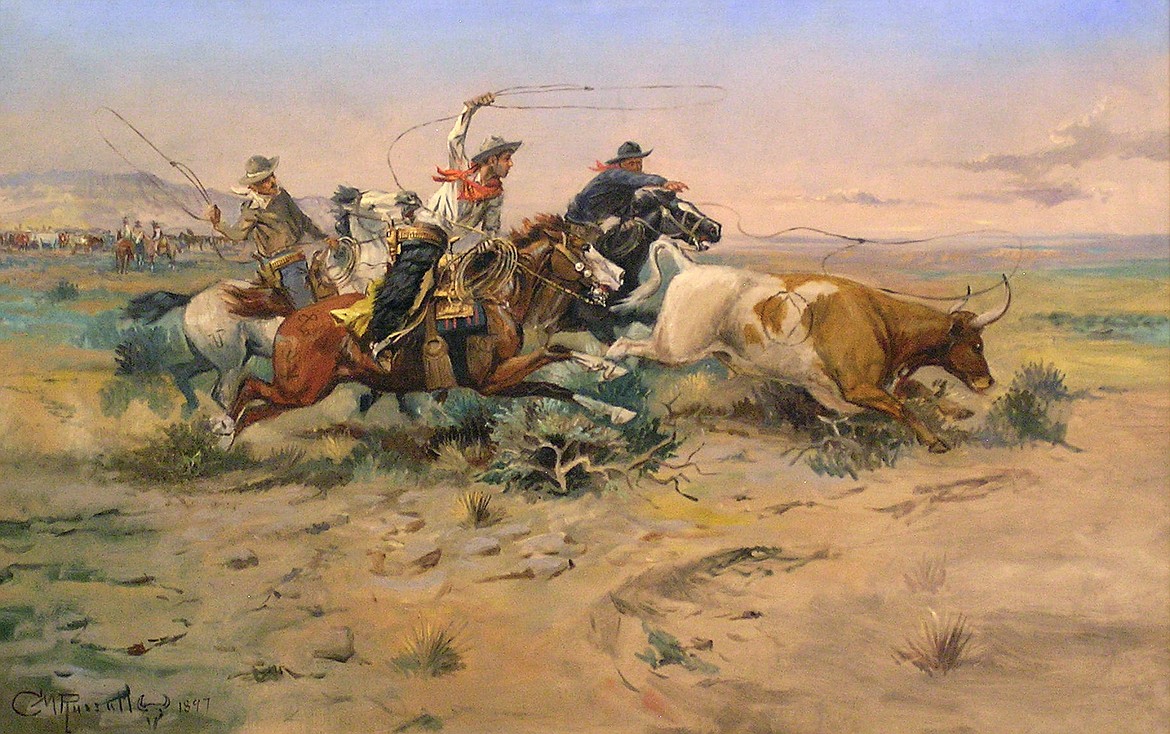 Charlie M. Russell painting of Old West cowboys (1897).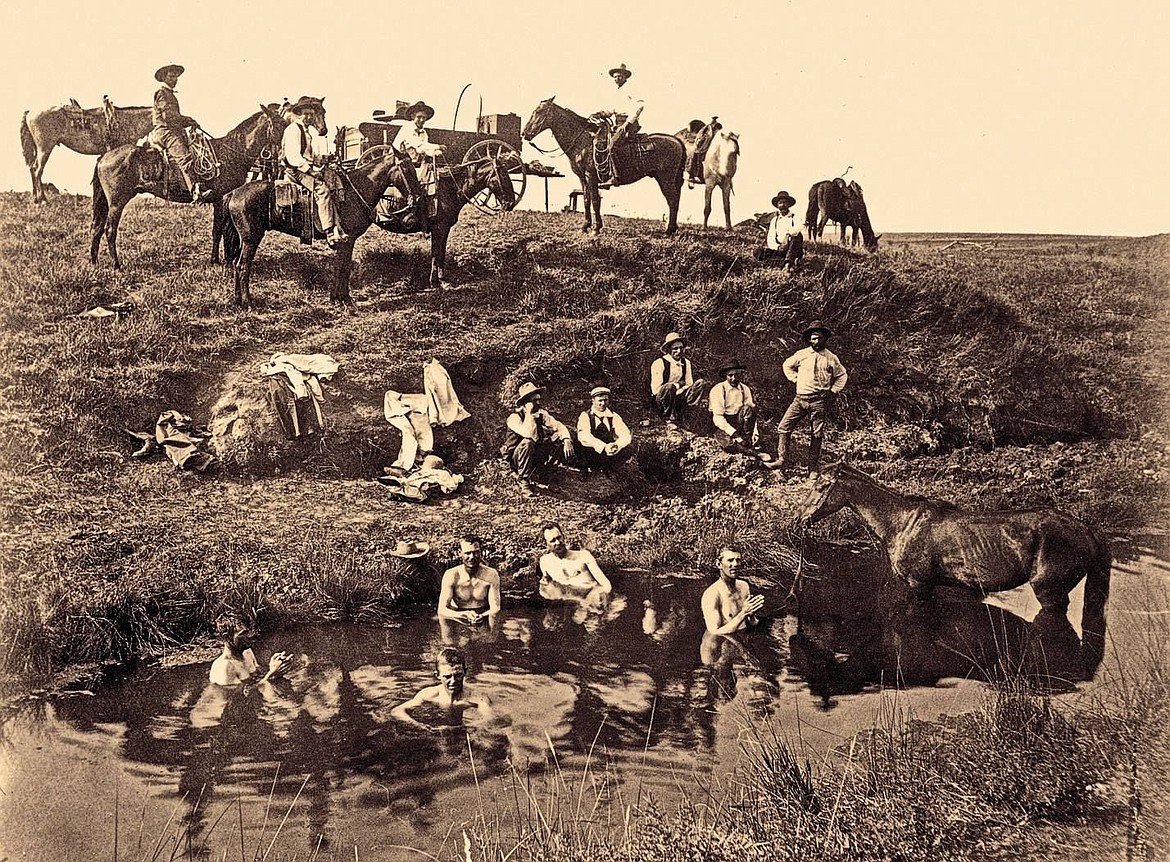 Bathing "cowboy style" while on the trail.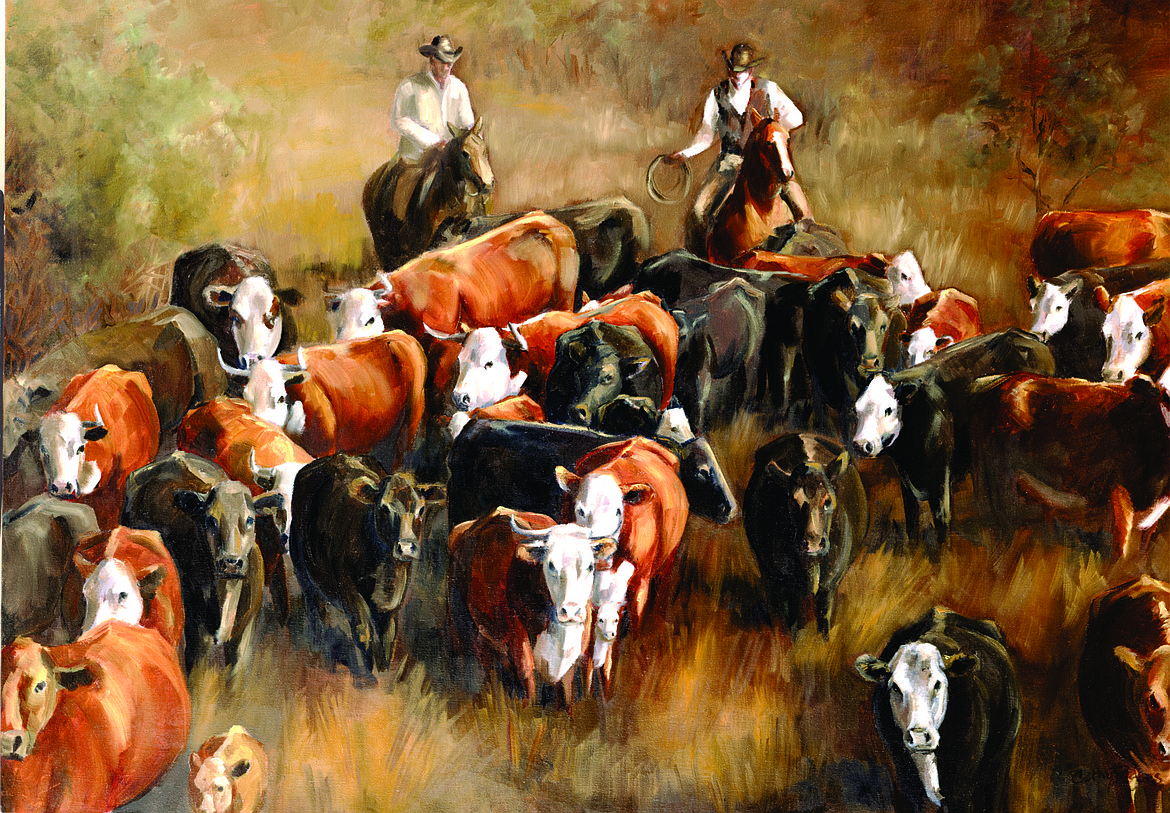 Painting of cowboys herding the cattle.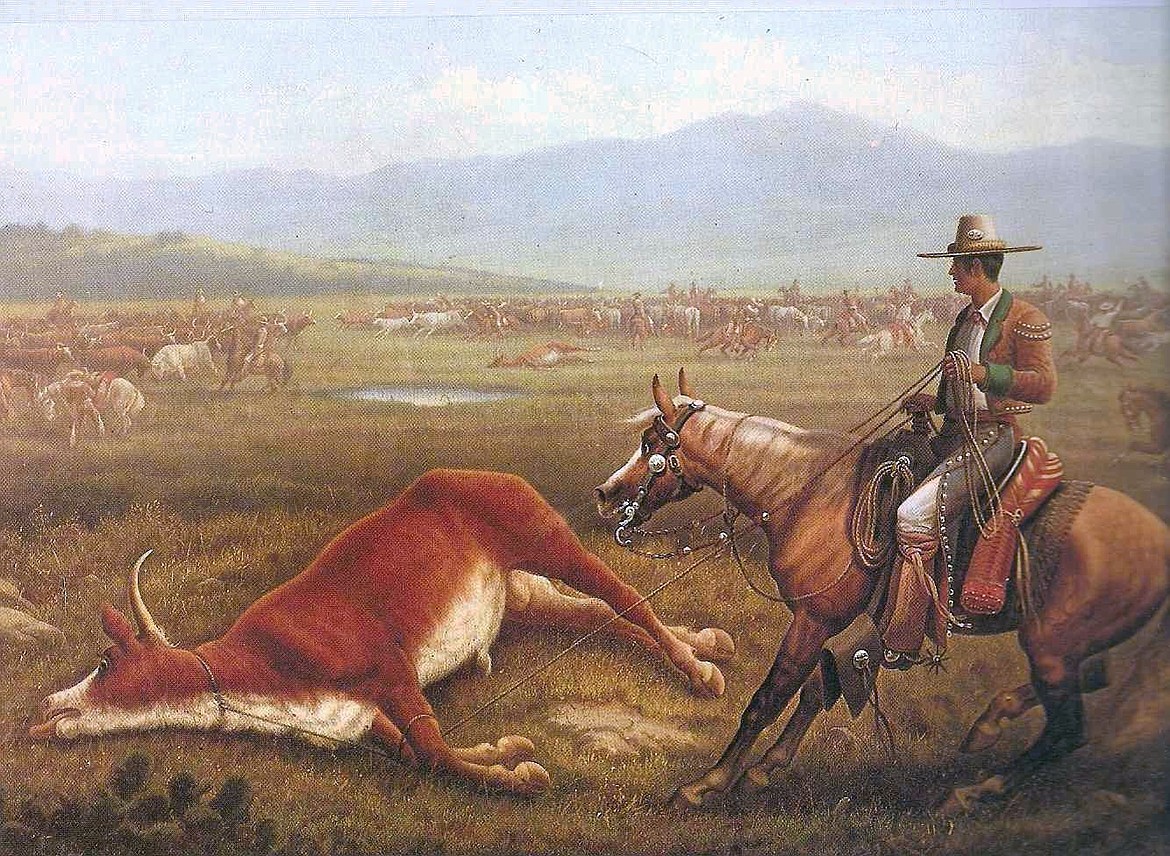 Early Mexican vaquero wearing clothing style and spurs originating in Spain roping a steer.
Previous
Next
by
SYD ALBRIGHT
|
May 16, 2021 1:00 AM
"Courage is being scared to death… and saddling up anyway. All battles are fought by scared men who'd rather be someplace else. I define manhood simply: men should be tough, fair, and courageous, never petty, never looking for a fight, but never backing down from one either."
John Wayne said that. It wasn't a line in any movie — it was him talking about his view of life.
He was using the cowboy as his metaphor — and though he was an actor he'll always be remembered as portraying the best of the Old American West.
The typical cowboy in those days wore a wide-brim hat for protection against the sun, a bandanna to stop the dust kicked up by the cattle and horses, chaps and tall boots for protections from briars and cactus, a horse, saddle and gear, spurs, lariat — and a pistol.
The American cowboy is the iconic image of the United States worldwide. He was rough, tough and no doubt more sinner than saint. Cowboys had a short life — facing hard work, injury, rattlesnakes, bad actors of the Wild West like rustlers, hostile Indians and cranky ranchers and farmers.
Those were the days of open ranges — which were often owned by settlers who didn't like the passing cattle eating up their grasslands.
"In the days of open range, everybody had great freedom," wrote Con Price, a cowboy in the twilight of the Old West. "A cowboy could change countries every spring if he wanted to and they were always drifting from one range to another — not only to different ranges but to different states. For instance, maybe he would be in New Mexico one year and on the Canadian border the next.
"Every cowboy had a private horse of his own, pack horse and his own bed, which consisted of a tarpaulin and some blankets. And according to the custom of them days he could stop at any cow camp or ranch and was not under obligations to anyone, and if he wanted to stay a week and rest his horses that was O.K. too. If there was no one home, he always found grub and helped himself, so he was quite independent — and it did not take much money to travel.
"Nature provided him with new scenery every day, such as unclaimed land, rivers and creeks, and in my day plenty of wild game of all kinds. I don't believe the tourist of today with his automobile has anything compared to what we had."
Con Price painted a picture of life as an Old West cowboy in his book "Tales of Old Montana," dedicating the book "To all the old-time cowboys and cowmen whose hearts were as big as the range they rode."
Some say those days lasted until 1920. Their memories will last forever.
He and Charles M. Russell the "Cowboy Painter" of Great Falls were longtime pals, and partnered in a ranch — with Charlie painting the way the West really was.
Con considered Charlie "the finest kind of friend a man could have," and Charlie regarded Con as "one of the greatest bronco riders of his time."
Here's how Con Price described the scene of some of those days:
"Several people not familiar with horses have asked me what a bronco-buster means, and they seem to think all cowboys are bronco riders, which is not so. I sometimes talk to an old-timer that once rode broncs and broke horses, and like most all old-timers in every line of work they claim the younger generation cannot compete with them the way they did it in their day.
"But the old boys are only kidding themselves when they think those young fellows can't ride a bucking horse.
"Another thing, in the old days of the range the good riders tried to keep their horse from bucking, whereas today they train and teach them to buck for the shows.
"There is a great difference between a bronc-rider and a horse-breaker, or a regular cowboy — and still they are classed as the same by a great many people. Not saying anything against the modern bronc-rider, but all he knows about a horse is to ride him while he bucks.
"So, the old saying still goes — 'All it takes to make a good bronc-buster is a strong back and a weak mind,' (with) plenty of courage and practice."
Cattle have been part of the American Southwest since the Spanish started bringing in settlers from Spain and building church missions in the mid-1700s.
The cattle had longhorns — from 4 to 8 feet across — and were descendants of Spanish ranch and mission herds, later bred with Mexican cattle with shorter horns, and tended by the vaqueros.
Historical records show those early Spaniards had little interest using cattle for beef and milk, but rather for leather, and tallow for candles. They did like eating hog meat however, and so did the Indians they domesticated.
Cattle ranching changed 100 years later with the California Gold Rush, when cattle were herded west to San Francisco, where they were worth $5 to $10 a head — five to 20 times more than in Texas.
Some British cattle, brought by Anglo-American colonists from the East Coast by way of Northeast Texas joined the herds westward.
Then other major cattle trails developed — like the Chisholm, which ran from near Brownsville, Texas, to Dodge City and Abilene, Kan. — taking herds to railheads for transportation to slaughter and packinghouses, military forts, Indian reservations and elsewhere.
There were countless smaller feeder trails linking into the big ones.
Figures vary, but a 12-man crew could run a herd of 2,000 to 3,000 head, with the trail boss being paid $100 to $125 a month. The cook made $60 and the rest about $30.
The cattle business died down during the Civil War, and then built up again — but the days of open range grazing were coming to an end.
Areas were being fenced off on land held by farmers and ranchers, blocking the cattle trails — especially after Joseph F. Glidden's invention of barbed wire in 1874.
Railroads and refrigeration doomed the need for the long cattle trail runs.
Finally, the winter of 1886-87 brought the death knell on the open range era. It was one of the worst winters in American history — with cattle dying by the thousands as temperatures plummeted to 50 below zero in some parts of the West.
It was a tough life for both the cowboys and the cattle they cared for. On the cattle trails, they faced dust, drought, winds, rain and snow storms, high water, illness, injury, rattlesnakes, stampedes, lousy food, sleeping on the ground, the occasional bath in a river or pond, no booze or female companionship — and sometimes Indian attacks and hassles with ranchers and farmers.
Perhaps, worst was the boredom.
The crowded ranch bunkhouse where they lived when home from the cattle drives were squalid, often with leaky roofs, freezing in winter, stifling hot in summer, pungent from sweaty cowboys bathing maybe once a week in a nearby creek or pond.
The better bunkhouses had a bathtub that everyone could share.
From the cowboy point of view, the best times were going to town after a long and arduous trail drive, where after a hot bath, clean clothes and hearty meal, they could enjoy drinking, gambling, song and dance, the companionship of the ladies, and like in the movies — the barroom brawl (but not necessarily in that order).
First, it was the newspapers, then the pulp-fiction novels that made the cowboy image popular — but it was Hollywood that really brought them glory.
It's first star was Gilbert M. "Broncho Billy" Anderson, with his one-reeler Broncho Billy film series, starting in 1910 with the 15-minute "Broncho Billy's Redemption."
He was quickly followed by William S. Hart, then Harry Carey Sr., Tom Mix and hundreds since then.
But the greatest star of them all was John Wayne.
The inscription on his gravestone in Newport Beach, Calif., reads:
"Tomorrow is the most important thing in life. Comes into us at midnight very clean. It's perfect when it arrives and it puts itself in our hands. It hopes we've learned something from yesterday."
Maybe we have learned something from those icons of the Old West — the American cowboy.
• • •
Contact Syd Albright at silverflix@roadrunner.com.
• • •
Birth of word 'Cowboy'…
The English word "cowboy" comes from the Spanish word "vaquero," meaning someone who manages cattle while riding on a horse. "Vaquero" came from "vaca" — Spanish for cow. Vaquero was anglicized to become "buckaroo," with cowpoke, cowhand and cowpuncher all originating in the last half of the 1800s.
Tale of the trail…
There was a road ranch about half way and the old man kept telling the foreman when we got there, he would be O.K. as the lady who owned the place served nice cold milk and that was what his stomach was craving. We got there about midnight and woke the people up to get some milk for the old man. The lady sent her boy down to the cellar for the milk. There was a skunk in the cellar. He killed the skunk and brought the milk up to the dining room. When that old man took one swallow of that milk he stopped and his eyes set in his head. I thought he had a stroke.
"Lady," he said, "I believe the animal has been in the milk."
— Con Price, cowboy, Tales of Old Montana
Cowboy and 'Cowboy Painter' Charlie Russell…
I was always broke. No saddle, no boots, no nothing. If possible, I would hunt Charlie Russell up for help. I used to think up a pretty good hard luck tale to tell him. But before I got started, he would laugh and say, "What do you need now?" Charlie didn't always have money either, but had good credit and could always get anything he wanted. Indians, cowboys, gamblers, everybody borrowed off Charlie and I don't know if they all paid him back or not — if they didn't Charlie would never tell it to anyone.
— Con Price, cowboy
Hey, Caballero…
The early cowboys were called caballeros, says cowboy historian Donald Gilbert Y Chavez. "One of the highest stations you could have in life was to be a caballero," he said, so if someone calls you "Caballero," take it as a compliment.
The cowboy six-shooter…
Texas Ranger Sam Walker suggested that the Colt Company of New Jersey make their five-shot pistols better by increasing bullet capacity from five to six, add a trigger safety guard, eliminate the separation of parts when reloading to prevent accidental loss of parts, and increase the weight so the gun could be used as a club when all the ammo was used up.
Recent Headlines
---